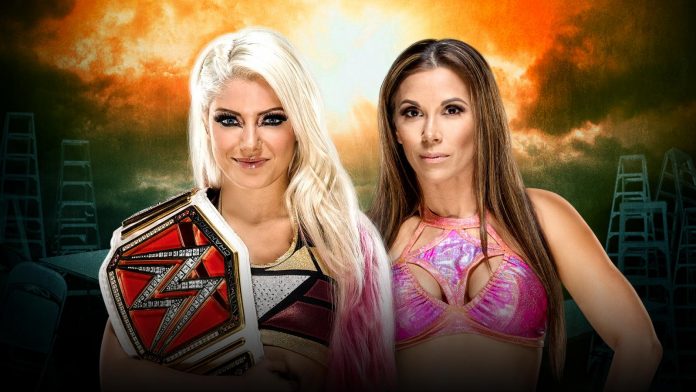 Alexa Bliss will put her Raw Women's Championship on the line against six-time Women's Champion Mickie James at WWE TLC tonight. Ahead of the match, Bliss spoke to NBC Sports. Here are the highlights:
Would she have preferred that her match against James featured a stipulation?
"I'm OK with it being a normal one-on-one [match]. Of course stipulations are always cooler and more fun, but I feel like if we were to do a stipulation match it would have to be something that was driven towards the storyline that we're doing right now.
"I'm talking about her being old, so it should be like a walker match."
Finding her voice while managing Blake and Murphy in NXT
"I watched back our first few NXT matches together when I was managing them and realized that I was just silent. I wasn't doing anything, I wasn't saying anything. I was just looking at them in silence. And I was like hmmm, well that's nothing.
"I remember specifically trying more and more to be mean and I was trying to think of a character that's relatable and I was like oh my gosh, a mean girl from high school. Everyone knows her. Everyone had one. Some people were her and no matter how mean she was, you still voted for her for homecoming queen.
"I was like I want to be that girl because I knew that girl in high school. I knew a few of those girls in high school. I knew that everyone did. So that was my main motivation was to be that girl.
"I get my inspiration from movies and a lot of the time I'll actually people-watch when I'm at the airport. William Regal told us to people-watch because you can get your best motivation from them. I'll notice little mannerisms that irritate me and I know they will irritate other people."
Adjusting her personality during Total Divas filming:
"I had a little bit of an adjustment period for sure because I'm so used to when the camera is on, I turn into Alexa Bliss, this mean, attitudy character. So I had to get out of that because our first filming was at TV. So I'm in a work environment and it was just a different camera, so as soon as the camera came on I was thinking 'wait I can't be that way, I have to be me.'
"There were times where we're at home making breakfast and there's cameras there and I feel so weird because you have to open up to the cameras, but still act natural.
"It was very different, but I had a lot of fun with it."