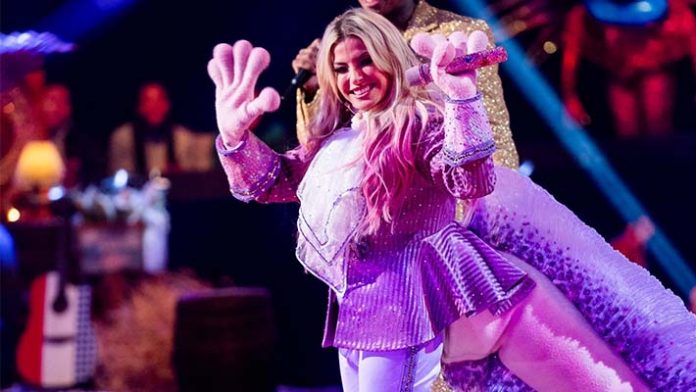 Alexa Bliss was unmasked Wednesday night on FOX's The Masked Singer.
Bliss appeared on the sixth episode of the hit FOX reality singing competition's ninth season. She sang "Can't Fight the Moonlight" by Leann Rimes while wearing the Axolotl mask because it was Country Night on the show.
Jenny McCarthy correctly identified Bliss as the celebrity hiding behind the Axolotl mask. Nicole Scherzinger chose McKayla Maroney, while Robin Thicke and Ken Jeong chose WWE Hall of Famers The Bella Twins, Nikki Bella, or Brie Bella incorrectly.
The clue Bliss gave to the panelists went like this, "NFL star Robert Woods holds a helmet with the words '2.3 million.' That's how many people watch me when I work, and that's just on a Monday."
The voice-over to Bliss' package said, "I'm so excited to be a part of your world on Country Night as the Axolotl. Axo-what? I had to Google it too. It's a mouthful, but she's very cute and rowdy, just like me. But while I'm confident in all that now, it took a long time to get here. As a kid I was bullied so bad, I had to transfer schools. They made me feel so small and I let their words eat away at me so much, that's what I stopped doing – eating. I almost withered away. Until one day during my darkest moment, I heard a song that helped me recover. I fell in love with the voice, and eventually the man. He helped me realize that the only way my life would be a perfect 10 was to build myself up instead of tearing myself down. Now I'm definitely not the best singer who has ever stepped on this stage, but I do promise I will embrace my inner diva and have the most fun. Xo xo!"
On Wednesday night's episode, Bliss was the first to be revealed. Holly Robinson Peete was revealed to be The Fairy and was eliminated alongside Bliss. The unknown celebrity wearing the Macaw mask advanced to next week's show.
Bliss tweeted on the experience and wrote, "It was me behind the #AxolotlMask! [heart emojij x 3] What an amazing experience! Thank you to @Wwe & @MaskedSingerFOX! The Masked Singer will return next week on @FOXTV! #TheMaskedSinger"
Pro wrestlers who have competed on The Masked Singer include Bliss and AEW's Chris Jericho.
As PWMania.com previously reported, Bliss has been on a planned break since losing to RAW Women's Champion Bianca Blair at the Royal Rumble in late January. Bliss recently revealed that she is recovering from a "quick and easy procedure" to remove basal cell carcinoma (BCC), the most common type of skin cancer. Bliss also stated that the procedure will have a "short healing time," but there is no word on when she will be able to return to work for WWE.
Below are photos and video clips of Bliss from The Masked Singer, as well as Bliss' tweet:
#TheMaskedSinger's #AxolotlMask was @AlexaBliss_WWE all along! @MaskedSingerFOX @FOXTV pic.twitter.com/WvUChQsXVN

— WWE (@WWE) March 23, 2023
It was me behind the #AxolotlMask! 🖤🖤🖤 What an amazing experience! Thank you to @Wwe & @MaskedSingerFOX ! The Masked Singer will return next week on @FOXTV! #TheMaskedSinger pic.twitter.com/scD7EEX2rJ

— Lexi (Kaufman) Cabrera (@AlexaBliss_WWE) March 23, 2023