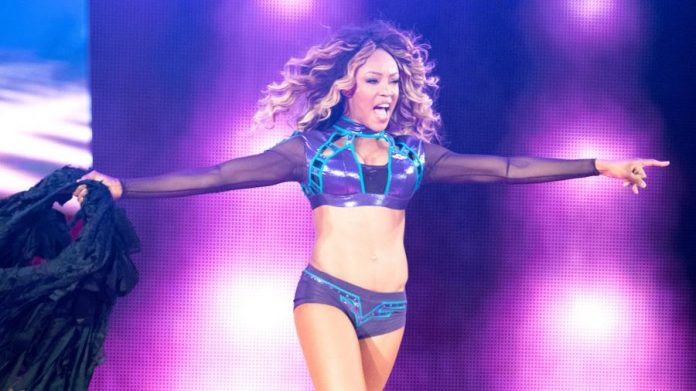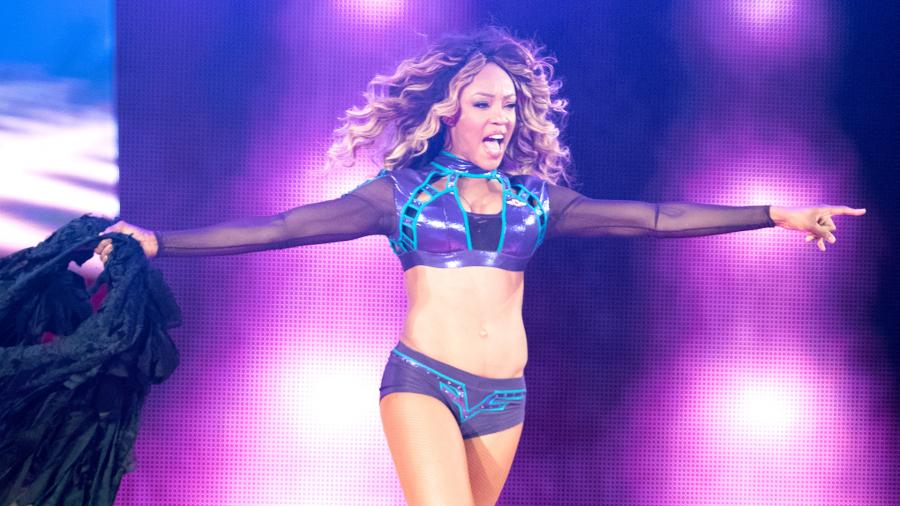 On the latest edition of Chasing Glory with Lilian Garcia, Alicia Fox discusses the beginning of her WWE career, growing up seeing her mother abused, her struggle with dating, how it felt becoming the first and only African American Diva's Champion, her past relationship with Wade Barrett and more.
Here are highlights from the interview.
Starting out in WWE at a young age:
"Coming into it I felt really insecure being around all these very driven people that worked hard and did the indies and do their research and diligence to get there. I felt very insecure about when I had an opinion about something or even when it comes to putting a match together, even speaking about what I know from the experience I've pulled because I've been in the locker room with a lot of greats. Mickie James, Melina, Gail Kim, Beth Phoenix, Katie Lea, ODB, come from a lot of experience of their own and the question that I will answer, 'How this environment has affected them as an individual'. So they've overcome that, but I think for an answer to that question for me, I think I'm very blessed to have been able to be in the business early. Wrestling in itself it seems like a small bubble in a weird way, but you're kind of lucky to be in that bubble because you're really quickly faced with all types of issues that the real world faces at maybe more of an extended timeframe. You kind of get a very quick crash course in life."
Witnessing her parents' domestic abuse:
"I don't really know if I understood at that point what I was really witnessing. I just remember one night my sister and I in Texas – I think this was one of the last nights we were at my house in Greenville, Texas. My mom, I could hear her crying of like pain or sadness or something and my dad, things were breaking. It was just very violent and a very bad kind of night. I remember my sister and I not knowing what to do because we shared a room. I remember we were going to open the window and just start screaming for help. It was the first time that I for whatever reason my mind saw myself and my sister screaming out that window from above in a very weird meditated state. If I could recall that night, because it's one of the only memories I really have of my parents being abusive, other than the fact that my dad moved to Commerce, Texas where he could finish his degree and I remember my mom being very miserable there and I think that was where it started kicking off."
Sometimes feeling embarrassed about her career:
"Sometimes I feel embarrassed of my career in a sense because like when the fans come up and say, 'Underrated or this or that.' I never really realized that until social media popped up. Then I'm left thinking, 'Am I underrated?' I'm one of the only girls that don't have any merch, never had any merch even when the Bella Twins and I were together it was still Team Bella, but I never complained about any of those things because in my head, 'It's okay, it's okay.' A lot of fluffy content thinking. But you know what, maybe it's not okay, but then it gets me upset and angry because then I'm thinking well what will my next chapter look like? Is it going to be okay if I'm not putting food on my table or my career's at the control of someone else?"
Being the first African American Divas Champion:
"It feels amazing because back then I think I was like 24 or something, I was like a kid. I don't think I really would have appreciated that moment the way I would today because I didn't really know what was going on. I almost still couldn't believe that they even gave me the title and still had no idea the responsibility how I could have taken it further. Between then and now, the experience collected, I feel like, 'Okay that would be done a lot different.' But I didn't believe in me. I did not, up until I think probably a year ago didn't believe in me. Until I had to sit with myself and we talked it out and the thing that I realized that I was struggling the most with is I had all these goals, all these things, but I didn't realize that I didn't have a very vivid painted picture of what that land of milk and honey looked like, whereas it would have made the journey and certain things along the journey easier because I would be able to identify them."
Seeing herself on Total Divas:
"I was on it and I didn't like the way I came off. Not because of their editing, but because of myself. I didn't like seeing where I was at that point. I thought I looked like a crazy young drunken nut. Trust me, I have those moments still, but I didn't like everyone else seeing that. That made me feel very uncomfortable. It's still kind of uncomfortable because you think there were more wrestling fans because it's my real job, but there's more Diva fans in some cases and all they want to say is, 'Oh my gosh, you and Paige are so nuts!' Or if I'm at a bar or restaurants, they'll send shots. I don't like that. I think it relates to where I was in that state of mind and I couldn't help but to blame my environment."
Her mother living in the streets and her past relationship with Wade Barrett:
"My mom was on the street for like three years. It was insane. That was horrible. That was horrible because for me I knew that she was giving me a lot of stress and anxiety that I was bringing to work. I didn't really realize it was having such a huge effect on me.
"I couldn't even talk to Stu [Bennett, a.k.a. Wade Barrett] about it. I love Stu to death, but he was not the kind of relationship partner that I felt comfortable to talk about where I was emotionally and that was something I felt like, 'Well, maybe I'm not worthy, maybe I shouldn't, maybe these emotions aren't right.' It's just who he is. He's not an emotional person. We're just better friends. When I was really going through this thing when my mom was on the street and stuff, I wanted someone to talk about it with. So instead, I held it in my stomach and moved on. So my mom kept a diary of her whole experience on the streets. Sleeping in cars, meeting people, doing this, doing that and she kept a diary of it. I keep telling her, 'Mom, you got to write this book out. You got to put it out there because people could probably really benefit, you know? Maybe somebody's in the same zone.' I haven't brought myself to read it because, from some of the stuff my mom's told me so far, it sounds really ugly and very scary and very life-threatening."