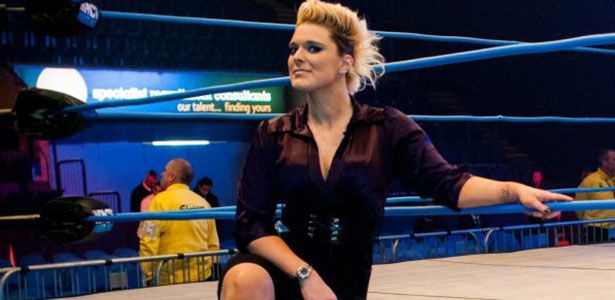 German professional wrestler known by the ring name Alpha Female recently took part in an exclusive interview with PWMania.com. She is currently working for World Wonder Ring Stardom. Alpha Female spoke on several topics from her time working with TNA Wrestling, her WWE tryout in 2012, working in Japan and Europe, as well as her thoughts on WWE and the TNA Knockouts division and more. Check out the complete interview below.
First of all thank you for taking the time to sit down with PWMania.com. Tell us a little bit about yourself, what inspired you to become a professional wrestler, who were your wrestling idols growing up and how did you get started in pro wrestling?
I found a golden wrestling book when my family was to move house, my brother threw it away, so I took it and I fell in love with all the great colorful characters from Hulk Hogan, Macho Man to The Ultimate Warrior. I was a total WCW girl, I was hooked. When I was 17 I found a German wrestling company, till then I didn't even knew there was something like independent wrestling. The company had two girls fighting and I knew this is what I want to do. It was tough, I wanted to quit a million times, but I stuck to it and here I am now 13 years later.
What is the best and the worst thing about the wrestling business?
That is a great question, but not easy to answer. There are so many great things about pro wrestling. I can travel the world, I meet many great people, I get paid for doing training all day, all week. I can perform in front of people and make them happy or angry, depends which role I´m playing. I can be totally me, as I am a freelancer. My job is so interesting in many levels and never gets boring. Sure there are also bad things, I guess every job has good and bad sides, but I don't concentrate and don't talk about things that annoys me as I live by the rule: if you have nothing good to say, say nothing at all!
You are currently contracted in in Japan, tell us a bit about that, what's it like wrestling there compared to the United States and Europe, is this contract stopping you from signing with TNA?
I work in Japan for the all female company, Stardom, without a doubt the best female company in Japan and also one of the best in the world I would say, I´m very proud to be able to work with the girls. We have a show every weekend and train at least three times a week. It is very professional and also very though. I would not say it's a typical indy wrestling show as we are very organized, we meet and travel in a tour bus, we are a fixed group under a contract, if we get hurt we get medical help and a monthly pay check, so these are few of the differences between my work in the indies in USA or Europe. The contract in Japan doesn't stop me for signing with any other company, but the offer was just never good enough to leave Japan behind me.
What would you say is the secret to getting noticed by promoters and gaining work worldwide?
I don´t know the secret, if you find out, please tell me! What I figured out for me personally is that constant hard work like updating my social media at least once a week, writing promoters, fans and friends daily, posting good quality photos and doing interviews. Attend on events, even non wrestling related, just being busy helps to get noticed.
You debuted in TNA during their recent 2014 UK tour, tell us about your experience working the tour, how did they approach you and are there plans for you to continue making TNA appearances in the future?
I had a TNA tryout a few years ago, but I wasn't good enough, it was a hard but an eye opening experience. I changed my whole gimmick and worked really hard on my look and wrestling and came back on the map when I attend at the TNA fan party. I made some contacts and made sure the TNA officials knew who I am. A few months later they approached me to be a part of the European Gut Check. The head trainer D Lo Brown liked what he saw and put my name forward. They contacted me again and asked me if I want to be a part of the TNA European Tour. I had some time off from my time in Japan so I could take that opportunity, I had a great time on the TNA Tour. Everyone was super nice and I could learn much and make some contacts. Make sure you follow the Alpha Female and see where my path is going… Japan, USA, Europe, I can take the whole world.
How was the backstage attitude and atmosphere during TNA's 2014 UK tour, who did you spend most of your time with and what was your general feeling about the company?
As I said before everyone was super nice, but also everyone was very busy, as the tour was packed with TV tapings. Its not just matches, there is so much more involved, the backstage segments and interviews for TV and magazines. Everyone was very professional and no one was complaining about the hard schedule. I spend lot of time with my Tag Team Partner Tapa, we big girls need to stick together.
Was there any talk backstage in TNA about the online rumors regarding the sale of TNA?
Even if there was any rumors about the company, I´m not a fan of rumors and I know when something is non of my business. And like always the people like the talk more than the actual situation and any talk, good or bad is a win situation for the company. So keep on speculating.
What´s the greatest moment from your career so far and why?
My greatest moment of my career is for sure the moment when I wrote history and won the Queen of Stardom Title. It was something I could have never ever dreamed of and I would have never expected. I'm the first European woman who won a Yoshi Title. I won it at the famous Korakuen Hall and I beat Nanae Takahashi, the toughest rival I ever had, she was unbeaten for more than two years. It was a great achievement for me.
How would you compare your experience in TNA to other promotions you have worked for?
It was not the first time that I worked TV tapings so I knew what to expect. Compared to other companies I worked for TNA was really amazing, I had the whole superstar treatment like a really good catering, a make up artist who made me look great and even a massage place backstage and on top everyone was super nice. Its like that wherever I go, people treat me with respect. Compared to other companies TNA is defiantly one of the my favorites.
You have wrestled nearly all over the world, which places stood out as your favorite and which were your least favorite?
This question is really hard to answer, as you just said I worked all over and its now my thirteenth year that I'm in this business. I have been to many great places, I cant really say which I like the most as I´m a person that gets bored really fast so I need variety in my life. Japan is quiet, America was fast and loud, Europe has some historical places like Rome and Paris, its modern like Berlin and London. I have been to huge and also very small hotel rooms, I worked in front of thousand and just few people, I had all kinds of food and meet all kinds of people. I love my life exactly how it is, there is no good or bad, its all about the attitude you have towards the things.
You had a tryout with WWE, can you share some experiences from the tryout, how did WWE officials react to it?
I had a WWE Tryout in 2012 and I was full of hope as the officials like Drew McDonald and William Regal seems to like me, but unfortunately I never heard back from them. I have my own idea why they don´t want to work with me. I think I'm not Diva material, been way too long in the business and simply not what they looking for. I´m okay with that as I´m still able to step in the ring and pay my bills. Sure it's a dream of mine to work for them, still hoping, but if this is something that never will happen I'm okay with that too, it might not be in my destiny, who knows,
What are your thoughts on WWE?
I can´t really say anything about WWE in a worker perspective as I never had the chance to work with them. I was backstage a few times and everything seemed to be really great. For now I just can speak out of the perspective of a fan that I am. I love wrestling and I watched many WWE shows, I think they are great. Of course, like every wrestler I guess, I wish I could be a part of it. I not only love the in ring activities, I love how they work with the Make a Wish Foundation and their Be a Star anti bulling campaign. My attention in life is to be a positive influence and with WWE I could make a bigger impact. I respect the WWE superstars and love how hard they are working.
What is your opinion on the WWE Divas division, does it need The Alpha Female?
Do the Diva Division need a Alpha Female? YES YES YES
What is your opinion on the TNA Knockouts division?
The TNA Knockouts are great, hard working woman and super sexy, the total package and it is an honor to be a part of it.
What advice would you give to someone who is looking to find a wrestling persona that gets over?
My advice for someone who is looking to find a wrestling persona is the same advice I got back in the days: be the one you wish to see in the wrestling ring or turn the volume up 100 of your own personality. So if you are funny, be super funny in the ring, if you are a creep, be super creepy in the ring or just like me, I needed a hero and I always wanted to see a strong female who know her worth and is larger than life, so I created The Alpha Female. In real life I´m not that strong and like to hide.
When you're not wrestling, what do you like to do?
At the moment my whole life is about wrestling, I made a pact with myself and promised myself to work as hard as I can till I achieve my personal goal. So in my "free time" I train or answer extreme long interviews just like this one. I spend all my energy, thoughts, money and social life on wrestling, till I pass the finish line. I set my goal high, so there is no free time in the next few months or years.
What's next for Alpha Female?
What is next? Well there are my short term and long term projects, but one thing is for sure as a wrestler or lets talk just for myself, nothing is 100% as my life is a crazy rollercoaster. I do have plans for the future and I´m working on it, but I don't like to talk about my plans as I am a doer, my actions speak louder than words. Just follow me on social media at www.facebook.com/www.alphafemale.de and twitter @alphafemale1.
Everyone here at PWMania.com wishes you the best of the luck in the future. Thanks again for taking the time to sit down with PWMania.com. Do you have any final messages to say to your fans?
I want to thank PWMania for the patience, I want to thank you and the fans for the interest in the Alpha Female. My followers are growing and I´m getting messages everyday from people telling me how much they like what I´m doing. The truth is I´m able to do this because of the fans and I´m very thankful for that. I hope that you will be entertained by the Alpha Female for many more years and I hope I can hear from you. Write me, follow me and help me to spread the word about the "German Power House," your female Hero, Alpha Female! Thank you!