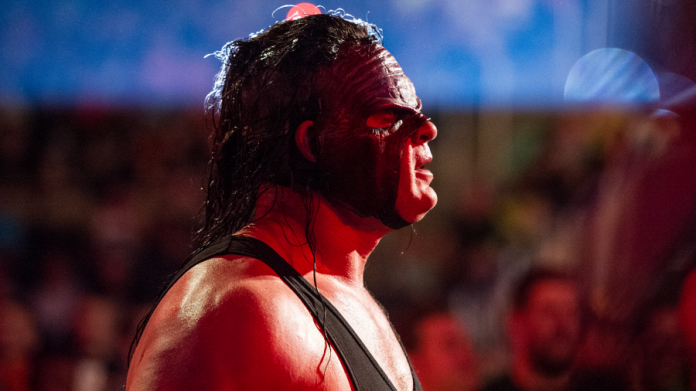 Take an in-depth look at the shocking #SteelCage match main event on #RAW, culminating in the return of the #BigRedMachine @KaneWWE! pic.twitter.com/NpXd76PQlP

— WWE (@WWE) October 19, 2017
– WWE posted this video with alternate footage of Kane's return on Monday's RAW in Portland. As noted, Kane crashed the main event and helped Braun Strowman win a Steel Cage match over Roman Reigns. Kane will now join Braun, Cesaro, Sheamus and WWE Intercontinental Champion The Miz in a 3-on-5 Handicap Tables, Ladders & Chairs Match against The Shield at Sunday's WWE TLC pay-per-view.
– No word yet on where they're going with Drew Gulak's PowerPoint presentation on Sunday's WWE TLC Kickoff pre-show but it was noted that this will be a Championship Edition, perhaps to preview the match between Enzo Amore and WWE Cruiserweight Champion Kalisto, and that Gulak will try to get through all 277 PowerPoint slides during the segment. WWE announced the following teaser for the presentation:
Drew Gulak to present a WWE Cruiserweight Championship Edition of his PowerPoint Presentation

Drew Gulak will continue to present his plan for turning WWE 205 Live into a better, safer place during the WWE TLC Kickoff this Sunday, as he presents a special WWE Cruiserweight Championship Edition of his PowerPoint Presentation.

Gulak has been on a crusade for a "better" 205 Live in recent weeks, slowly but surely revealing the rules he wishes to impose on television's most exciting hour through an enthralling PowerPoint slideshow. Surely, fans remember Gulak's greatest hits like slide No. 2 (No jumping off the middle rope) or slide No. 6 (No cell phones), among a few other rules designed to turn WWE 205 Live into a ground-wrestling-based utopia – a "Drewtopia," if you will.

The buttoned-up grappler will, no doubt, provide a refresher course to catch up anyone who may have missed out on the first few slides. Gulak has also promised to get through all 277 slides this Sunday.

So, grab a cup of coffee and a donut, and pull up your favorite ergonomic office chair (watch your posture!) for the WWE Cruiserweight Championship Edition of Drew Gulak's PowerPoint Presentation during the WWE TLC Kickoff, airing live this Sunday at 7 ET/4 PT on WWE Network, WWE.com, the WWE App, YouTube, Facebook, Twitter, Pinterest and Google+!
– Below are shots from the latest WWE Zombies gallery, which can be found on WWE's website. You can use the arrows in this Instagram embed to scroll The Undertaker, Braun Strowman (Gone Strowman) and RAW Women's Champion Alexa Bliss (Alexa Blister):