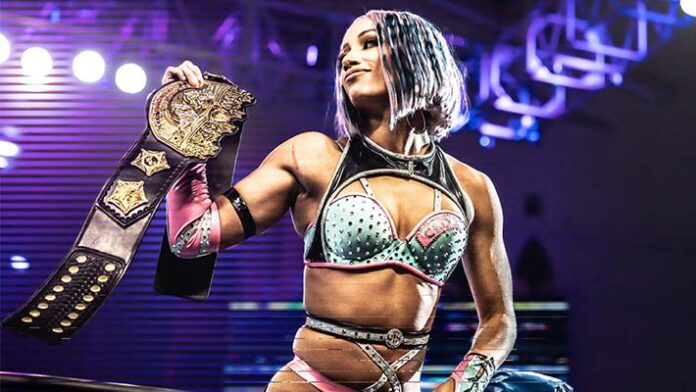 Former WWE star Alundra Blayze (Madusa) recently appeared on Under The Ring podcast for an interview covering all things pro wrestling. During the discussion, Blayze was asked to give her thoughts on Mercedes Mone wrestling New Japan and Stardom:
"Well, first of all, Stardom is probably one of the best women's organizations there in Japan, and I say that with so much respect because Rossy Ogawa, he's the one that owned it. He's the one that worked in the office for All Japan Women's Pro Wrestling when I was over there, those three years. Rossy, you know, he graduated, did whatever, grew, he loved the business, and then he started Stardom. Stardom reminds me of All Japan Women's Pro Wrestling. It is legit hard hitting, just great girls, great moves, great training, respect, and then he sold it to Bushiroad, but he still does so much hands on with everything with Stardom, so that's good. At least it's still in good hands. I would like to see more of Stardom, but I see it's kind of lost a little bit now because I used to see it on the internet all the time. Now you don't get to see it that much."
"As far as Mercedes, I think Mercedes has actually during a time when she was still champion, I believe tag team championship, whatever she was feeling, she felt like whatever and she handed the titles in and she walked out because she wanted to fulfill something, her dream, something she always wanted to do. I mean, God bless her on that, you know, somebody following what they want to do. Hopefully, she will go back to WWE someday if she wants to. Right now she's just fulfilling it. Let's hope and continue that everything is great over there with her and Stardom. Maybe she's paving the way that women can do what they want to do. I may have waited until my contract expired and then did it, but you know, everyone has their own reason and choice and I don't know what that was, so I can't say on her's."
"Hopefully it continues and everything delivers like it's supposed to because there's nothing more that the fans hate is a huge pop and then it dies. Let's hope that they do it right and the momentum keeps going, and for Mercedes as well. I want nothing but success for people in our industry. She's got the right mindset. She's got the right people behind her, so on her end, she just has to follow through and keep the work up. I feel she can do that. She just has to apply herself."
PWMania.com exclusively spoke with Alundra Blayze (Madusa) in a recent interview, you can check out our complete exclusive by clicking here.
You can check out the complete interview below:

(h/t to WrestlingNews.co for the transcription)