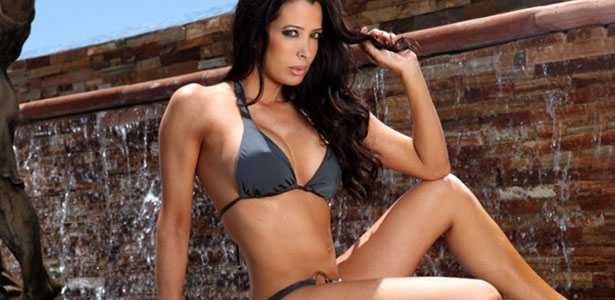 Former WWE Diva Amy Weber recently took some time to sit down for an exclusive interview with PWMania.com. Weber is an actress, model, film producer, singer and known for her time under the SmackDown! brand between 2004 and 2005. She released an album, "Let it Rain" in 2012, the titular single for which stayed in the US Billboard Chart for over a month. It was also was released internationally via Dauman Music and Republic Digital and climbed to number 6 in the UK Singles Chart. Weber is the executive producer of the Film Crossroad which she also stars in and has also been the face of a Shiseido cosmetic campaign. Check out the exclusive interview below:
What have you been doing since your retirement from the WWE?
I've definitely been busy! I continued with my acting career and then realized that I still had a passion to make music so that became a huge focus in my life. I also Produced my 4th Feature Film, Crossroad. (CrossroadMovie.com)
You collaborated with Jamaican singer and rapper Sean Kingston in your latest single "Dance of Life," what was that experience like and who else would you like to collaborate with in future?
It was a great experience. It was very eye opening getting to interact with someone who has certainly experienced the top when it comes to the music industry. He was so talented and very business minded. I just collaborated with Romeo Miller and there are a few others on my list like Tao Cruz, Tiesto, Usher, Enrique Iglesias.
What made you try out for Diva Search?
I felt a little defeated with Hollywood at the time. I was getting super close to booking really big feature films and shows and I just needed a break.. I needed to do something that was polar opposite of what I was doing and then the Diva Search came out and a friend submitted me and they called.
You said that the frat house atmosphere backstage is why you left WWE. Can you elaborate on what you meant?
It was definitely more of a "boys club" when I was there. I just wasn't used to that. I was used to the way Hollywood works and there is certainly a different system in place at that company. It really taught me to not be as sensitive to things- especially when people seem to be mean spirited but are actually just messing around with you on a joking level. One of the main guys on the Roster said something to me after I left which was.. they wouldn't have been razzing you so much if they didn't like you. There were other more severe things that happened that were disrespectful on a whole new level, and NO.. IT didn't include anyone taking a dump in my suitcase.. That is so ridiculous and that rumor needs to be buried here and now.. That happened I think to Sable or someone way before I even stepped foot in that show.
What are your thoughts on the Total Divas show?
I don't know that show.. I think I saw part of a preview but I have never seen an episode so I can't really comment on it.
Would you have participated on the show if it was on when you were in WWE?
Not sure
Have you ever considered returning to the WWE or any wrestling company since your retirement?
I would love to make a comeback and perform for their fans as a singer.
Do you think your WWE stint has hindered or helped your entertainment career?
That's a great question. I'm not entirely sure.. There are certainly fans that have stayed with me and also some people who don't know me at all and just decided to hate me based on false reports.. I think it raised my visibility with the WWE's fanbase who I personally think are amazing. They remind me of Soap Opera fans a bit because they are super supportive when they love a certain personality.
What was your favorite television or movie role?
I really loved starring on "Son of the Beach." I was able to really voice my opinion on creating this character with the writers and it was a really special experience.
What are your upcoming projects?
I have a ton of live shows coming up.. possibly 2 mini tours and recording and releasing new music. My show I created "Good Samaritans" is being shopped to Networks as well this year.
What was it like producing your movie, Crossroad?
It was my 4th Feature Film that I was honored to Produce. It is a great experience but usually has some drama. I like it because it allows me to use that business part of my brain and I like problem solving- it is a rewarding experience being able to be such an integral part of getting a script from paper to screen.
To stay up to date with everything Amy has going on, check out her Website AmyWeber.com, or follow her on Twitter @TheRealAmyWeber and Instagram @RealAmyWeber. (Photo by: Justin Price)