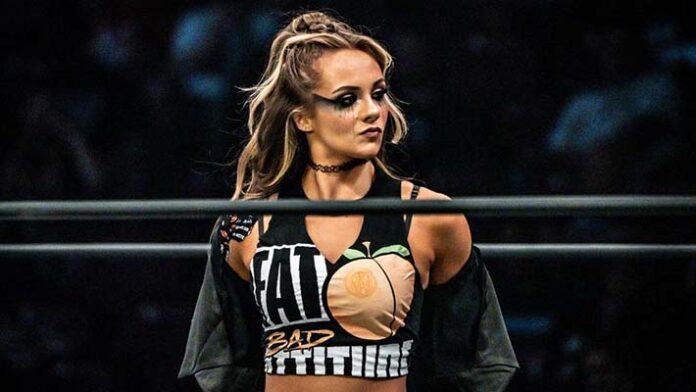 In an exclusive interview with PWMania.com's Scott Mitchell (@ScottsScoop44), AEW star Anna Jay opened up about her time in AEW, including making her debut for the company, learning from Chris Jericho, transitioning from face to heel, Mr. Brodie Lee, Ruby Soho, and much more.
You can check out PWMania.com's complete exclusive interview below:
Back in 2020, you made your AEW debut against Hikaru Shida. What was it like to make your AEW debut?
"It was crazy. It feels like forever ago. It was at the beginning of the pandemic; I got a call to go to the Atlanta tapings they were doing at the Nightmare Factory. I got to wrestle Shida which was really cool. It was kind of a last-minute thing; they didn't have a lot of talent on hand because of the pandemic at the time. I lived in Atlanta, so it worked out in my favor. So, I did that and then got called back to do a Dark taping in Jacksonville maybe a week or two after that. Here I am now."
Shortly after you made your debut, you had the opportunity to take on Shida for the AEW Women's Championship. What was it like competing in such a big match so early on?
"It was crazy. I don't think I fully registered what it meant at the time because I was kind of getting thrown into all of these things with very little experience. I was so nervous and didn't feel well that day but I was so excited and happy for the opportunity. It's crazy I got thrown into that so early on, but looking back now, it's really cool and I'm glad I got to do that. Shida is an incredible wrestler and I'm lucky that I was able to get in the ring with her twice so early on."
What was it like getting to team with one of your best friends on the roster in Tay Conti, and accomplish all you two were able to accomplish?
"It's super cool. It's always great working with people on-screen who you hit it off with in real life. We hit it off literally on the first day I was at AEW in the back. At the end of that day, we found out we would be teaming up in the first and only tournament that we've ever done. We were so excited, and we had such great chemistry outside of the ring and to be able to put that into the ring was so cool and is so cool to this day. I hope we get to keep doing more."
You two have also got to participate in two of my personal favorite matches over the years. The Street Fights where you faced off with Penelope Ford/The Bunny in the first, and Ruby Soho/Willow Nightingale in the second. What was it like competing in such a high-caliber match and going to the extreme and doing things that we don't always see?
"The first one I didn't know what to expect. It was one of the most fun times I think I've ever had inside of the ring, and it's one of my favorite matches to this day. It is extreme, but with your adrenaline going so much, you're not thinking how crazy this stuff actually is. Looking back and seeing all the blood and all the stuff we use is crazy. Going into the second Street Fight we know somewhat of what to expect. Every match is different though, and with this one, it was a different kind of pain. I ended up dislocating my ribs which was definitely not supposed to happen. Every match is different though, and those were definitely two of my absolute favorite matches because of the extreme content of it. It didn't end up well for me in the last one, but I still loved it."
What was it like working alongside Mr. Brodie Lee and the rest of the Dark Order?
"Incredible. Those guys are still like family to me, and we'll always have that bond. Working with Brodie Lee was incredible, and looking back at that I thought it was such an honor, but now even more so. I'm so happy I had that. Working with him, and the rest of the guys, was just incredible. It was also some of the most fun I think I've had working in AEW to this day. I was so lucky to be able to come into the company and work with that group. I'm forever thankful for those guys and obviously Brodie Lee. I'm super lucky that happened. Those guys are all idiots, but like brothers to me. We're still friends to this day, and you never know. Maybe one day we'll get to reunite in some type of way. I love those guys, and we all hit it off outside of the ring. All the stuff you saw on BTE, and on TV was all real. You can't really fake that kind of chemistry that we all had. I love those guys."
In recent history, we've kind of seen a character change for you. Now, you're working with the Jericho Appreciation Society. What was it like changing from being a fan favorite to being more "hated" on screen?
"Pros and cons to everything. I like playing the role I'm in right now, it's a lot of fun. I definitely get a lot of hate. Whether it's real or not, whatever it is. It's good and bad. It's good to be able to try these different roles out. My experience level is not the greatest, so I know it's challenging in a good way. It's been a lot of fun and obviously working with Chris is just crazy and an honor as well. I'm definitely appreciating working with him."
What's it like getting to be mentored by a legend like Chris Jericho?
"It's so cool. Meeting him and working with him in AEW was a crazy experience for me. Obviously, now I never thought I'd be in a faction with him. I always was able to go to him for advice, but now being able to work right underneath him is cool because I literally get to talk to him every week. He produces a lot of promos and backstage stuff. It's been such an honor to be able to go to him every week. I cannot say enough good things about him."
You got to work with a lot of great wrestlers so far in AEW. Do you have someone who's really helped you out along the way and served as the Locker Room leader in a way?
"Someone who I loved working with and love going to even though we're kind of rivals is Ruby Soho. She's such a great person to talk to and we tagged a lot on Dark towards the beginning of her time here. Getting advice from her, helping with my matches, and just in the locker room too, outside of the wrestling part, I do appreciate a lot of what she's done for me as well."
Recently, you had a match on Rampage with Julia Hart. What was it like working with her and seeing her transition from the cheerleader to a much more dark and sinister character?
"She's grown a lot as well. I've gone down that route so I know a little bit about what she's going through. She's someone I used to actually be friends with and now it's led to this. It's cool but she's just a spooky b*tch."
Looking ahead, what's next for Anna Jay?
"The goal is to be a champion. For me personally, I just want to continue to get better, get the reps and get the experience, and work with everyone that I can on the roster. For me it's just about progressing and hopefully one day holding a belt."
If you use any portion of the quotes from this article, please credit PWMania.com with an h/t to PWMania.com for the transcription.