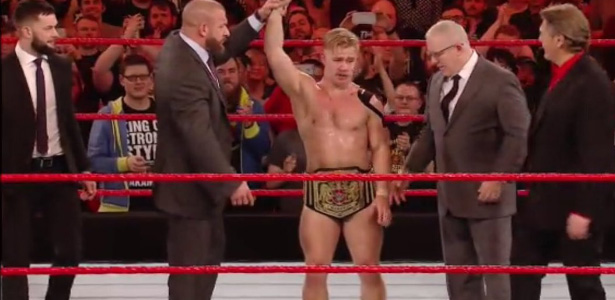 – Food vlogger Dine01 posted this video from a recent trip to King Jerry Lawler's Memphis BBQ Company, owned by WWE Hall of Famer Jerry Lawler. The video features an appearance by The King himself. Host Justin wrote the following in his YouTube description:
Since I didn't say my ratings really here they are 1-10 scale:
Sauce – 8.8
Skins – 9
Mac & Cheese – 7
Waffled Sweet Potato Fries -10
Ribs(dry rub is great) – 9
Pulled Pork – 8
Brisket(melts in your mouth) – 8.9
Smoked Sausage – 8
– Tyler Bate defeated Steve Cutler with the Tyler Driver 97 in another WWE NXT dark match from Thursday night's tapings at Full Sail University. As noted, the other pre-show dark match saw Jeet Rama defeat indie wrestler Chris Silvio.
– WWE Ambassador Dana Warrior appeared at tonight's NXT TV tapings to present a WWE Hero award to a local Orlando school teacher for her charity work. Photos from the segment can be seen below:
#NXTFSLive Dana Warrior is here to honor a local Orlando teacher for her charity work. @DanaWarriorWWE pic.twitter.com/xOt3MWPFkO

— JJ Williams (@JJWilliamsWON) May 25, 2017
#NXTFSLive "Thank You, Ruby" chants. w/ @DanaWarriorWWE pic.twitter.com/1Pq9Ux7zKm

— JJ Williams (@JJWilliamsWON) May 25, 2017