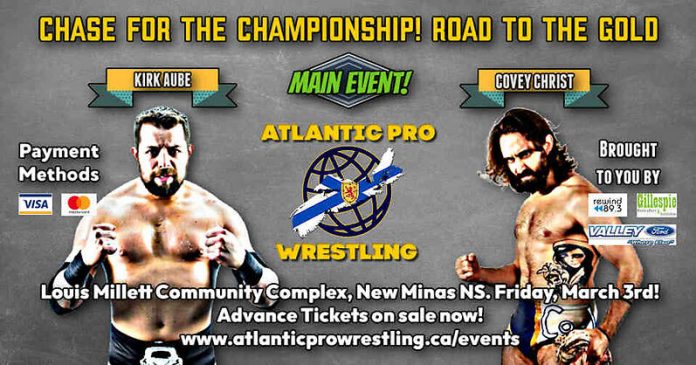 On March 3rd, Atlantic Pro Wrestling will hold it's Chase for the Championship! Road to the Gold event at the Louis Millett Community Complex in New Minas, Nova Scotia.
This will be the 1st anniversary show for Atlantic Pro Wrestling.
On this event, the first ever Atlantic Pro Wrestling Champion will be crowned as Maritimes stars Covey Christ and Kirk Aube will face off in the headlining match of the evening to determine the inaugural champion.
Who will walk away the 1st ever APW Champion on March 3rd? @KirkAube or @CoveyChrist? Get your advance tickets now to find out before they're gone wrestling fans!https://t.co/tzmob4NMPX#prowrestling #indywrestling #supportmaritimewrestling #maritimewrestling #novascotia pic.twitter.com/CszuJwPH7R

— Atlantic Pro Wrestling (@Atlantic_PW) February 15, 2023
Wesley Pipes was the original opponent for Kirk Aube but had to pull out of the match due to a family emergency. Wesley Pipes had reached out to the APW Executive Committee and personally requested that Covey Christ take his spot in the title match and be given this golden opportunity.
Covey Christ posted on social media that he is ready for a fight in this championship match.
Time for a fight! https://t.co/z3Svkcrfdq

— Covey Christ (@CoveyChrist) February 17, 2023
Covey Christ will have his work cut out for him as he will be competing in two matches at this event. Before he faces Kirk Aube, he will be stepping into the ring against former WWE star Highlander Robbie.
Another stellar match has just been signed for our March 3rd show. Former #WWE Superstar Highlander Robbie will go one on one with Nova Scotia's Prodigal Son @CoveyChrist and you do not want to miss this one wrestling fans!

Advance tickets on sale February 1st!#prowrestling pic.twitter.com/WbXthIf65X

— Atlantic Pro Wrestling (@Atlantic_PW) January 22, 2023
Also on this event – In a marquee matchup, one of the hottest stars in the Maritimes Charlie Hubley will be facing off against long time star of the Maritimes wrestling scene Lincoln Steen.
Two phenomenal talents will meet in an APW Ring for the first time! @CharlieHubley will go one-on-one with @Steentopia and you do not want to miss this one!

Advance tickets on sale now wrestling fans!https://t.co/tzmob4NMPX#prowrestling #maritimewrestling #novascotia pic.twitter.com/vW3oMpFdsU

— Atlantic Pro Wrestling (@Atlantic_PW) February 8, 2023
Here is the full line-up of matches for APW Chase for the Championship! Road to the Gold event:
Main Event Winner will be crowned the 1st APW Champion: Covey Christ vs. Kirk Aubé
Charlie Hubley vs. Lincoln Steen
The Maritime Juggernaut Thad Howett vs. Jason Boa
Highlander Robbie vs. Covey Christ
Justine Ward vs. Andrew Love vs. Daniel Wall in a triple threat match
Damien Spades vs. Draven Kyuss
Benoit Gravel vs. Ryan Dennim