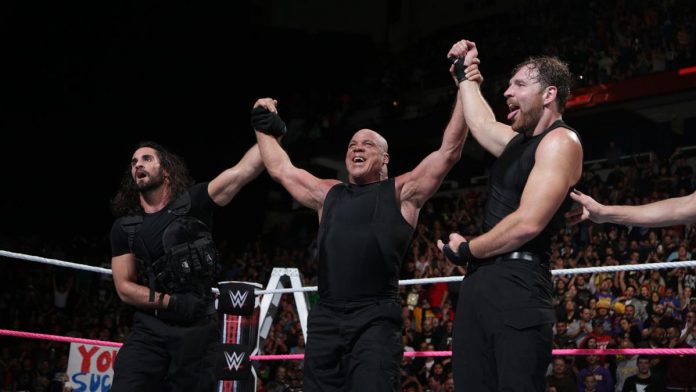 Many fans are wondering how Kurt Angle was inserted into the main event of Sunday's TLC pay-per-view so quickly. In his first WWE match in more than 11 years, Angle joined Shield members Seth Rollins and Dean Ambrose in overcoming The Miz, Cesaro, Sheamus, Braun Strowman and Kane in a 3-on-5 Handicap Tables, Ladders and Chairs Match.
According to PWInsider.com, it was Vince McMahon's idea to add Angle to the match once WWE officials realized Roman Reigns wouldn't be able to compete due to having the mumps. The idea was proposed internally on Thursday and Angle, who has a well-documented history of neck injuries, was given a physical on Friday in his hometown of Pittsburgh to ensure that he was medically cleared for an in-ring return.
Minutes after Angle received the green light from his doctors, WWE announced his addition to the match.
Angle (dressed in The Shield's ring attire), Ambrose and Rollins won the match after executing an Angle Slam, followed by a Shield triple power-bomb (Angle took over Roman Reigns' position in the move), having initially been taken off the stage when Braun Strowman powerslammed him through a wooden table at ringside.
It is unclear when and if Angle will wrestle again, as PWInsider.com states Sunday's appearance was a one-off deal. But after seeing Angle adequately perform on Sunday, the door is open for future opportunities for him to get back into the ring. Angle has long-expressed his desire to return to in-ring competition, so it is likely that Sunday wasn't the last time fans will see him perform in WWE.
On Raw Talk, Angle described how it felt to fight alongside Rollins and Ambrose.