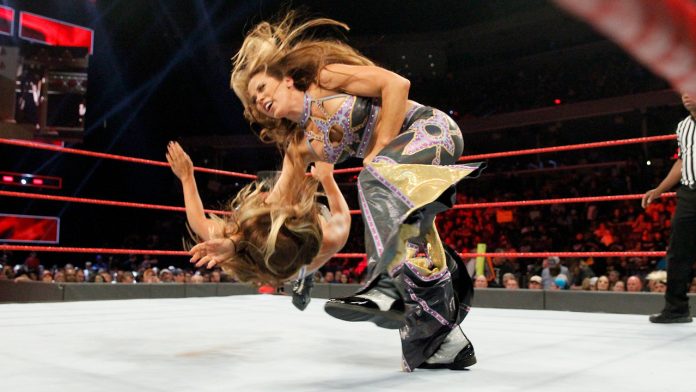 This past Monday on Raw, yet another confrontation between Emma and Mickie James led to a rematch of their bout from a couple weeks back, this time with a unique stipulation: If Emma won, James would tweet anything Emma wanted. If James won, Emma could never claim to start the Women's Revolution ever again.
The Australian Superstar defeated James in short order by stacking her up in a sunset flip. And, as per the wager, Emma grabbed a microphone, backed her way up the ramp and triumphantly claimed that she started the Women's Revolution.
According to the Wrestling Observer Newsletter, WWE got the idea for the Twitter angle from the ABC game show, To Tell the Truth. On the show, the loser is subjected to "Tweet a Lie," in which the host would post a tweet to that panelist's Twitter account that was not permitted to be deleted for the next 24 hours.
Immediately following her victory, Emma tweeted the following to James.
Alright @MickieJames since I beat you on #Raw: #ThankEmmaForTheRevolution #GiveEmmaAChance#GiveEmmaATShirt#WheresEmmasMerch#WeWantEmma

— EMMA (@EmmaWWE) August 29, 2017
James did not get back to Emma until Tuesday night with the following.
Oh right I almost forgot @wwe ?#EmmasNewEntranceSongIsAsAwesomeAsHerWrestling #GiveEmmaSomePersonality #GrowUpEmma #HashtagThis #YouGotLucky

— Mickie James~Aldis (@MickieJames) August 29, 2017
This marked Emma's first victory on Raw since May 2, 2016, where she beat Becky Lynch.