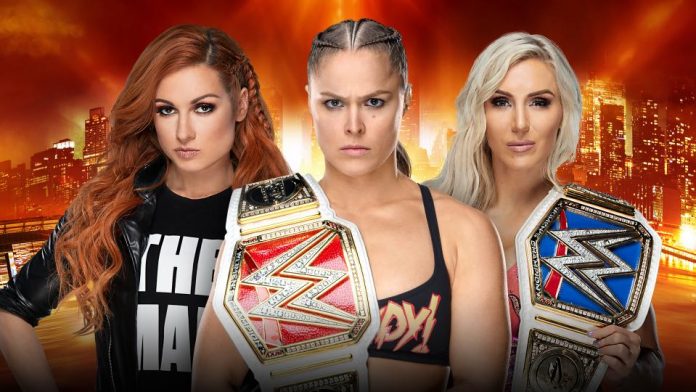 Becky Lynch overcame the odds Sunday night at WrestleMania 35 by defeating both Ronda Rousey and Charlotte Flair in a Triple Threat Match to become both the Raw Women's Champion and SmackDown Women's Champion.
Rousey appeared in control after hitting Lynch with Piper's Pit, but "The Man" immediately turned the tables as she pinned the former UFC star's shoulders on the mat for the three-count.
NEW #RAW #WomensChampion.
NEW #SDLive #WomensChampion.@BeckyLynchWWE just made HISTORY! #WrestleMania #BeckyLynch pic.twitter.com/thDQ3KUDMz

— WWE (@WWE) April 8, 2019
Two people with sources in WWE are saying that the ending of the match was not the planned finish.
According to freelance writer Tom Colohue, WWE's planned finish for the match was for Lynch to force Flair to tap out. The referee, however, made the three-count before Rousey could fully kick out. When necessary, the referees are supposed to delay their count after two.
More from @colohue:

Match ended too abruptly, Becky was still meant to win.

"Accident's happen. The ref's continued a count after a kick out. He hasn't delayed between the 2 and 3 like they're supposed to and Becky hasn't let go in time for Ronda to kick out."#WrestleMania

— Kristen Ashly (@KristenAshly) April 8, 2019
Freelance writer Brad Shepard was also told that the ending was not the planned finish due to an error by the referee. Shepard adds that "Ronda was not happy" afterward.
According to a source in #WWE, the ending to the WrestleMania main event was not the planned finish. The end was a botch, and the referee thinking Ronda's shoulders were down counted to 3. Ronda was not happy. #WWE #WrestleMania #WomensEvolution

— Brad Shepard (@TheBradShepard) April 8, 2019
The result marked Rousey's first loss in a non-tag team match in WWE, while Lynch became Raw Women's Champion for the first time and SmackDown Women's Champion for the third time. It also ended Rousey's first title reign in WWE, and Flair's eighth on the main roster.