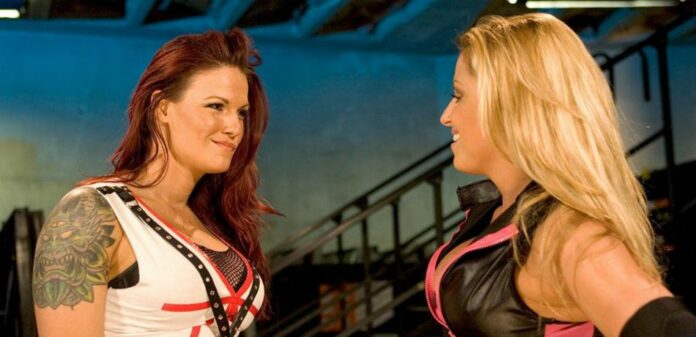 – On Raw last week, WWE Chief Brand Officer Stephanie McMahon announced the formation of WWE Evolution, a groundbreaking all-women's exclusive pay-per-view event that will take place on Sunday, October 28, at 7:00 p.m. ET from Nassau Veterans Memorial Coliseum in Uniondale, New York. The event will stream live on WWE Network and be available on pay-per-view around the world, featuring Women's Championship Matches from Monday Night Raw, SmackDown LIVE, NXT and NXT UK, as well as the finals of the all-women's tournament, Mae Young Classic 2018.
Every woman on the WWE main roster will be on hand for the event, as well as WWE Hall of Famers Trish Stratus and Lita. As far as their involvement on the show is concerned, one idea being tossed around is Trish and Lita facing Nikki and Brie Bella in a tag team match.
This idea has been brought up before in a creative meeting, but it's now being more seriously discussed.
The Bella Twins haven't been confirmed for the event and we don't know yet whether Trish and Lita are okay with wrestling. While Trish and Lita took part in a 30-Woman Royal Rumble Match back in January, neither WWE Hall of Famer has competed in a regular match in several years. Prior to the Rumble, Trish last wrestled in 2011 at WrestleMania XXVII, whereas Lita's last "real" match came in July 2012 in a victory on Raw over Heath Slater. Lita actually last wrestled in March 2017 at an indie show in Maryland, but it was a four-on-four match where her action was limited to a couple of crowd-pleasing spots.
– After battling her way into the SmackDown Women's Championship Match at SummerSlam by making Carmella tap out, Charlotte Flair comments on her huge opportunity at "The Biggest Event of the Summer" and how she feels about facing her best friend, Becky Lynch.