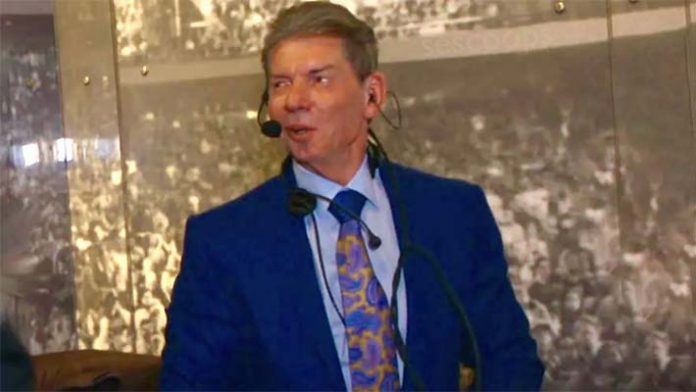 WWE Chairman Vince McMahon made headlines earlier this month when he attended RAW in Boston, his first show since retiring in the summer of 2022.
It was reported that McMahon was at RAW primarily to see John Cena, and that he spent the entire show backstage in the Gorilla Position, but had no influence on the show's creative direction or production.
In an update, Sports Illustrated's Justin Barrasso reports that Vince's visit to RAW was more than just a chance for McMahon to reclaim what he believes is still his.
McMahon has been focused on selling the company since his return in January, according to sources, and he has not been involved with WWE creative. SI notes, however, that it was only a matter of time before McMahon returned backstage.
Multiple RAW backstage sources stated that McMahon purposefully stayed out of the way when he was at the TD Garden in Boston. His presence was noticeable, but he made it clear that he was not involved.
McMahon reportedly sat front and center at the Gorilla Position, between WWE Chief Content Officer Triple H and WWE Executive Director of CWT Bruce Prichard, but he was not wearing a headset and reportedly spent the majority of the night on his phone.
It was also noted that when any of the wrestlers approached Triple H after their segment to ask for feedback, McMahon barely raised his head and never offered any insight.
Barrasso speculated that Vince's return to RAW would result in him appearing at WrestleMania 39.
"McMahon's return was a chess move," Barrasso wrote. "More than just an opportunity to check in with the returning Cena, he had a motive attached to his return and it is undoubtedly part of a plan. There are endless options as to what McMahon's appearance at RAW could mean, but the only certainty from my perspective is that it will serve as a prelude to McMahon going to WrestleMania and being back on-site for WWE's signature event."
Barrasso also speculated that McMahon would appear more on The Road to WrestleMania 39.
"This laidback approach could be read as part of McMahon's strategy. Being on site for WrestleMania may be part of his motive, but it is more likely only a part of his plans," Barrasso wrote. "Plus, for McMahon, that appearance in Boston laid the groundwork—he can now show up at television tapings more frequently if he chooses. For what it is worth, McMahon was not present in RAW this week in Providence. The appearance at RAW in Boston was a first move, so it cannot be properly or fully analyzed until further steps are taken. There are simply too many variables at play not to be speculative. But it is easy to speculate that Boston will not be McMahon's final RAW before WrestleMania."
McMahon's RAW visit, as PWMania.com previously reported, caused more of a stir online than it did at the venue or in the locker room. One of the most talked-about aspects of the visit was McMahon's new look, which included dyed hair and a small mustache reminiscent of Gomez Addams from The Addams Family.