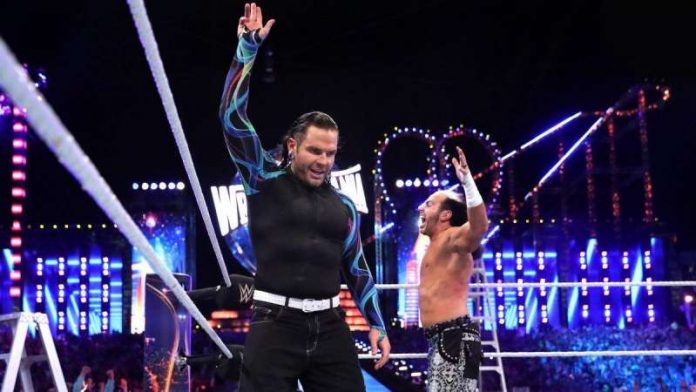 The wrestling world is abuzz with the potential re-emergence of "Broken" Matt Hardy in a WWE ring.
According to a report on Wednesday by Sports Illustrated, WWE is creating a new character for Hardy that will be very similar to his "Broken" persona.
There were legal matters between Hardy and Anthem Sports and Entertainment over the ownership of the "Broken" intellectual property, but Anthem's Ed Nordholm recently retweeted an upcoming Hardy signing before the Hardys' November 18 appearance at the Wizard World Comic Con in Austin, Texas.
There have been no new negotiations between Hardy and Nordholm, nor has there been any discussion of revenue sharing over profits made off merchandise. SI.com reached out to Anthem for further clarity, and Nordholm replied with this statement:
"We have seen the character development and will be interested to see where they take the concept. Our new talent agreements all incorporate language that allow talent to continue to use their IMPACT persona after they leave the company. We are working with our legal team to amend our existing agreements to extend this to all of our current and former talent."
Hardy took the most obvious steps toward bringing the gimmick to WWE on Raw last Monday night. After claiming last week he was edging closer to his "breaking point," Hardy lashed his fist through the air and screamed "Delete!" over and over again long after losing to Bray Wyatt.
DELETE DELETE DELETE #RAW pic.twitter.com/oN1j1JpZar

— Italo Santana (@BulletClubItal) November 28, 2017
And that continued from both Hardy and WWE after the show.
YEEAAAASSSSSSSS! My dormant CONDISHTION has been #WOKEN. pic.twitter.com/SJ3S1YQgut

— #WOKEN Matt Hardy (@MATTHARDYBRAND) November 28, 2017
My physical contact with Bray Wyatt on #RAW seems to have TRIGGERED & AWAKENED my PRIMAL PASSENGER. https://t.co/IBeryV4mQZ

— #WOKEN Matt Hardy (@MATTHARDYBRAND) November 28, 2017
Dave Meltzer added in the latest issue of the Wrestling Observer Newsletter — published Thursday — that Hardy's character will be termed "Woken" instead of "Broken." He also noted that Jeff Hardy will likely be doing the broken character as well.
During a backstage interview last Saturday at WWE Starrcade, Jeff gave an update on his shoulder injury and when he hopes to return to the ring.