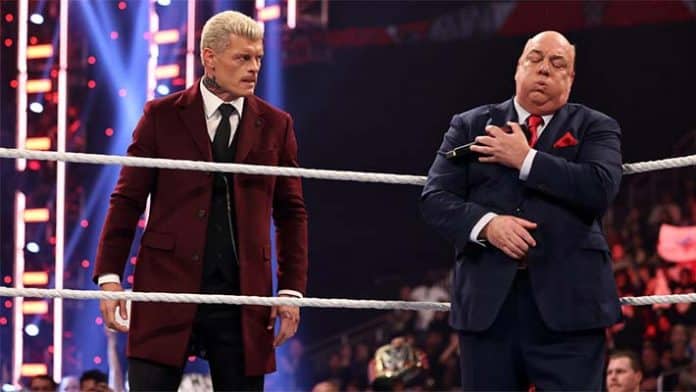 WWE is in an interesting position because fans are invested in the storyline involving The Bloodline and Sami Zayn, especially after Zayn turned on Roman Reigns following his Undisputed WWE Universal Title victory over Kevin Owens at the Royal Rumble.
Zayn will challenge Reigns for the title at the Elimination Chamber, and Cody Rhodes will face Reigns for the title at WrestleMania 39. Some fans believe Zayn should get the WrestleMania match instead, or be inserted into the main event.
Considering how over the Zayn storyline is right now, Dave Meltzer of Wrestling Observer Radio said that WWE knew they needed to do something significant to build Rhodes vs. Reigns.
There was a promo segment between Rhodes and Paul Heyman on this week's episode of WWE RAW. Dusty Rhodes' name was brought up and Heyman said the following:
"I can't convey in words how much I loved your father. And I can tell you straight to your face — man, did your father love you. I'll tell you this one personally. In my last conversation with your dad, he told me you, Cody, were his favorite son — but Roman Reigns was the son he always wanted."
The segment generated online buzz, with "Cody and Paul" becoming a trending topic on Twitter, and Meltzerstated the following on Wrestling Observer Radio about the segment:
"Well, the thing tonight, we probably should've opened with this. It was fantastic. This was done because they were well aware of how hot the Sami Zayn thing is and it was imperative to not have this WrestleMania main event angle feel secondary. So they knew going in that they had to do something, and they did. They used a lot of real history there with Dusty Rhodes and Paul Heyman. It's very important to the entire company that the Cody match is not the secondary match. But it's also important that people don't look at it as a competition between the two of them (Rhodes and Zayn), and then the people get behind Sami Zayn, and then that screws up Cody as a babyface."
Click here for WWE RAW results. Here are highlights from the segment: