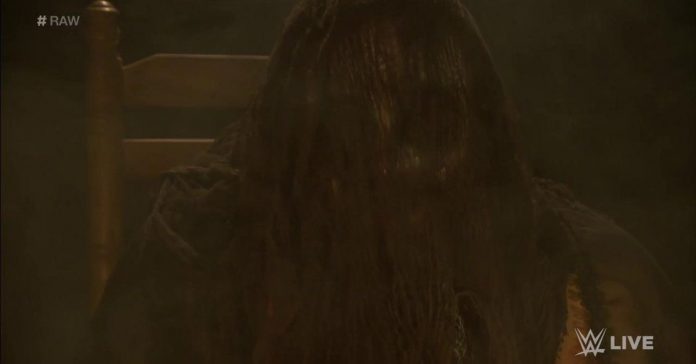 According to Bray Wyatt, Sister Abigail is alive and dying to meet Finn Balor.
As seen this week on Raw, Wyatt commanded Finn to bring "The Demon" one again, and in return, Wyatt would reveal his own true self.
"Abigail is alive," he said, as his face transformed before Balor's eyes, "And she is dying to meet you."
A female voice could be heard laughing alongside his.
According to Pro Wrestling Sheet, WWE is not planning to introduce a female character with the name.
Sources with direct knowledge of the situation say the current plan is for Wyatt to wrestle at WWE TLC on Oct. 22 using the name "Sister Abigail" — similar to how Finn Balor becomes "The Demon" — and he'll wear a different outfit.
A full recap of the segment from our Raw report is below.
Finn Balor makes his way to the ring as we see what happened last week when Bray Wyatt had the child singing "whole world" after the match with Goldust. Balor says he wants to be honest – he doesn't like to come out here and talk, he likes to come out and fight. Bray Wyatt on the other hand, he likes to come out and play mind games. Last week he had a little kid singing but Balor doesn't buy it for a second. If Wyatt actually had the whole world in his hands, he wouldn't know what to do with it. Balor says Wyatt may call self a God and the Eater of Worlds but Balor sees him for what he is, a coward.
Balor says Wyatt lost to The Demon at SummerSlam and the man at No Mercy. Wyatt can make all the excuses he wants but Wyatt is afraid. He's afraid that he can't beat Finn Balor, despite all of his games. Balor challenges Wyatt to come out and fight right now, don't sing it bring it. The graphic flashes and we see Wyatt backstage in his rocking chair. "She never lied to me" he continues to repeat. She didn't lie to him but Balor did. Wyatt goes on and says Sister Abigail is alive, and she wants to meet Balor. Wyatt appears to turn into a zombie-looking version of himself and starts laughing. We hear a woman's laugh mix in with Wyatt's laugh as the show goes to commercial.