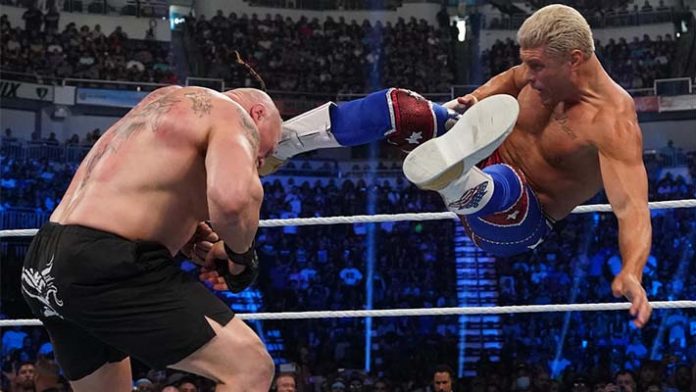 As PWMania.com previously reported, the third Cody Rhodes vs. Brock Lesnar match is set to take place at WWE SummerSlam in Detroit, according to Dave Meltzer of Wrestling Observer Radio.
On Wrestling Observer Live this afternoon, Bryan Alvarez revealed that the match will include a stipulation that hasn't been seen "in a while."
"I have been told that it is gonna be something," Alvarez said about the match. "It's not just gonna be a straight match. They've got some sort of stip that allegedly we have not seen in a while and that means not Hell in a Cell. So I wonder what stip they might be coming up with for the third match between these two." Alvarez joked, "I hope it's not ring of fire."
There are no additional details available, but it is worth noting that last week, WWE insider BoozerRasslin broke the news that a Dog Collar match had been pitched, but the idea was rejected.
Cody Rhodes is a big fan of the Dog Collar match because it was done in the 1970s and 1980s by his father Dusty and others like Greg Valentine and Ric Flair. Cody also competed in an AEW Dog Collar match against Brodie Lee.
Stay tuned to PWMania.com for more.