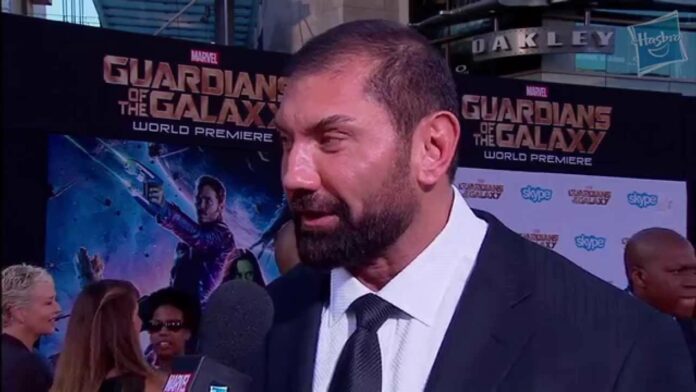 – Batista stars alongside the cast of Guardians of the Galaxy Vol. 2 and David Hasselhoff (who had a cameo in the film) in this retro-style music video called "Guardians' Inferno."
The music video appears on the upcoming home release of Guardians of the Galaxy Vol. 2, out Aug. 8 via digital download and Blu-ray and DVD on Aug. 22.
– In her debut for Ring of Honor on July 29, Brandi Rhodes paid tribute to the legendary Dusty Rhodes by wearing black attire with yellow polka dots. She explains the meaning behind her fashion statement in her latest blog on BeingBrandiRunnels.com.
"I have never ever received so much positive energy towards anything I've ever worn in my entire life," Rhodes wrote. "Fashion is a passion of mine, for sure. But the dots make people feel good. They make people remember. They start conversations and encourage fans to tell me their favorite Dusty stories and moments. It's really surreal and it helps people come together and enjoy themselves that much more."
Rhodes also notes that her attire isn't a reference to Dusty's valet during his polka dots phase, Sapphire.
"Just because I'm black, doesn't make me in polka dots a Sapphire reference," she wrote. "She was amazing and I enjoyed her and Dusty immensely. But Cody and I are never trying to be this. Cody is Dusty's son and I never had the pleasure of meeting sweet Sapphire. I would consider it disrespectful to her family to try and "represent" her. That's their right and their lineage, certainly not mine."
Fancy ?? pic.twitter.com/4nY52zYCjX

— Brandi Rhodes (@TheBrandiRhodes) 2 August 2017
– Sting sent out this tweet congratulating Dallas Cowboys owner Jerry Jones on his induction into the Pro Football Hall of Fame Saturday night.
I meant to post this earlier, but I want to congratulate Mr. Jerry Jones on his induction into the Pro Football Hall of Fame. @dallascowboys pic.twitter.com/7yQzFgdbCC

— Sting (@Sting) 6 August 2017
According to this interview Sting did with the Dallas Observer in May, the first house he bought was in Valley Ranch, near the Cowboys' training facility. He returned to Southern California (where he grew up) in the mid-'90s, before deciding to make a permanent move to North Texas in 2009.