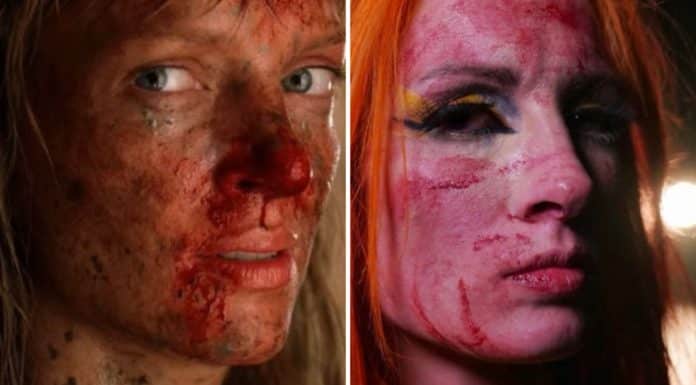 Becky Lynch is out for revenge.
"The Man" surfaced on Twitter vowing revenge after losing to Trish Stratus thanks to an assist from Zoey Stark at WWE Night Of Champions 2023.
"Revenge is a dish best served cold," Lynch wrote via Twitter. "Trish Stratus, we have unfinished business."
She added, "Zoey Stark you messed up. Plain and simple."
Stark reacted with a GIF of late, great WWE Hall of Fame legend Razor Ramon (Scott Hall) doing his "flutter fingers" hand gesture, as well as writing, "Surprise, surprise" in an additional tweet.
For her part, Trish Stratus shared a photo of herself along with a caption that showed the equation for herself as the G.O.A.T. (greatest of all-time) being greater than "The Man" Becky Lynch.
Check out the tweets, along with some coverage of Lynch's "Kill Bill" attire in a tip of the cap to Uma Thurman, via the posts embedded below.
The 🐐> The Man #WWENOC

📸 THE Matty Cox @TheMattyCox pic.twitter.com/b1EU7ESpis

— Trish Stratus (@trishstratuscom) May 27, 2023
Surprise, Surprise 😏 https://t.co/OdWEc8xSdC

— Zoey Stark (@ZoeyStarkWWE) May 27, 2023
Revenge is a dish best served cold.@trishstratuscom we have unfinished business. @ZoeyStarkWWE you messed up. Plain and simple. #WWENOC pic.twitter.com/FjGw59ktmS

— Rebecca Quin (@BeckyLynchWWE) May 27, 2023
https://t.co/GWNwRhdPuj pic.twitter.com/vEhBABpsyX

— Zoey Stark (@ZoeyStarkWWE) May 27, 2023
"Revenge is a dish best served cold." @BeckyLynchWWE pic.twitter.com/xtMdnKHsi4

— Matty Cox (@TheMattyCox) May 27, 2023
Becky Lynch ready for battle in her Kill Bill ring gear#WWENOC pic.twitter.com/SM16J3Wt3I

— Atomic Merch Drop (@AtomicMerchDrop) May 27, 2023
Nah cause the blood really made the outfit kinda pop and she still look good😮‍💨😍 .@BeckyLynchWWE The Goat🐐 she killed this Kill Bill gear pic.twitter.com/ICP2QAu1Qz

— Becky Lynch The Goat🐐 (@BeckyLynchQ1) May 27, 2023