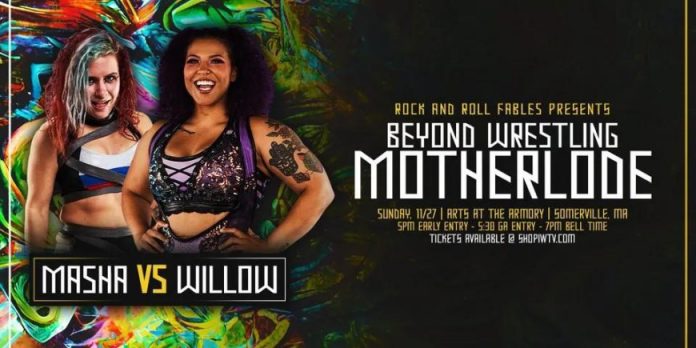 On November 27, Beyond Wrestling held its "Motherlode" event from Arts at The Armory in Somerville, Massachusetts.
"Motherlode" was a 14 match event that was headlined by Impact Wrestling's Masha Slamovich taking on AEW's Willow Nightingale.
AEW star Ortiz was on the show as well as he met Indy sensation Alec Price.
Here are the full results courtesy of PWPonderings and highlights for Beyond Wrestling's "Motherlode":
CPA def. TJ Crawford
Fancy Ryan Clancy def. Aaron Rourke
Ray Jaz def. Tyree Taylor
Brad Hollister def. Love Doug
Brick City Boyz (Victor Chase and Julio Cruz) def. To Infinity And Beyond (Colin Delaney and Cheech)
Alec Price def. Ortiz
Andy Brown def. Brooke Valentine
Rex Lawless def. Tracy Williams
Little Mean Kathleen and Teddy Goodz def. BUSSY (Allie Katch and EFFY)
Channing Thomas def. Matt Tremont
The Miracle Ones (Ichiban, Kylon King and Dustin Waller) def. Above The Rest (Gabriel Skye and Tristan Thai) and Dezmond Cole
Shook Crew (Bobby Orlando and Bryce Donovan) def. Kings of the District (Eel O'Neal and Jordan Blade)
B3CCA def. Akira
Main Event: Willow Nightingale def. Masha Slamovich
The Big Tax Machine CPA with the chokeslam! @cpawrestles #Motherlode pic.twitter.com/OqVpiK9VUv

— RydeenBomb (@RydeenBomb) November 27, 2022
Slingshot cutter!! #Motherlode @ThePrizeCityOG@beyondwrestling @indiewrestlinghttps://t.co/ieCmFUA3uy pic.twitter.com/qBmYNlxRft

— SirLARIATO (@SirLARIATO) November 28, 2022
Bakabella out here taking 3D's #Motherlode @beyondwrestling pic.twitter.com/FThULMeB31

— Adam Cardoza a.k.a. 🐀 (@juliusblaise) November 28, 2022
#Motherlode @matt_tremont@beyondwrestling @indiewrestlinghttps://t.co/ieCmFUA3uy pic.twitter.com/jFNcDd0EAK

— SirLARIATO (@SirLARIATO) November 28, 2022