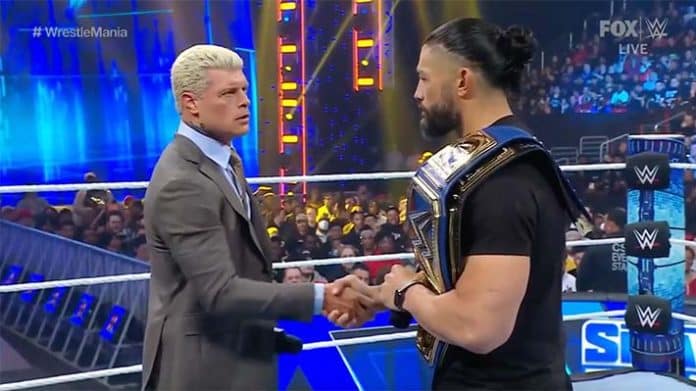 The build to WrestleMania continues and while the shows themselves were okay, with Smackdown being the better show again. RAW was a boring show with not much happening outside of a couple of tidbits, and Smackdown was a solid show with some talking points, in the usual fashion, The Bloodline is the biggest.
The Bloodline falling apart?
On RAW Jimmy Uso and Solo Sikoa were on the show and beat the Street Profits to open the show. Then come to Smackdown and the tension is high within the group. After Roman and Cody had their segment at the start of the show, there were a couple of times they showed The Bloodline in the back, the most notable one being Roman saying to Heyman after Jimmy had left the room, that if this Jey situation doesn't get solved by next week, Roman will be blaming Jimmy.
So there we are with the blame game from Roman and his manipulation tactics to get The Usos on the side with him. I think we still get the tag team title match with Owens and Zayn, but the cracks are really starting to emerge, and Sami is looking more right by the week with what he said about Roman to Jimmy, about manipulation and how they are all being used. Now I think Jey shows up next week, there might be some calm after he maybe sides back up with The Bloodline, but there is a possibility that The Bloodline implodes come WrestleMania with The Usos turning on Roman.
Cody and Roman finally have a face-to-face
Finally, we have gotten a face-to-face with Cody Rhodes and Roman Reigns. It had to happen, and it did on Smackdown, a segment that has finally helped this match feel big and like a main event match. The segment was excellent, both men looked great and really sold it. I thought Roman really questioned Cody by asking these questions of what Roman has already done like holding a world title and main evented WrestleMania. The only real issue is they should at least address Cody's past and why he left WWE and how while he was away Roman was building his empire as "the guy." Hopefully, we get some of that dialogue between the two because that would be very fun and interesting compared to the Rhodes story that we keep getting told week after week.
Finn Balor issues a challenge to Edge
The challenge has been issued from Balor and I expect we will probably see Edge in some capacity on RAW to accept this coming week, which means the Hell in a Cell will probably become a reality. Then we can start the final build to what should definitely be the blowoff. The question is probably, are we going to get different versions of these characters for their match? I don't really think that is necessary, but regardless of what happens, this will be the end.
The Mysterio build continues
Rey and Dominik continue on their inevitable collision course toward WrestleMania. Dominik competed on Smackdown against Rey's newfound ally Santos Escobar, who brought out the mask that Rey gave him a few weeks ago. Rhea Ripley got involved in the match, and Dominik got the win. Post-match is where Dominik grabbed that mask and started tearing it up, got up to the stage area, which is when Rey came out. Once again they egged Rey on who didn't take the bait, Dominik threw the mask on the floor, and when Rey went to pick it up, Dominik came in with a cheap shot from behind leaving Rey upset again.
When that first Rey break happens, it'll be a big moment, and the crowd will hopefully go nuts for it. I like the element of Santos getting involved, because it looks like he's getting over as a babyface, which is great and hopefully following WrestleMania we see Legado get involved which leads to a Legado del Fantasma vs Judgement Day feud coming out of WrestleMania. But there is every possibility we see Rey and Santos team up after Mania against Dominik and Priest.
The IC title picture is shaping up for WrestleMania
The rumours for Mania were a triple threat match between Drew, Sheamus and Gunther for the Intercontinental Championship. On Smackdown we got the first tease of that with Drew coming out and proclaiming his challenge to Gunther at WrestleMania. This obviously didn't sit well with Sheamus who was annoyed that Drew went behind his back and challenged Gunther. This was a genuinely heated moment between the two before LA Knight interrupted. A quick note on LA Knight, he got a great reaction this week and it is fantastic to see, he's increasingly getting over it seems, brilliant.
New Day come out and interrupt as well, then Karrion Kross did as well, then a big brawl broke out which ended up with the announcement that next week, we will get a fatal 5 way between Sheamus, Drew, LA Knight, Kofi Kingston and Karrion Kross. I think it goes without saying, but Sheamus should win this match. Now it did say qualifier on the graphic so maybe there will be another match to determine another opponent for a triple threat match, which would make the rumours accurate.
What do you think? Share your thoughts, opinions, feedback, and anything else that was raised on Twitter @PWMania and Facebook.com/PWMania.