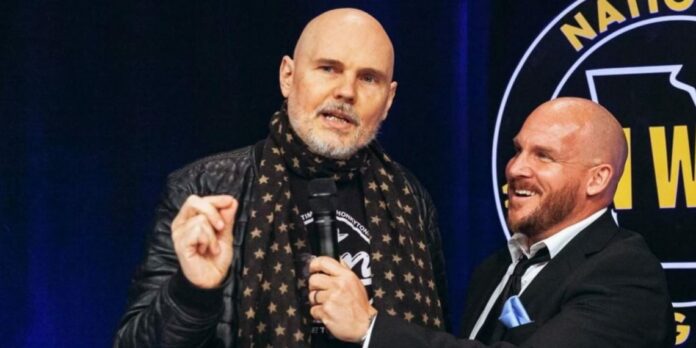 Billy Corgan recently appeared as a guest on the Mat Men Pro Wrestling podcast for an in-depth interview covering all things pro wrestling.
During the discussion, the NWA President and Smashing Pumpkins front-man said he feels the biggest days lie ahead for pro wrestling, while also reflecting on purchasing the National Wrestling Alliance five years ago.
Featured below are some of the highlights from the interview where he touches on these topics with his thoughts.
On how pro wrestling's biggest days are ahead: "Quote me on this in ten years. I think wrestling's biggest days are still ahead. As big as the NWA was, Vince made it bigger. People look at that and say, 'Wow, that was massive.' Yes, of course, WWE's massive. But compared to UFC, compared to the NWA, there's still room for growth. That's why people are out looking at the WWE on the open market for sale because people realize there's growth to go."
On buying the NWA five years ago: "It was flat when I bought [NWA] five years ago, and now I get business people sending me stuff all the time, saying they can't believe some of these earning reports they see from WWE, and I always write them back saying, 'I told you, I'm not insane. This is not some kind of weird hobby. There's a growth vector here.' So what I would say to people in the [wrestling bubble] is stay focused on the fact that wrestling's best days as a business, if you love the business, you love the performers, the best days are ahead of it. You see tension there with brand. The story with Sasha [Banks], leaving WWE and being on The Mandalorian, I mean, you see the rise of individual brands. Brock Lesnar of course left, went to UFC, became a bigger brand, and he raised his value, and works a part-time schedule for Vince, where 20 years ago they wouldn't have allowed that. Those are small signs of what's coming, and that includes Jake Paul coming in and stuff like that, or Bad Bunny."
On believing that wrestling can grow to a bigger platform: "The opportunity of wrestling to grow to an even bigger global platform and a larger global audience is unprecedented, and digital is very much a part of that, social media is a part of that. So stay focused on that. While you want to get into every little turf conversation, or you don't understand why Billy's over here in the corner doing what he's doing, understand that my personal faith and my investment in it is I believe that the NWA can rise up to a level that is even greater than the NWA before. Now if you look at what I'm doing now, you're gonna say he's totally insane. But that's what they said about my band and my musical life, and here I am, 35 years later, still going. So that's how I feel about it, and I think there's plenty of empirical that suggests that everything is still trending upwards."
Check out the complete interview below. H/T to Fightful.com for transcribing the above quotes.