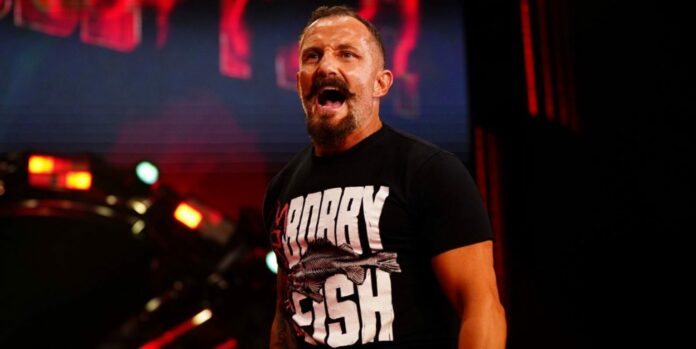 Bobby Fish has enjoyed a very successful career as a professional wrestler and has worked for numerous top promotions including the WWE, AEW, ROH, NJPW, and Pro Wrestling NOAH
Fish is known for teaming with Kyle O'Reilly as reDRagon and being part of the NXT faction Undisputed Era. He has held many championships which include the NXT Tag Team Titles, ROH Tag Team Titles, ROH Television Title, and the IWGP Jr Heavyweight Tag team Titles.
Bobby Fish joined PWMania.com's Lewis Carlan for an exclusive interview as he discussed WWE under Triple H, his current relationship with Tony Khan, differences between Triple H and Tony Khan, if he is open to working for ROH, why his time in IMPACT Wrestling lasted only one TV taping, if we can expect reDRagon to reunite eventually, if he is disappointed the Undisputed Era never got to the main WWE roster and so much more.
You can read PWMania.com's complete exclusive interview with Bobby Fish below:
On April 22, you are facing Will Ospreay at One Pro Wrestling's All or Nothing. The winner will be advancing to the final four, to determine a new One Pro Wrestling World Champion, your thoughts on the match and your thoughts on Will Ospreay.
Yeah, I'm pretty excited about that. That popped up on my radar not too long ago, the opportunity presented itself and for numerous reasons, I jumped at it. When it comes to Will Ospreay, obviously, I was with New Japan, when Will first kind of happened upon the scene. There was certainly a huge upside to him. I think we all realized he was something special. I don't think he's disappointed. He's had quite the career and continues to have quite the career. Will and I veered in different directions and went on to do different things. But then recently, I want to say it was something with AEW, where Will and I saw one another again for the first time in a few years. So it was good to see him, catch up and now we're going to be able to catch up in a different way which is pretty damn cool in and of itself. I think he's a different performer today than when we last met. I'd like to think the same of myself. So it's going to be interesting to see how that matchup plays out all these years later.
You two met in 2016 NJPW Best of The Super Juniors. He defeated you. I'm not sure if you guys met after that but are you looking to get that win back from Will Ospreay?   
I think you're always looking at any time you have a loss on your record, you're always looking to get that one back. You're always looking to either even it up or win in the rubber match. Pro wrestling is just one of those strange things where you don't know when you're going to cross paths with people again. It's truly unpredictable. For instance, those years with New Japan, Kyle and I were running pretty hard. And I'll say Matt and Nick Jackson, the Young Bucks were two guys that we were constantly linked to, whether it was Ring of Honor or New Japan, or even Pro Wrestling Guerrilla. And then Kyle and I ended up going to NXT. Matt and Nick continued to do their things in the same way that Will Ospreay continued to do his thing with New Japan. These people that you have spent the last few years seeing on a monthly, sometimes weekly, basis you are spending more time with them than your own family sometimes you don't see for years to come. That was certainly the way that things would play out with Will Ospreay and me. I can't put into words how excited I am to have an opportunity to get this one back at One PW next month.
Speaking of New Japan Pro Wrestling, I believe your last match was last month against Dave Finlay. What's your status right now with New Japan Pro Wrestling?
There's still interest on both sides. It's our mutual interest. I don't know how to open back up Japan is at the moment. I know there are guys that are making regular trips over. There's the whole visa issue and all that stuff. So what was the least complicated thing for me to do was to start working for New Japan Strong which is what I was doing. I believe I will continue to do that. As far as heading over to Japan, it's been a few years since I've worked there regularly and I would love nothing more than to get a few more trips on my passport over to Japan. I have history there. I love New Japan as a company. I love Japan as a country. Recently, I got married and my stepdaughter has always wanted to go to Japan. I would love nothing more than to bring my wife and our 10-year-old to Japan to see a Tokyo Dome show that'd be pretty cool.
Pro Wrestling Noah is on the rise right now. They are thriving. Is that a promotion you might want to go back into?  
For sure. They were integral, integral doesn't even sum it up, that's where I cut my teeth. That was my first opportunity in the pro wrestling business. The first TV company I worked for was Pro Wrestling Noah. So it was a different kind of a thing in that you're on TV, you're making a living, but you're doing it on the other side of the world. So, it did little to increase notoriety, let's say, at that time here in this country. I was a semi-regular on TV in Japan, I was wrestling against guys like Kenta and Naomichi Marufuji, getting to do six-man tags with people like Mitsuharu Misawa, Taue.  I can't overstate how valuable that experience was for sure.
Are you enjoying free agency right now? Or are you looking to find a permanent home?   
Right now, I'd say I'm really kind of enjoying free agency. So a couple things that popped up that I would not have been able to do should I have been with a larger company the way that I have been for the past decade or so. I fought on the Floyd Mayweather undercard in Dubai in November. So I actually had my first professional boxing match after 20 odd years in professional wrestling. Prior to that I had three amateur kickboxing fights, but they were kickboxing. Kickboxing and boxing are very different things. That very much fell in my lap and wasn't really on my radar, let's say at the beginning of the year or the end of the year before. If things had worked out with AEW or I was with WWE, I would not have been able to take that fight. So that was an opportunity. Something that I really can't put a value on. They flew my agent over, they flew my coach over, they flew my wife over. So I got to spend a week in Dubai. Yeah, to have missed out on that would have kind of sucked. That alone has helped me to appreciate this time. Obviously, the security of a regular contract is always attractive. But yeah, right now I'd say I'm enjoying free agency.
And you're an undefeated boxer. Are you going to retire undefeated? Or is there going to be another fight?  
Originally, it was supposed to be a two-fight deal. However, if Global Titans does not run another event, that obviously won't happen. It seems to be up in the air. I'd say probably leaning closer to the direction of no, which sucks.  Because, even that one fight, man, it was awesome. What an experience, I really would like to fight again, whether it be boxing or to be honest, I'd rather do some kickboxing again, I'd really like to or even MMA. The itch to compete is still there, I don't know, maybe it'll never go away.  But yeah, I don't think for Global Titans there'll be another fight, but maybe somewhere else.
Do you prefer wrestling or do you prefer boxing?  
I would say, it's a toss-up. It's a tough one. If I had my druthers, I would really like to do some kickboxing at the highest level that I could aspire to, I would really like to do some kickboxing. I'm a huge MMA fan, so that would require maybe a little bit more work on my part, but not work that I'm opposed to. Let's call things what they are. Pro wrestling is its own animal and competition, which is what I've done my whole life. I started martial arts as an eight-year-old and competed in athletics, my whole life, contact sports was kind of my lane. So that itch to compete is still there. I think sometimes that gets satisfied in a way with 20-some odd years in pro wrestling, there's certainly been some competitive times. But there's something simple about competing, whether it be boxing or a football game. There's a single-minded purpose in that moment, and you know, that like, "I'm going out and I'm trying to hurt this person, or they're trying to hurt me or beat me" or whatever that is. There's something pure about it that I think I still crave.
Ring of Honor is actually back with TV programming. Should the opportunity present itself, would you be open to returning to a Ring of Honor?  
Ring of Honor is definitely a place that will always hold some space in my heart and the things that I love about the industry. That's the place where Kyle and I got to grow as a team. I'd say that was probably the most important part of my maturing process when it came to being a professional wrestler was the time that Kyle and I started doing reDRagon and that I think really formed who I would become as a performer. And that's where I found my lane. I think Kyle had a similar experience. Ring of Honor, being that place and New Japan, in a way as well. Ring of Honor would always be someplace that would interest me. I love the fresh coat of paint that it seems to have been given. I love to see a guys like Samoa Joe back there doing the things that he's doing. Claudio Castagnoli, doing the things that he's doing.  I've been a huge fan of Samoa Joe since longer than Samoa Joe would even remember. He was one of the first independent wrestlers, we'll call it that, non-WWF guys, that I became aware of that really captivated me. I was cutting my teeth as an independent and getting reps for Pro Wrestling Noah. But here, I saw this big Samoan dude way more athletic than he's supposed to be. He had legitimate martial arts skill. I knew that I had legitimate martial arts skill. And I was trying to figure out how it was to fit into my pro wrestling and it's a process. I would tell anybody that would be coming up trying to do something similar to that it doesn't just happen, and you want to kind of get your basis of your pro wrestling, it's up to you to add your flavor to it. And the flavor I knew all along was that I wanted it to be martial arts. But I didn't know how to integrate that. Joe was one of the first guys that I saw, who was finding that balance of integrating martial arts into his pro wrestling.
So what's your relationship with Tony Khan like right now? Are you on good terms with Tony Khan?  
I mean, as far as I know, unless he's told something different. I've always had what I would like to consider a good relationship with Tony. Tony is in that company. He's dare I say spread thin. Like, he's only one man. He's got a lot of people pulling at him from different directions. So I will say for myself in that company, I tried for the most part to do my job and kind of flew under the radar. I would request time if it was needed. But I tried not to be a pain in the ass about it. I would hear murmurs about this person or that person being a pain in the ass. I don't know, sometimes I think the squeaky wheel gets the oil. Maybe that is prevalent in the industry many times, but I'm just not comfortable being that guy. I tried to try to get the time when I could and if it wasn't there, it just wasn't there.
So I want to talk about Impact Wrestling. You appeared at Impact Wrestling Victory Road 2022 and you got a tremendous ovation when came out at Victory Road, but you were only at one set of TV tapings. I thought when you first came out, you're going to be there for a lot longer than that. Is there a reason why you're only there for one set of TV tapings?
If there's a reason, I don't know. You could maybe ask them. We talked about more than just that. But we did not think about anything permanently. I don't know if it was because the asking price was too high. I know that we didn't do more stuff moving forward. We didn't really talk about a permanent sort of fixture type of thing other than preliminary talks. It could have simply come down to that they didn't have pockets deep enough or didn't see me as that valuable as I saw myself. I don't know, to be honest.
I know the match happened during that set of tapings with Josh Alexander. But I thought you're going to win the Call Your Shot Gauntlet and then a build up to a big match between you and Josh Alexander. It just feel so rushed. I just was wondering why you weren't there longer but thank you for explaining.  
I don't really know. We talked about the match with Josh. So I put a lot of focus on that. And I went out and I had the best match that I could have with Josh, which is not a difficult thing to do at all. Josh is incredibly talented, dare I say not to pat us on our own backs but dare I say we had a good one. I was happy with it. The outcome was what it was, but I enjoyed the chemistry that he and I seem to have all these years later. We had wrestled in a tag match between ReDRagon and him and I forgot what their name was at the time.
Monster Mafia with Ethan Page.  
Yeah, Monster Mafia.   And that was many years ago in Ring of Honor. I remember the chemistry being there between the four of us then. It was nice to see that it had not diminished.
So I've always wondered, how did you and Kyle come together as reDRagon? Whose idea was it for reDRagon?  
That was Hunter. Delirious.  Hunter Johnson. I was coming in, not sure if I was going to stick or not. I had kind of a tryout match because I think that they thought that I would have a bit of an upside. But I don't know that creatively. We knew what we were going to do. I think they had a plan going forward for Kyle. Kyle was splitting from Davey Richards at the time. I think they were looking for a reason to get Davey and Eddie Edwards back together. The American Wolves who had not had been at odds with each other but weren't necessarily aligned. So to have Kyle turn on Davey would kind of give the reason for American Wolves to get back together, which gave Kyle and I a huge rub and legitimacy right from the beginning to just step into a program with the American Wolves; who also at that time, people wanted to see back together. So they were very much the babyface like that you wanted to be opposite. And establishing Kyle and I as a heel team from that point was just easy to stand across from them. And it really set Kyle and I up, dare I say, in a position that we just couldn't fail. So even if we sucked and our chemistry was s**t, I still think we would have been fairly successful. But as a bonus to that Kyle and I had instant chemistry and within like two weeks of setting this thing up, we both felt like holy s**t, I feel like we've been doing this forever and it's been only two weeks.
In your wildest dreams, did you think it was going to be as successful as it became?  
I don't think so. I think we both would have wanted it to and we both put our heart and soul into it truly and we developed ideas for everything right down to the clothes that we would wear outside of our wrestling gear. We thought about little things like the fact that the name had the word red in it and on purpose we had no red in our gear whatsoever. So it was like, we were both very detail-oriented people in the pro wrestling industry and I think you can be that and I know as a kid growing up, all the little details were the things I noticed. I noticed when Tony Blanchard and Arn Anderson wore gear that colors matched, but the gear wasn't exactly the same, like other teams like the Rock and Roll Express. I noticed and picked out little things like that. So when it came to reDRagon, we did a lot of that same stuff. I think that was a big reason why it did get over the way it did.
Have we seen the last of ReDRagon? Or could the fans expect to see you come together again in the future?  
I certainly hope we haven't seen the last. It would be a shame to not revisit reDRagon. It's near and dear I think to both of us. The Undisputed Era. Another thing near and dear to both of us. We had a chance to kind of have the reDRragoneers and then have the Undisputed Era version of reDRagon. I think in some way shape or form, I personally hope that we've not seen the last. Kyle needs to heal up. His surgery and stuff were probably long overdue and something I think that needed to be addressed, he's addressed it. It's a slow build coming back from something like that. And there's no reason to rush it. You know, neither one of us are going anywhere. I think I can speak for Kyle a little bit when I say that. I think we both would like to revisit reDRagon for sure.
What are your thoughts on the WWE under the Triple H regime?
I've made no secret about how fond I am and was of the time that we spent working for Hunter. Vince McMahon's name was on the checks. But when we were working for NXT, Hunter and Shawn Michaels, they were the guys. They were the coaches that we played for. I will liken it to that because of my years playing football in high school and in college. And that being such a big part of my life. There were coaches I had over the years that I wanted to play for. As much as I wanted to play well for myself, I wanted to play well for them too. And I kind of liken it to that, working under Hunter and Shawn. We would come through the curtain and we were kind of, I don't want to say they're their project but we were their guys, we were Hunter's. Some people nicknamed us Hunter's Horsemen. I take such pride in that because I was a fan of the same timeframe, as Hunter and Shawn from a pro wrestling standpoint, the NWA, the Crockett years, with the Horsemen, and the War Games and all of those things. So to think that all these years later, two guys being at the helm, in Hunter and Shawn, and what they created, I'm sure had influence of those years that they were fans. So for them to bring back the War Games, and for us to be this group of four you know, best friends thick as thieves. And that was legit, you know, in the vein of the Horsemen, in the vein of DX, to be able to include us in a sentence with those two names in it and then to become synonymous with the reintroduction of the War Games as it became to be known with NXT. If somebody had explained that to me, when I first got into pro wrestling as a career, I would have said, "You're crazy". For all of that to play out the way that it did. I couldn't be prouder of that time spent working underneath minds that understand s**t about this business that some people will never grasp. Sure. So it was quite the learning to be under.
Were you disappointed that The Undisputed Era never had a chance at the main roster?  
I'm just disappointed that there was more gas left in the tank for us and it doesn't really matter where that would have been, whether it be Raw or Smackdown or continued to be NXT or anywhere else. There was gas left in that tank, and there's still gas left in that tank. Anything I do now independently it's what people talk about, the Undisputed Era stuff, reDRagon, how's Adam, Kyle, Roddy? And like I said before, it worked and it resonates with people. I think it will always hold a place for fans, because it was real, it was not something that was manufactured. Hunter was smart enough to see these four idiots who kind of stuck together and said, "Well, s**t, let's slap a name on that and let's do something with it." He just has a brilliant mind. He took advantage of something and it really gave us an opportunity to live a life that probably the four of us didn't deserve.
So the what is the difference between working under Triple H compared to Tony Khan.  
Definitely different. Both have their strengths and weaknesses. Just is what it is, you know, just different. It's just definitely, definitely different. I enjoyed working for both people. I enjoyed my time immensely. Like I said earlier in the interview, I'm not done with wrestling, that from a standpoint of there's more that I want to do. But I'm pretty friggin happy with the life that this kid from upstate New York, barely five foot nine, life and the career that I've been blessed with, I count myself a pretty lucky dude.
What do you hope to have accomplished by the end of 2023?  
By the end of 2023, I would really like to have another fight. I would definitely like to fight again. I would like for that fight to be either kickboxing or MMA. I've chatted with people about all sorts of things even, bare knuckle. I want to compete. So I would like to check that box. I would also like to continue wrestling. Wouldn't mind heading back over to Japan. I would like to be featured in a high-profile situation again. The consistency of that life is still attractive to me. I wouldn't mind finding a slightly different direction in the same sort of field. I wouldn't be opposed to that either. I don't know whatever that is. I'm very interested about the opportunities that could come my way that I'm not even aware of. Like I said, that boxing opportunity fell on my lap. So I'm definitely open to whatever is there.
Make sure to check out Bobby Fish's podcast, The Undisputed Podcast every Wednesday, available on all platforms. For bookings inquiries contact frankferraro3[@]yahoo.com. You can also check out Fish's merchandise at BobbyFishApparel.com.
If you use any portion of the quotes from this article, please credit PWMania.com with a h/t to PWMania.com for the transcription.