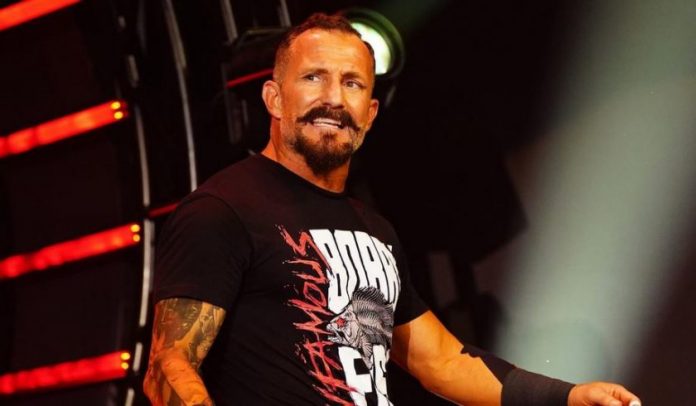 Bobby Fish recently appeared as a guest on The Tru Heel Heat Wrestling program for an in-depth interview covering all things pro wrestling.
During the discussion, the pro wrestling veteran spoke about how there were plans for The Undisputed ERA to feud with The Elite in All Elite Wrestling prior to he and Kyle O'Reilly's respective departures from the company.
Featured below are some of the highlights.
On how there was a plan for the Undisputed Era (Elite) to feud with The Elite in AEW prior to his departure: "Yeah the plans were always something between the group of us, some version of Adam, me, Kyle, Roddy if he ever became available and then there was Matt and Nick who we already knew we had such chemistry with, and Kenny. And Kenny and Adam are great foils for each other and like there was just, you know, the things that made sense. They made sense and I think everybody even without talking about it knew kind of where we were headed. Tony books the show and I'm sure he had that long term as well. I believe he did, I can't speak for the man. But things happen, variables get in the way and sometimes, you know, I mean pro wrestling sometimes things don't work out the way you plan and a booker has to roll with those punches especially. So we got close to some stuff and then we were still waiting on things and then injuries and then other things. And then contracts come up and, you know, really all it came down to with me and AEW was we couldn't agree on a number going forward. We couldn't agree on not even a number, we couldn't agree on numbers so like we're talking everything that would be in a contract and we tried, you know. And my agent at the time who knows their lawyers, they tried, but we just couldn't come to an agreement. And so, you know, I don't overvalue myself, but I do value myself and I'm not going to be, I'm not gonna to shortchange myself. So other people can, but I'm not going to devalue myself and that's kind of where we were so yeah I walked, you know, and that was it. It was amicable, I mean they were like, 'okay well yeah we're not gonna' and I said, 'okay I'm not gonna either' so yeah."
On if there is a chance he will return to AEW: "I love what I'm doing right now if I can be completely honest. This trip back to the indies, as awkward as it is at times because it's been so long, but it's also I'm finding this new love for working in a different way and the freedom with which I get to go out and do things. And then you don't realize because you're around so many people who have done this long enough and they've tweaked it. And they've got, you know, there's polish and they're really you don't realize the things that we take for granted from a knowledge standpoint other people don't know. And so I'm getting an opportunity to help pass on some of this to people that I work with or I talk to or if I do a seminar or whatever it is. So I mean I can't put it over enough how much I'm enjoying that and that's something you know, I mean this is a pretty selfish business, so like you never really think that's gonna float your boat. So when it started to, I was like, wait what's what is happening. What is this kumbaya shit, but like yeah man I really kind of love giving back and like saying something or pointing something out to somebody on one of these shows and watching the light bulb go off for them. It's like yeah that's cool, that's cool because I know that I had so many of those moments myself in my journey and when we get to these destinations, you know, we've, we forget the journey that's behind us and that's where the value is that's the good stuff."
Check out the complete interview via the YouTube player embedded below. H/T to Fightful.com for transcribing the above quotes.