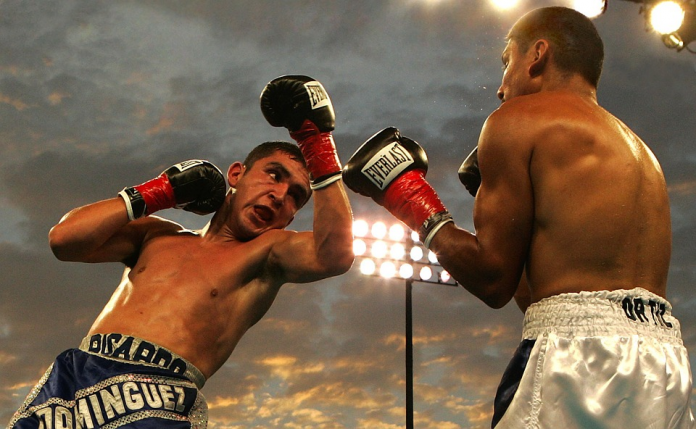 When we see two people fighting against each other, is it already boxing? When two people hit
each other's faces, are they already boxing each other? Sometimes we think we already know what it means because we usually see it on the television.
But what is it? Boxing is defined as the art of attack and defense with the fists and is viewed as a sport. It is also held in a squared rope boxing ring with a referee. Boxing matches have their legends such as Muhammad Ali, Floyd Mayweather, and Manny Pacquiao.
And because of legendary fighters like Pacquiao, boxing betting has become more fun and thrilling because of the exciting bets the audience or television viewers place on the legendary fighter. Aside from talented boxers, boxing also has weight classes for each boxer.
Boxing Weight Class Defined
A weight class or division is a measurement weight range or scope for all boxers. It means that the opposing fighters belong to the same weight range or category. The purpose of these classes or divisions is to get a fair fight for the apparent reason that if the fighter is heavier or lighter than the other and happens to be stronger, the other has no reasonable chance of winning.
However, the opposing boxers in the same weight range will have the same fair and unbiased chance of winning the sport.
The Weight Classes
It is undeniable that boxing is one of the world's favorite sports of all time, mainly because it's different and distinct divisions add more flavor and fun to the match. Thus, the weight class is categorized into some divisions such as but not limited to bantamweight, welterweight, light middleweight, middleweight, and heavyweight, as herein explained.
1. Bantamweight Class (112 to 118 pounds or 51 to 54 kg)
The bantamweight class refers to the weight in the boxing sports intermediate between flyweight and featherweight. It is the professional weight category of a maximum of 54 kilograms. So as you notice on the television, bantamweight fighters do not look too heavy since heavy boxers belong to another category.
Many boxers have already fought under this category, but Naoya "Monster" Inoue is the most recent famous fighter under this class. He is a Japanese professional boxer and a three-weight world champion, and currently a unified bantamweight world champion. Further, Inoue is renowned for his debilitating punching power and vicious body attack. In his interviews, he always says he wants to fight with great expectations.
2. Welterweight Class (140 to 147 pounds or 63.50 to 66.7 kg)
The welterweight class refers to the weight measurement intermediate between a lightweight and a middleweight. Also, the professional boxer in this category must not weigh up beyond 147 pounds.
So who is the best boxer in this class? The answer is easy. Undeniably, Manny "Pacman" Pacquiao is currently the holder of the WBA welterweight world title. He is the best not only under this weight division but the other seven divisions. No fighter in boxing sports history has won world titles in different weight classes than this world-class Filipino boxer Manny Pacquiao.
Thus, this legend has won eight divisions: flyweight, super bantamweight, super featherweight, lightweight, super lightweight, super middleweight, and world titles at welterweight.
3. Light Middleweight (148 to 154 pounds or 68 to 69.9 kg)
The light-middleweight class, otherwise called junior middleweight, refers to the weight measurement intermediate between welterweight and middleweight. The professional boxer under this category should not weigh exceeding 154 pounds.
The American international boxer star Oscar "Golden Boy" De La Hoya is the most famous fighter under this category because, in 2006, De La Hoya knocked his opponent down in the first minute of the match with his left hook. The "Golden Boy" knocked him out in the sixth round to bag his tenth title.
4. Middleweight Class (154 to 160 pounds or 70 to 73 kg)
The middleweight class refers to the weight measurement intermediate between a light middleweight and light heavyweight.
There are many notable international professional boxers in this category, but "Sugar" Ray Leonard is the most remarkable boxer under this class because he won five times between 1951 and 1960. He also won six times as a world champion.
5. Heavyweight Class (over 200 lbs or 91 kgs)
The heavyweight class is also called "the battle of big boys" because of the boxers' enormous physique under this category.
There were prominent and unforgettable boxers under this division, like "Iron" Mike Tyson, Lennox Lewis, Larry Holmes, and Evander Holyfield. But the most renowned and distinguished heavyweight boxer WBA has ever had in history is Muhammad Ali. Ali had 56 wins in this class with 37 knockouts and only had five losses.
Ali used techniques that were non-conventional at that time, as his remarkable cross-step technique. He also had great footwork, speed, and timing that made him a world-class fighter because, through these, his opponents found it very difficult to catch him.
Takeaway
Many love boxing. Yes, it is a sport. But it is also a game of chance because your bet's winnability depends upon the boxer of your choice. Further, the different weight classes will also help you decide which side to choose depending on your chosen fighter's capabilities. Lastly, your favorite fighters will no longer be erased in history and your heart.