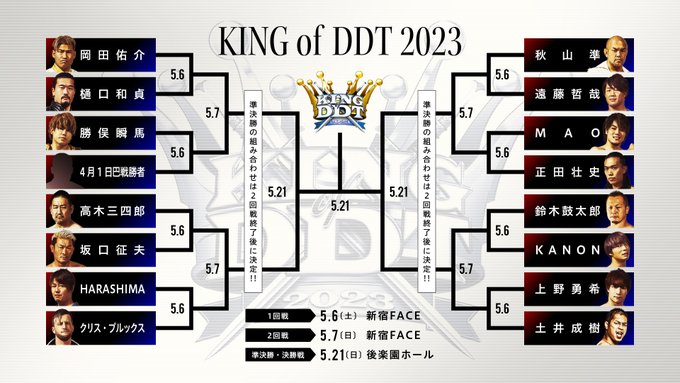 The DDT Pro-Wrestling King of DDT 2023 Tournament gets underway on May 6th at Shinjuku FACE in Tokyo, Japan.
This is a single elimination tournament that began back in 2004 and has been held yearly since 2009.
/
DDT最強決定トーナメント
「KING OF DDT 2023」組み合わせ決定‼
\

注目のトーナメントの山組はこちら! 準決勝の組み合わせは5・7新宿大会の全試合終了後に抽選で決定!https://t.co/nEtOH1y7zg#KINGofDDT #ddtpro pic.twitter.com/DDvFrwlKjh

— DDT ProWrestling (@ddtpro) March 30, 2023
There are 16 participants confirmed for this years King of DDT Tournament.
The 16 participants are:
HARASHIMA
Yukio Sakaguchi
Kazusada Higuchi
Tetsuya Endo
Yuki Ueno
Shunma Katsumata
Sanshiro Takagi
MAO
Chris Brookes
Jun Akiyama
KANON
Naruki Doi
Kotaro Suzuki
Yusuke Okada
Takeshi Masada
Winner of April 1st  Qualifying Match: Hideki Okatani vs. Toi Kojima vs. Yuya Koroku
Each match will have no time limit. The bracket match determinations will be followed through until the semi-finals. The final four wrestlers remaining will then go through a lottery to determine who faces who. The winner of the tournament will get a shot at the KO-D Openweight Championship currently held by Yuji Hino.
The 2nd round is scheduled for May 7th, the semi finals and finals will take place on May 21st.
Here are the opening round matches for King of DDT 2023 on May 6th:
King Of DDT 2023 First Round: Yusuke Okada Vs Kazusada Higuchi
King Of DDT 2023 First Round: Shunma Katsumata Vs Winner of 1st April Qualifying Match between Hideki Okatani, Toi Kojima & Yuya Koroku
King Of DDT 2023 First Round: Sanshiro Takagi Vs Yukio Sakaguchi
King Of DDT 2023 First Round: HARASHIMA Vs Chris Brookes
King Of DDT 2023 First Round: Jun Akiyama Vs Tetsuya Endo
King Of DDT 2023 First Round: MAO Vs Takeshi Masada
King Of DDT 2023 First Round: Kotaro Suzuki Vs KANON
King Of DDT 2023 First Round: Yuki Ueno Vs Naruki Doi