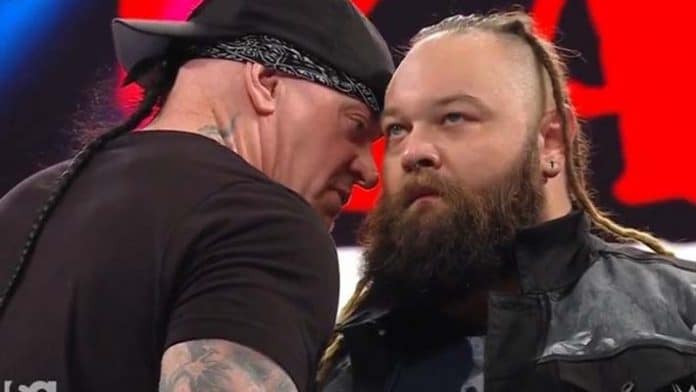 Bray Wyatt was endorsed by the longtime locker room leader on WWE television this week.
And to "The Eater of Worlds," it justifies a lifetime of sacrifices for him.
Following the 30th anniversary of Monday Night Raw at the Wells Fargo Center in Philadelphia, PA., Bray Wyatt took to social media to thank "The American Badass" Undertaker for the special moment the two shared during the show.
"This moment justified a lifetime of sacrifices for me," Wyatt wrote. "A lifetime of people treating my uniqueness like it was a disease."
Wyatt continued, "Through all the bad times I never changed myself to fit anyone's narrative. I'm proud of that. Thank you Taker.
#SuckItLAKnight."
Check out the actual tweet embedded below.
This moment justified a lifetime of sacrifices for me. A lifetime of people treating my uniqueness like it was a disease. Through all the bad times I never changed myself to fit anyone's narrative. I'm proud of that. Thank you Taker. #SuckItLAKnight pic.twitter.com/nQHYWNq7CL

— WYATT 6 (@Windham6) January 24, 2023