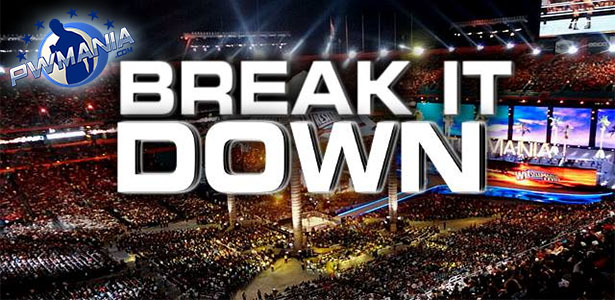 Greetings fellow wrestling fans. My name is Brett Deutchman and this is Break It Down with The Deutch (pronounced Doich). I'll be throwing in my 2 cents as to what I think about the current and past happenings in the wacky world of professional wrestling.
Well, it's certainly been a while since I've done one of these! But now that we are a month or so removed from Wrestlemania 30, the time is right.
I went to Wrestlemania 30 in New Orleans and had an amazing experience. It was my first time in New Orleans (and anywhere south of South Carolina) and the entire weekend was something I will never forget.
On Saturday, I attended the Hall of Fame ceremony at the Smoothie King Center right next to the Superdome. This was my first Hall of Fame and I got to see a well-rounded class get inducted.
The first inductee was Lita, a Diva I grew up watching. It was good to hear her entrance music again when she first walked onto the stage. Her speech was interesting as well. She talked about calling a travel agent to help her get to Mexico so she could get into wrestling and how she got in touch with Arn Anderson and Rey Mysterio. She also recapped all of her storylines from Kane to Snitsky and Matt Hardy (She didn't mention Matt by name, she just called him her "boyfriend"). She said she basically got her start from going around Mexico and asking "¿Dónde está la lucha libre? It shows how you have to take baby steps before you take the big ones.
The second was Jake "The Snake" Roberts. He had the best speech of the night. You can hear it in his voice how far he has come, from being on top of his game to hitting rock bottom to begging for death and then getting a second chance at life from someone who wanted to help him when no one else did: DDP. Jake cried near the end of the speech and the fans gave him an ovation. Jake deserves his spot after working through his demons.
Mr. T was up next. While he was trying to be serious about his mother and quoting Bible verses, the fans were not into it. I'm not going to lie: I even took a bathroom break during this one. He got the "What?" chants from fans every time he stopped talking and when Kane came out to tell him his time was up, the fans were happy with that.
Kane came out and told stories about Paul Bearer as he prepared to induct him. He went over the Undertaker/Kane storyline, which brought back some nice memories. Bearer's sons Daniel and Michael then came out to accept the award on their father's behalf. They gave a short speech and one of them uttered their father's famous catchphrase "Ohhhh yesssss!" before taking their leave. That catchphrase impression was a good one. And we got a rare Hall of Fame appearance by none other than The Undertaker, who came in character to hold up the urn and pay tribute to his manager.
I believe Carlos Colón was up next. He was inducted by his three sons, including Carlito, who got a nice pop from the crowd. Colón came out and talked about his career. To be honest, I wasn't that familiar with his work, but it was nice that they inducted him. It was good to see Carlito again, though.
Razor Ramon was an interesting inductee. There's no doubt he deserved it because he has overcome a lot of struggles recently. He's one of the most charismatic performers of the past 20 years and has made quite in impact both in the WWF and WCW. Plus it was nice to see the Kliq all together on stage at the ceremony with him. Chico!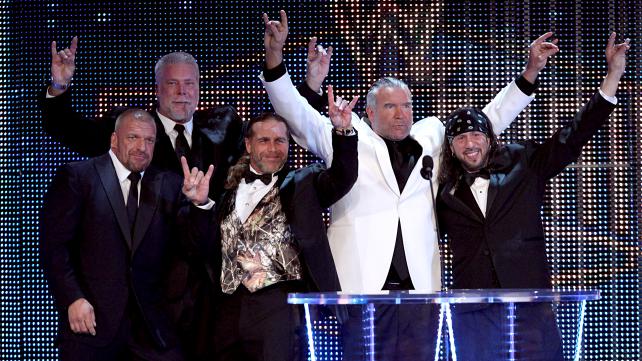 Last but not least was the Ultimate Warrior. This had a lot of significance going into it because this symbolized Warrior's reconciliation with WWE after years of resentment towards them. It gained even more significance because he passed away just a few days later. So it was a truly a special moment to witness.
However, to be honest, the speech was really long. This is no disrespect to the Warrior, but it seemed like he kept losing his train of thought. I saw a lot of people leaving the arena during his speech. But nonetheless, it was great to see Warrior finally getting inducted and reaching closure with WWE.
After that night, my buddies and I went to Bourbon Street. You wanna talk about a hot mess? That's Bourbon Street. But I loved the atmosphere because the majority of people on the crowded street were wrestling fans wearing wrestling shirts and chanting wrestling chants. So for a wrestling fan, it was great to be a part of the wild, crazy community of fellow fans as we all gathered together for what would be an epic weekend.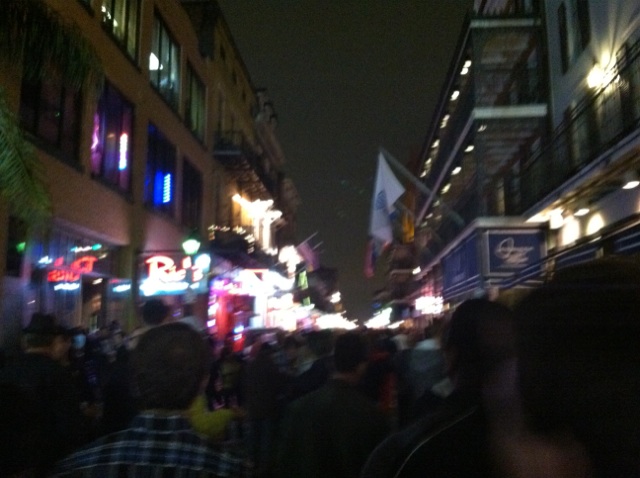 And so the next night came- Wrestlemania 30. When I first got inside the Superdome, it took a while to find the seats, but once we got to sit down, our view was great (at least from my perspective). We saw the set, had a good view of the ring and it seemed like we sat a little bit closer than last year's Wrestlemania (then again MetLife Stadium's built differently).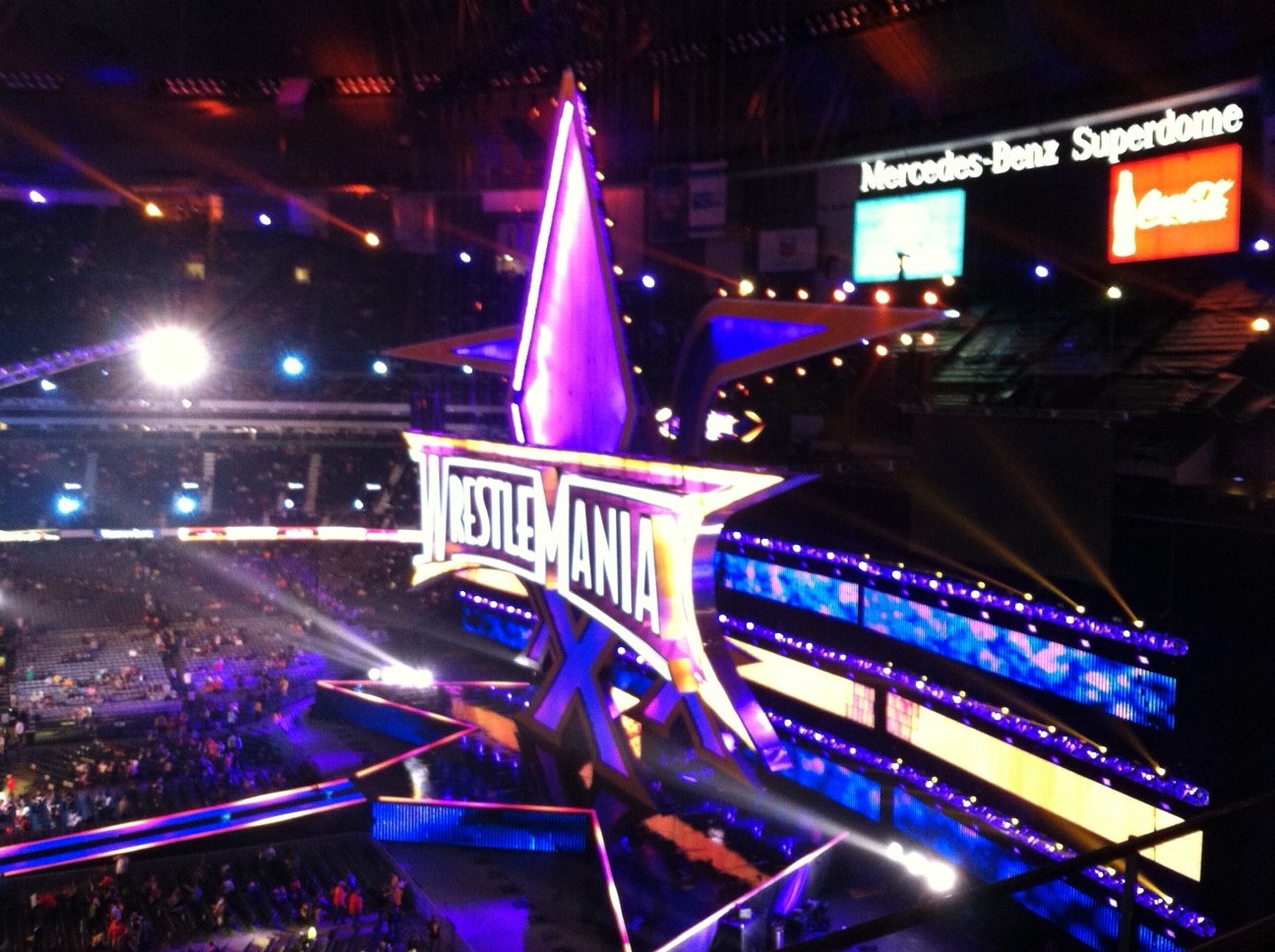 The Usos vs Los Matadores vs The Real Americans vs Rybaxel– Good pre-show opener. I liked that The Usos won and they have been on a roll as of late in WWE. Also, the most memorable part of this match was Cesaro turning on Jack Swagger, effectively ending The Real Americans, much to the crowd's delight. If only a "Hey!" chant could've got started here for Cesaro like we used to do in Ring of Honor.
Then we had the opening segment for Wrestlemania with Hulk Hogan in the ring introducing the event and talking about its history. Then Austin's music hit and I jumped out of my seat. Austin is my all-time favorite wrestler and the only time I had seen him live was the night after Wrestlemania 20 where he did a backstage segment. So, this was actually the first time I got to see him live and watch him do his thing. And The Rock coming out was a nice little bonus too. They all hinted that something huge was happening tonight. Three of the biggest names in wrestling all in the ring together at the same time made for a memorable opening.
Daniel Bryan vs. Triple H I loved Triple H's entrance! He came out with a battle mask and chain mail on like he was ready for war. And then his old theme ("The Game" by Motorhead) played, which I thought was a better fit for this match than the King of Kings theme. Hunter was ready to end the "Yes" movement and everything including the music told the story. The match itself was great and Bryan going over definitely pleased the crowd. Bryan winning had to happen, no matter how good the match was.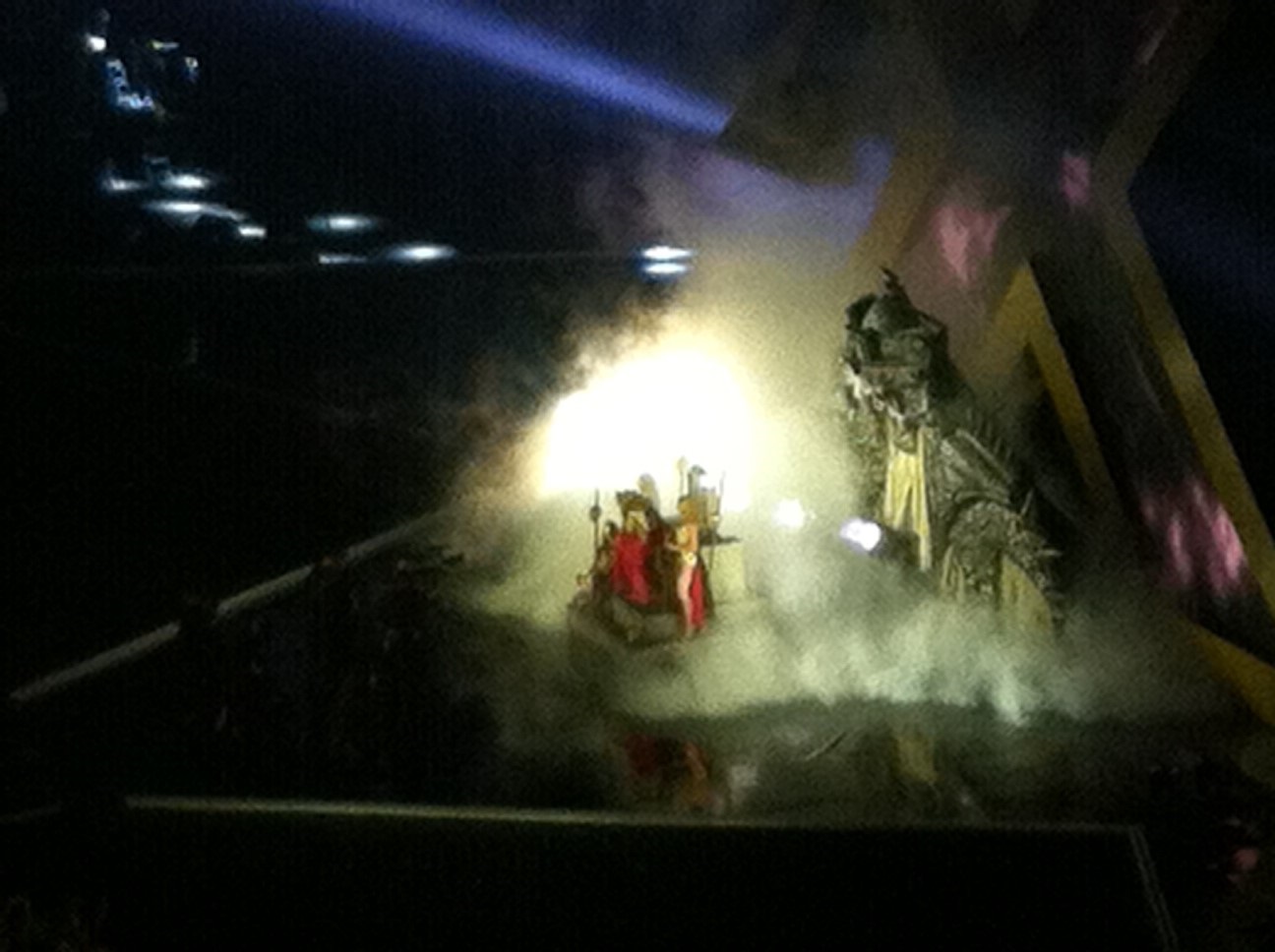 The Shield vs New Age Outlaws & Kane The Shield dominated the match in less than three minutes, which was perfect. This meant that there was truly new guards in town coming to take down the oldies and it was a definitive victory for The Shield.
André the Giant Memorial Battle Royal Cesaro was definitely the right guy to win this. I was worried at first when they only gave The Big Show and Sheamus full entrances, while the other combatants made their way to the ring together during the vignette. I was thinking to myself, "Wait, so Bryan won, the Shield won and now Cesaro won? There's definitely something going on here."
John Cena vs. Bray Wyatt This has been a good feud for Wyatt. It has established him as a unique heel character who wants to dethrone the king and the build-up made it seem like he could. There were multiple instances during the match where Cena almost gave into Wyatt's mind games, but he never did. Cena won, which is okay, I guess. The match was all about mind games and did not make Wyatt look weak. I hope Wyatt beats Cena at some point because I wouldn't want him to lose to Cena and get lost in the shuffle.
The Undertaker vs. Brock Lesnar There was no way I saw the ending coming. Nobody did. I was excited to see The Undertaker again, but was not excited for the match. The crowd was pretty much unresponsive the whole time because they, like me, expected The Undertaker to win…
…until the END.
When Brock pinned him, this truly shocked the crowd back to life. And I loved it! It was time for the Streak to be over. The Undertaker did not look good at all during the match and I thought that if he won, it would not have been believable. But to see Lesnar win was such a shocker, I almost didn't believe it until I saw the image emblazoned on the screen that would forever be locked into my mind: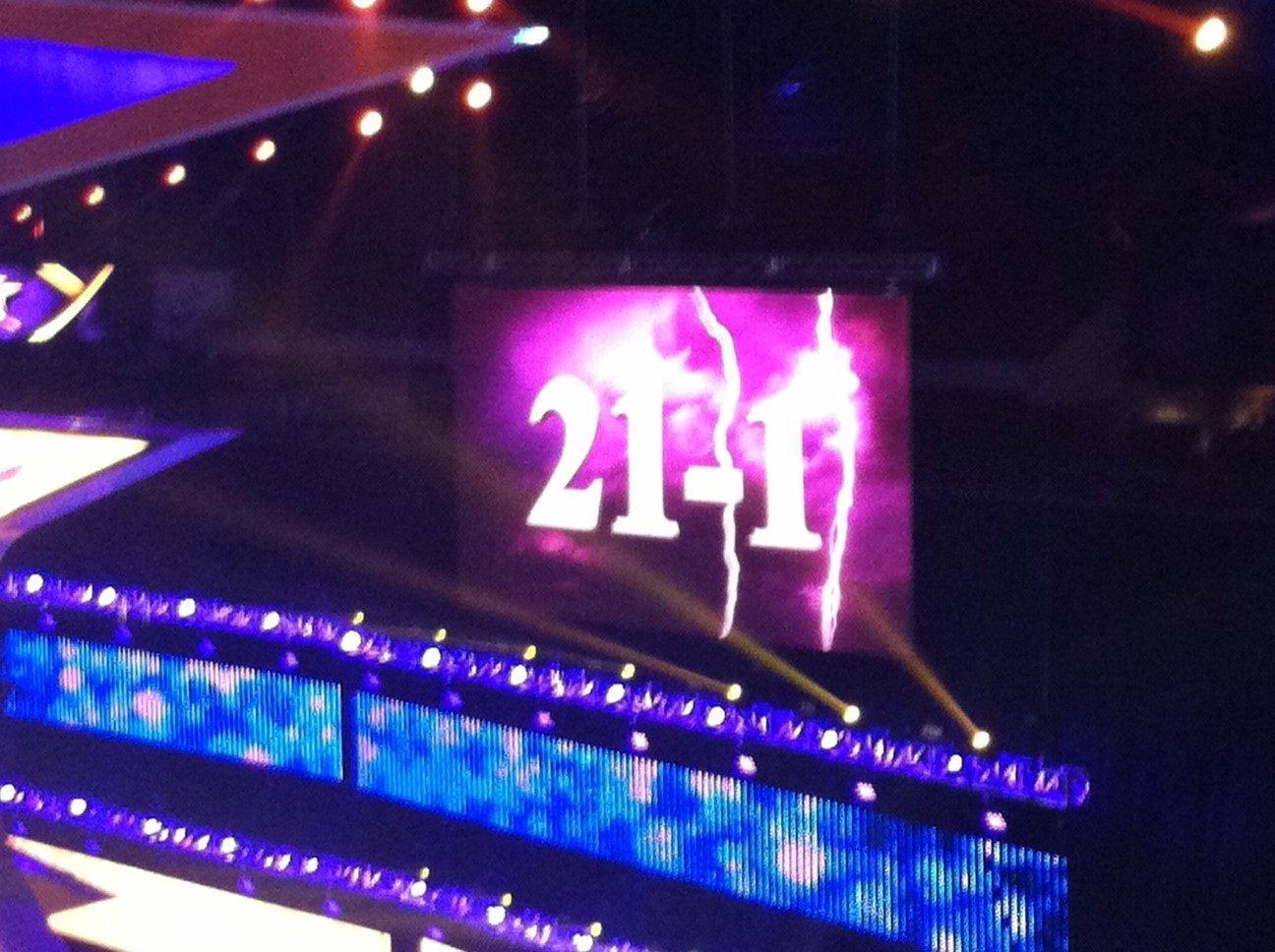 In the words of Paul Heyman, Brock Lesnar conquered the streak! I'll admit I would not have chosen Lesnar as the first guy to end the streak, but I'd rather see him win it than see Taker continue to perform in the shape he was in.
It was one hell of a Wrestlemania moment.
Vickie Guerrero Divas Championship Invitational To be honest, I took a bathroom break during this one, along with hundreds of other fans. It's good that AJ Lee won though.
Daniel Bryan vs. Randy Orton vs. Batista Rev Theory (the band who plays Orton's theme song) was amazing live. The way that guy sings is incredible.
And the match itself was incredible. There were so many ways this could have gone that kept the fans guessing. The obvious favorite was Bryan. However, they had the opportunity to swerve it completely and have Orton retain or have Batista win, which almost seemed possible when Orton and Batista put Bryan through the announce table with a Batista Bomb/RKO combo and assistance from Triple H, Stephanie and Scott Armstrong. Bryan was almost stretchered out of the Superdome. But just like Mankind at King of the Ring 1998, Bryan got off the stretcher, got back into the match and won it all by making Batista tap out! (Just like Benoit did to Hunter ten years ago).
This was a well-deserved win for Bryan. After so many people telling him he couldn't make it, he proved that he could be a WWE superstar and had the caliber to be champion. It was a great personal moment for me too. I've been following his career since I was 14 back when I saw him wrestle in Ring of Honor. I'm 22 now and to see him work his way from the ground up is a proud moment for me as a fan. I remember meeting him when I was 15 when he came to the Inman Sports Club for ROH back in 07 and never thought that I would one day see him win the title in the main event of Wrestlemania.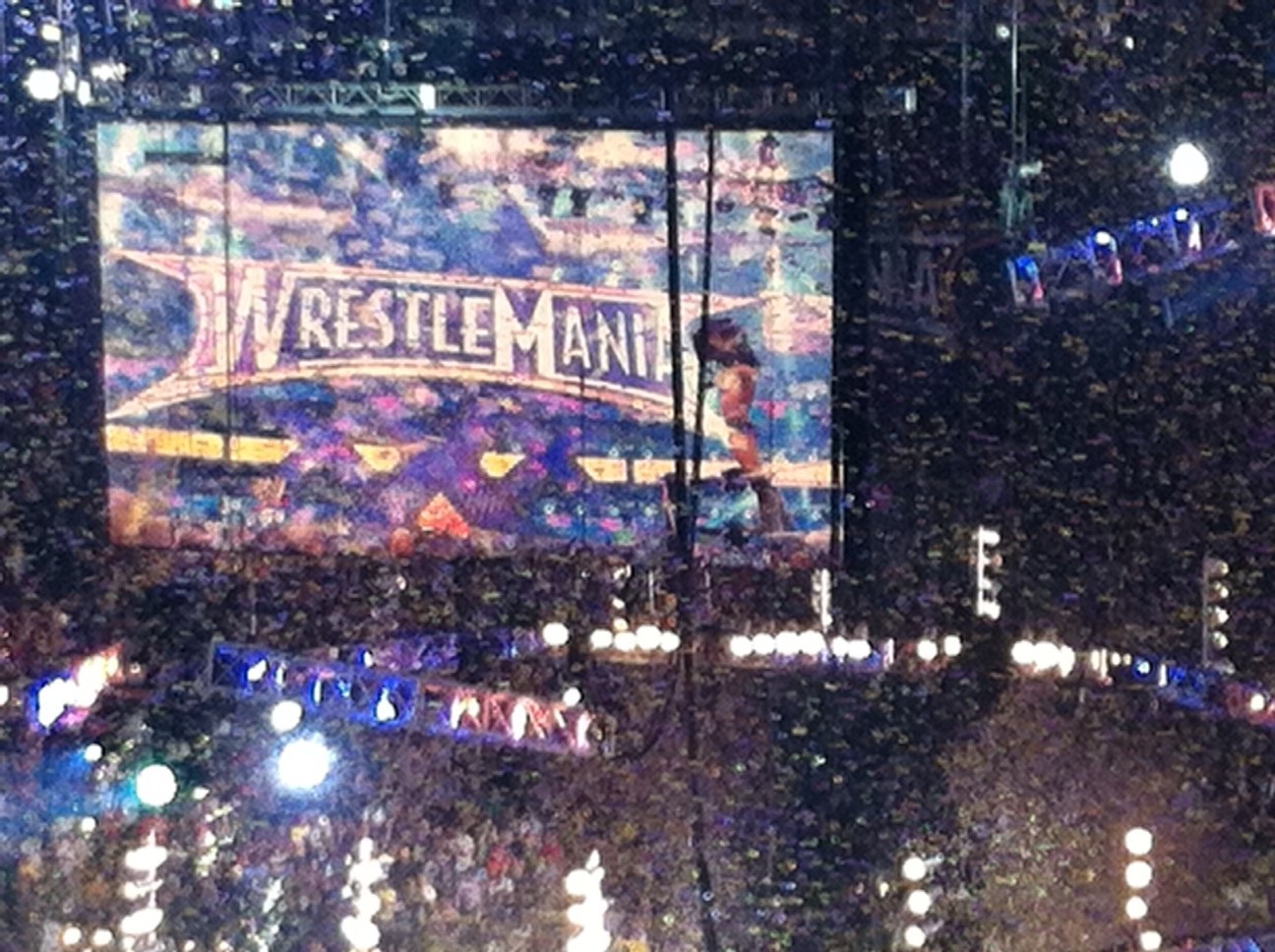 Wrestlemania 30 was probably one of the greatest events of the past 10 years. You almost could not have had a better Wrestlemania with the way things were built up. Bryan won the WWE World Heavyweight Championship. Brock Lesnar ended the Streak. Cesaro won the Battle Royal. And The Shield destroyed The New Age Outlaws and Kane. This night marked a changing of the guard in WWE and if they follow through with the momentum they have now, there will be even greater things to come in the future.
And it all started that one night.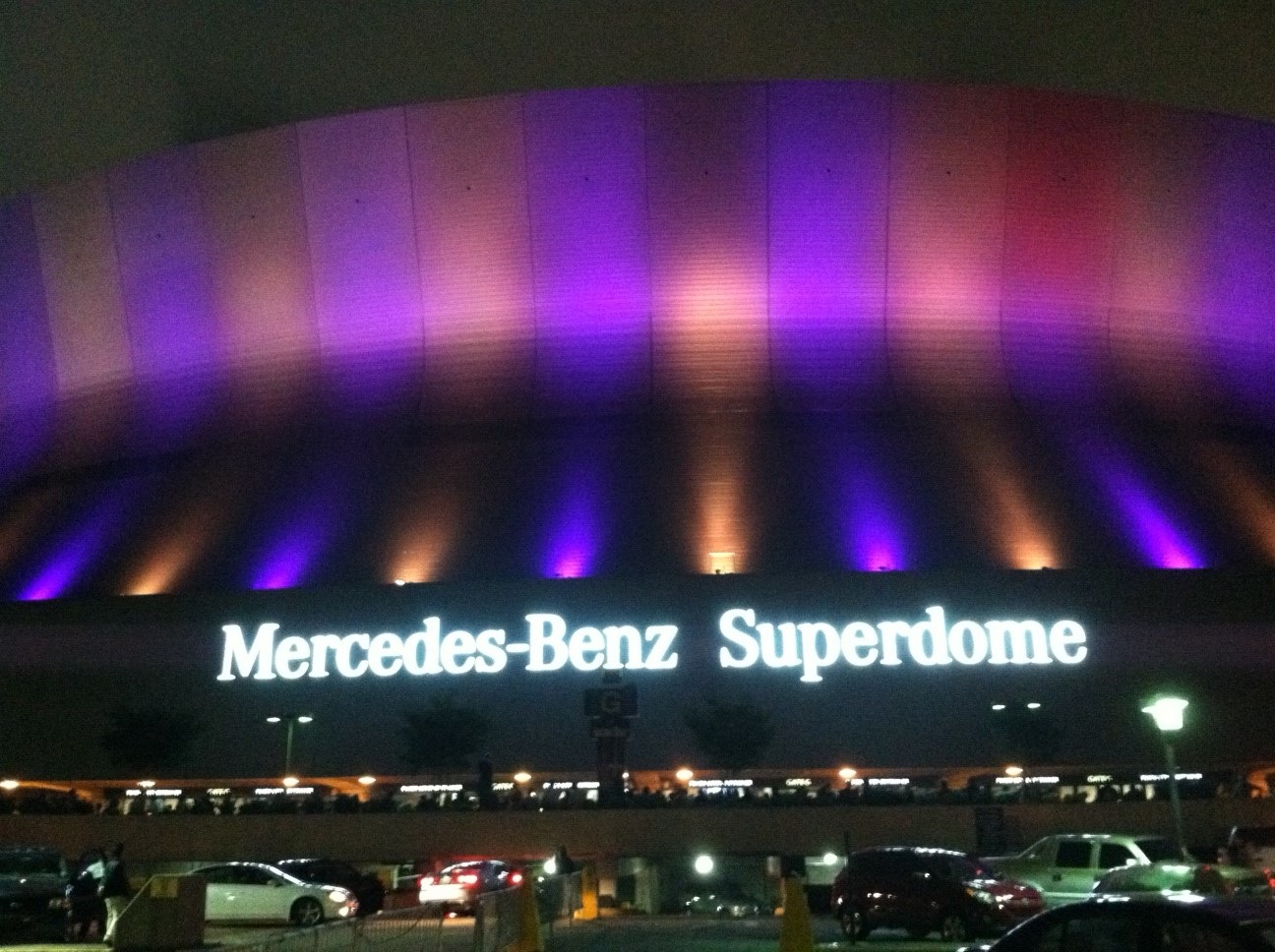 What do you think? Comment below with your thoughts, opinions, feedback and anything else that was raised.