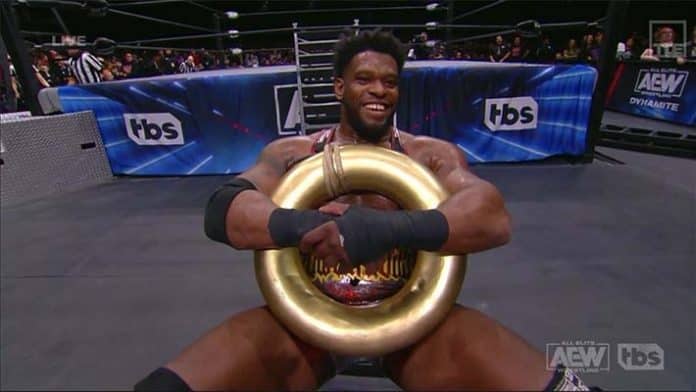 The final show before Revolution and it was a solid show with some good and some not so good things. The good among the show was the promo department, Bryan Danielson, Jon Moxely, Hangman and Christian all delivered with their time. The battle royal was pretty much nothing and in true multi man ladder match form, the face of the Reolution ladder match was ridiculous.
Orange Cassidy vs Big Bill – AEW All Atlantic Championship
While the match itself seemed fairly unimportant before the show, now, it was good match and showed the great ability of Big Bill in singles matches which could be something to continue doing, only getting him some wins instead of the loss like he suffered here, which was no surprise. Orange Cassidy did retain again. The ending was good with Cassidy having to hit three orange punches on Big Bill to keep him down still keeping him strong which is good.
Later we found out that Cassidy and Danhausen would be entering the Casino battle royal as Chuck Taylor and Trent Beretta were still unable to compete because they weren't cleared. Otherwise not too much noteworthy about the whole thing, just a weekly title defense.
Moxley and Hangman last promos
While these promos weren't live, as they were pre-recorded. Moxley's one came from after the show last week, where he was covered in blood and just gave an impassioned promo, credited Hangman for his ability but tells him he doesn't have the animal in him like Mox does. Later in the show they aired Hangman's promo, which I thought was a great babyface promo, showed the fire and intensity that's needed. I think Moxley had the better promo, but it was all great and it was nice way to make their final build towards Revolution.
Coming out of Revolution I think we see Hangman beat Moxley, then potentially go after MJF and the AEW World Title and simultaneously, see Mox maybe lose it a bit and possibly end up going heel alongside the rest of the BCC, seeing Claudio and Wheeler Yuta are more so on the heel side right now seemingly.
Komander vs Action Andretti vs Sammy Guevara vs Konosuke Takeshita vs Eddie Kingston vs Ortiz vs Powerhouse Hobbs vs AR Fox – Face Of The Revolution Ladder Match

In typical ladder match insanity, this one joined in and a man who had a new showing, Komander, was unbelievable in this match. He ran along the ropes not once, but twice and did it perfectly, jumped off onto AR Fox with one of the attempts with a shooting star press. Plenty of ladder spots, Sammy jumping off the ladder onto Action Andretti who was laying on a ladder on the outside. One of the coolest spots was definitely Takeshita hitting a blue thunder bomb off the ladder, just an amazing visual and the blue thunder bomb is just great in general so this was amazing.
Powerhouse Hobbs ended up walking away with the win and the next opportunity at TNT title which will happen next week. The next question is who will be the TNT champion next week? I think Wardlow, the result of this match I feel will impact the match at Revolution between Samoa Joe and Wardlow. With Hobbs being a heel, it makes sense to with Wardlow come Revolution. There is a chance Joe still retains but I don't see it now.
Final build to Jericho vs Starks
Jericho had a match, very short against Peter Avalon. There were no Andretti shocks here as Jericho pinned him in two minutes, which in itself wasn't surprising. Jericho started on a post match attack, Ricky Starks comes out for the save, then Jericho calls out the JAS to attack Starks from behind. Nothing too special here, same stuff from Jericho and Starks, it feels like we're in a repetitive motion right now with this feud and it needs to come to an end at Revolution, and with Jericho picking up a win here, I suspect Starks wins at Revolution.
Christian Cage gets interview time
Been waiting for this since Christian came back but this week he got promo time and delivered with a good promo. Christian pointed out Jack Perry's goal of winning a championship this year, and he questioned if he has what it takes to win championships properly like he does. So this eventually spirals into Christian challenging Jack for a fight at Revolution. Shortly after we see a montage of Jack and Christian's history, and ended with a tombstone with Christian's name on it.
We will most likely get something at Revolution, but I do wonder if we get some sort of buried alive match or if the clip that was shown was more so symbolism. Although I do see it being more of an unsanctioned type match instead, which makes sense for the feud, though I do feel this is something that should have been announced maybe last week so we knew what was going on but regardless, it should be good between these two. I fully expect Jungle Boy will win this one.
Toni Storm vs Riho
Seeing as though the competitors in the match aren't going to be on the card for Revolution, they did an alright job in the match, the finish was a little off because Riho didn't get the pin on fully but Riho did end up winning. After the bell Saraya started attacking her before Jamie Hayter stopped her and started a brawl. Ruby Soho showed up as well, hit both women and there was a three way brawl that started and was broken up.
The match was unimportant, and I think the aftermath was also somewhat the same. The build up for the match at Revolution has been quite literally non existent. Jamie Hayter will retain her title but we may end up seeing Ruby Soho either pick a side or exit this program completely.
Casino Tag Team Battle Royal
Similar to last week, this just wasn't very good, teams were eliminated quickly and without importance. Orange Cassidy and Danhausen ended up winning this match, as late entrants it was slightly predictable as soon as they came out. Also there was no joker entrant like we've come to know with these casino battle royals. This did ruin things a little bit more so, as did the elimination of the Lucha Brothers. It was just not very good, and with who has won these battle royals, I don't see why a 4 way tag match for the titles was made for Revolution when a rematch for the titles just could have been made.
The Gunns will likely retain maybe with the help of their father, that remains to be seen but I think Cassidy and Danhausen are only in there to take the pin. Then after Revolution I could see the renewed feud of The Gunns against The Acclaimed, and depending on the contract status of FTR, we could still see them get involved.
Bryan Danielson addresses MJF's issues with him
Bryan starts by addressing a social media post from many years ago before MJF comes out and interrupts, and right from there Bryan cuts him off and MJF doesn't say another word. Bryan brought up how much he had to fight throughout his career, to come out of retirement as well, it was a very good promo. He finishes out with an expletive and the excitement for this match specifically is very high and the Iron man match should be great.
There isn't much to say about this now, we have gone through so much to get to this point, and Bryan leaving MJF speechless is perfect, because now when MJF wins, it will be a big deal and we will see MJF bragging about it, I see MJF getting himself DQ'd to gain an advantage and him winning the match 2 falls to 1 with Bryan trying and failing in the final few minutes to get the scores equal.
What do you think? Share your thoughts, opinions, feedback, and anything else that was raised on Twitter @PWMania and Facebook.com/PWMania.