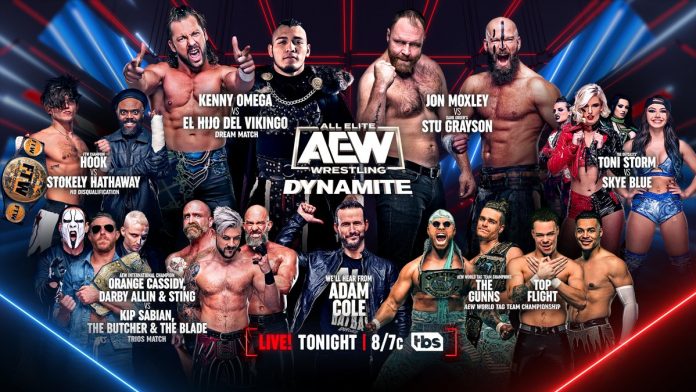 After last weeks great show, this week Dynamite was not as good, however the story through this episode was great involving The Elite, Hangman and Don Callis. A phenomenal main event between Omega and Vikingo, as well as interesting twist regarding FTR and their chance at the tag team titles.
Cold Open To Dynamite
Dynamite started with a cold open, going straight to showing us The Young Bucks being loaded into Ambulances and going off to hospital. Hangman was there as was Omega and Don Callis. Callis was stopping Omega from leaving because of his big match later, and Hangman left in one of the Ambulances with Matt Jackson. It was certainly different for AEW but it was good as it started some questions and potential motives from one Don Callis, more so after seeing what happened at the end of the show.
Orange Cassidy, Darby Allin & Sting vs. Kip Sabian, Butcher & Blade
This was Sting's first appearance in a while and was also his first match in a while. Great to see him back, of course alongside Darby, who is now aiming for wins after last weeks incredible segment containing all four pillars of AEW. The match was fine for what it was, and as expected Darby, Sting and Cassidy pick up the win. After the match is where Darby is seen looking up at the Double or Nothing sign hanging high in the arena, obviously claiming a shot at the AEW Championship last week.
So this is where we probably see Darby, Jungle Boy and Sammy Guevara grab wins in the coming weeks in order to get in line for the title shot at Double or Nothing. I could see this eventually spiraling into a four way match for the title at the PPV. As it makes sense after last week and would be a big deal having the four guys that have been branded the pillars of the company involved in a match for the world title at a big PPV like Double or Nothing. Plus you get MJF in an interesting situation where he is at a disadvantage again, but wins and can brag about it.
The Gunns vs. Top Flight – AEW Tag Team Championships
Top Flight found themselves in a tag team title match which is pretty cool but not much was made of it and it resulted in a short match with most of it taking place during commercial. The Gunns obviously retain the titles, but then out come FTR to confront the champions. They come out to stake claim at a title match which Austin Gunn vehemently refuses, and so Cash says they'll never team together again should they lose, then he says they will never challenge for the titles again if they lose. Dax then takes the mic and says if FTR can't beat The Gunns for the titles, they will leave AEW. This gets The Gunns to accept, they spit in the faces of Dax and Cash.
The segment after the match was good, The Gunns being the annoying heels, and FTR trying to get a shot at the titles without losing much but they end up having to sacrifice it all for a shot at the titles. It does show how important the titles are to FTR but it also makes the match that will probably happen in a couple of weeks unpredictable as now they are playing into the rumours that FTR will be leaving AEW and we don't know if they are re-signed or they will go elsewhere. So it gives the match some big stakes, not to mention the repercussions that FTR face if they lose, so the match is going to be very interesting. I Think FTR have re-signed with AEW but it is a guessing game of who wins that match.
Hook vs. Stokely Hathaway – FTW Title
The whole match was set up because Hook beat Matt Hardy last week on Dynamite. These kind of matches can be very hit or miss but I thought this was alright, Stokely plays the slimy heel well, and so he tried to get out of the match by handing over a "sick note". This obviously didn't work but when the bell rang he tried to get away through the crowd, and Hook chased and got him back to ringside and delivered some judo throws on the outside to Stokely, so fair play to Stokely for taking as many bumps as he did with not being an active performer. Hook won very quickly after that.
While this was somewhat fun, it doesn't mean too much outside of getting Hook on TV and getting him some wins, up next probably being Ethan Page. Other than that, Hook being on TV is good thing, even though it would be better to have him do something of substance, but for now he is still improving against some bigger names like a Matt Hardy or Ethan Page.
Adam Cole has an opponent for next week
A few weeks ago Adam Cole announced his return to the ring, it will happen next week. He came out for a promo on the show more or less setting his opponent up, which is Daniel Garcia. So for next week we will see Daniel Garcia vs Adam Cole. There was a small detail in Garcia's promo where he almost called himself a pro wrestler, but stopped himself to call himself a sports entertainer. It does make me wonder if the plan is to pick back up the dropped storyline of Daniel Garcia breaking away from the JAS, but a lot of work needs to be done to make people care about that again.
Regardless of that all the segment was really about was to set up Adam Cole's opponent and build hype for his return match next week. After that I suspect he climbs up the ranks and by the time we get to the All Out build, Adam Cole will be MJF's opponent at All Out.
Jon Moxley vs. Stu Grayson
Stu Grayson is back in AEW officially which is great and was given a match with Jon Moxley which was a very good match, and he impressed once again after last weeks return for Grayson. Mox picked up the win after Stu gave him a tough match. It's really good for him and for the Dark Order who maybe will be built up a little more than they have over the past year and get back to a solid spot on the card.
While there was no post match attack, a little later in the show, we saw the BCC attack Grayson in the trainers area, really selling their extra brutality they have shown recently. I see this being a driving force into a feud for Blood and Guts where Hangman might get involved but at the same time having to choose between involved with The Elite or the Dark Order.
Toni Storm vs. Skye Blue
For what it was, a solid match with Skye Blue again getting some TV time which may end up giving her a part of this storyline between the originals and outcasts. But Toni Storm won to no surprise and after the match they did the whole spray paint thing, until Willow Nightingale and Riho came out to make the save. No Britt Baker or Jamie Hayter on the show. But I could see this resulting in a 6 woman tag maybe next week.
I think things are heading in a fine direction, but this story does need to pick up some steam if its going to go anywhere. The spray paint needs to go as I mentioned before, because it just gives off the ripoff NWO vibes, which doesn't need to be the case. Saraya, Toni Storm and Ruby Soho are far too good to do that, so making them seem like a legitimate threat by using a pack mentality could be a better option.
Kenny Omega vs. El Hijo Del Vikingo
This match was announced a few days before Dynamite and marketed as a "dream match". As stated in a small vignette earlier, this match was supposed to happen back in December 2021, however after Omega left to heal some injuries which kept him out many months, the match was called off. Now we got the match on Dynamite and what an incredible match it was. Coming in many people didn't know who Vikingo was, and now if you didn't, you do now. He put in an unbelievable performance.
Vikingo pulled off some amazing moves, a poisonrana from the top rope sending Omega down to the mat. He did a Phoenix splash off the middle rope spring boarding, absolutely incredible. A huge moment was when Omega was on a table that was set up by ringside, and Vikingo did a 630 senton using the middle rope to flip over through Omega and through the table. The guy went out and just put in a spectacular performance. Omega got the win with a One Winged Angel. After the match, Omega gets attacked by the BCC before Hangman returns to the arena and clears out the ring. Don Callis then takes a comical bump to show as evidence that Page hit him, which he didn't, then when Omega saw what "happened", he walked out with Callis.
This is a very interesting story, because you have Don Callis wanting Omega to himself in singles division, which then gives you the possibility that Callis paid someone off to attack the Young Bucks, and different directions. Omega might find out that Callis is playing him which leads to Omega being dropped by Callis, possibly to bring in a new client like Takeshita who Callis has been scouting for months. Then there's the question of where does Hangman fit in? I look forward to where this story is going and its something we have been asking for for quite some time, a beginning to a long term story that will progress for months. Hopefully this all pays off.
What do you think? Share your thoughts, opinions, feedback, and anything else that was raised on Twitter @PWMania and Facebook.com/PWMania.