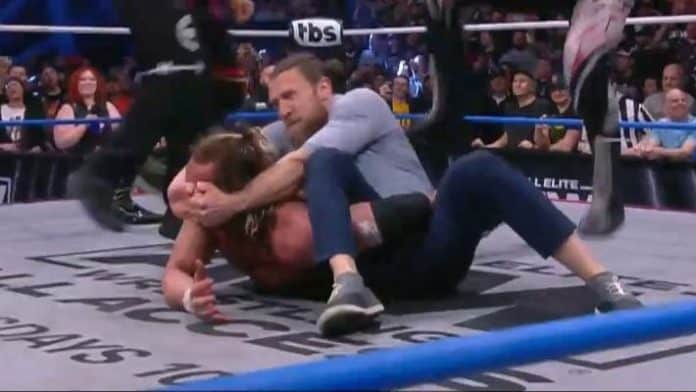 A really good week for Dynamite this week with the return of Adam Cole and a very nice continuation of the storyline between the Blackpool Combat Club and The Elite. The show also provided some good match-ups with a great promo battle between MJF and Jungle Boy.
"Jungle Boy" Jack Perry vs. Matt Hardy
To open the show, this match was a solid affair with Jungle Boy winning here, some miscommunication between Ethan Page and Matt Hardy, with Hook also joining the fray and leading to a Jungle Boy win. The important part came after the match when MJF came out and started cutting a promo on Jack Perry. Wonderful stuff as he went over why they are at different points in AEW since their match almost 3 years ago. MJF went over that he told Jungle Boy things following that match.
This is where Jungle Boy Jack started listing off why he sometimes wishes he was more like MJF until turning it around on MJF calling him different things. This then set MJF off culminating in a comment about Anna Jay, being Jungle Boy's real life partner. Then a brawl ensued between the two with Perry close to being the one to leave MJF laying in the ring but he got out of harms way.
It was a fantastic segment and I could see this being a theme for Darby and Sammy in the coming weeks where MJF comes out after their respective matches and they have a promo battle. I think this could be great. Jack Perry also went out and cut what probably is the best promo he's cut, which is a testament to how hard he's worked and its paying off again. MJF was fantastic as usual and I suspect this will continue the build to what I am thinking is a four way match at Double or Nothing.
Blackpool Combat Club vs. Dalton Castle & The Boys
This was virtually nothing, the BCC attacked during the entrance and won in very little time. It continues to sell the BCC as uncaring and brutal. But after the match there was an interview with Hangman which Don Callis interrupted, the BCC attacked them both which then led into the next match with Omega having to compete being told the news of the attack. I love how all of this flowed together nicely, really set things up well.
Kenny Omega vs. Jeff Cobb – IWGP United States Championship
The match was made after it was said that Omega has been ducking Jeff Cobb and his challenge for the title. So he needed to come to Dynamite to get the shot. Obviously with the attack in the previous segment meant it was Omega out there by himself against Jeff Cobb.
In a great match, Omega retains the title and it was the story of if Omega could handle doing it on his own and with small injuries to him. It took all he had to deliver a one winged angel to Jeff Cobb. With all of this, Jeff Cobb is fantastic and to see him more would be great.
After the match the BCC show up at ringside and surround Omega until Bryan Danielson makes his return to seemingly hold off the rest of the BCC. Until he hit Omega with the running knee and showed his true colours. This was an interesting move bringing back Bryan this early but its clear that this will lead to The Elite and Hangman getting back together to take on the BCC probably to build up to a crescendo at Blood and Guts. It really is something to look forward to in the coming weeks.
Orange Cassidy vs. The Butcher – AEW International Championship
Fairly standard match for the title again, Cassidy great as always and retains again to no ones surprise. The Best Friends got involved and took out Blade after Blade got involved in the match. Felt like just another International title match to be honest, not much behind it again. However, the title is being defended and showcased on TV at least, which is making it a little bit important, unlike the TNT title.
Willow Nightingale vs. Ruby Soho
For another week the women have a match you'd expect on the show, Ruby Soho with the win, a post match attack by the outcasts which brings out Riho and Skye Blue for the save, main difference here was Jamie Hayter came out this time, and warded off The Outcasts, and we also found out that it will be Jamie Hayter vs. Riho for the title next week, not really sure why but it should be a good match like last time.
This story needs some advancement, hopefully we get some of that next week beyond a post match attack angle that we have seen countless times over the past few weeks.
Adam Cole vs. Daniel Garcia
The return match for one, Adam Cole and it was a nice return along with a solid match against Daniel Garcia. Obviously there was only one winner here but with what happened after the match, maybe having Garcia as Cole's opponent this week made more sense than was questioned about last week. Either way, Cole in looked great in the ring, seemed to be in tremendous shape too, no complaints about this match.
Following the match there was a celebration kind of feel with the streamers in the ring, but all of sudden we hear Jericho's music, and Chris Jericho walks down to the ring, gets Garcia and barely acknowledges Adam Cole, only ever very slightly glancing back to the ring. Now this is interesting because obviously this represents a new feud for both men, maybe even going into Double or Nothing. With Adam Cole only just returning Jericho is a solid first feud back, and it allows him to go through the JAS as well, so we'll see where this one goes.
What do you think? Share your thoughts, opinions, feedback, and anything else that was raised on Twitter @PWMania and Facebook.com/PWMania.