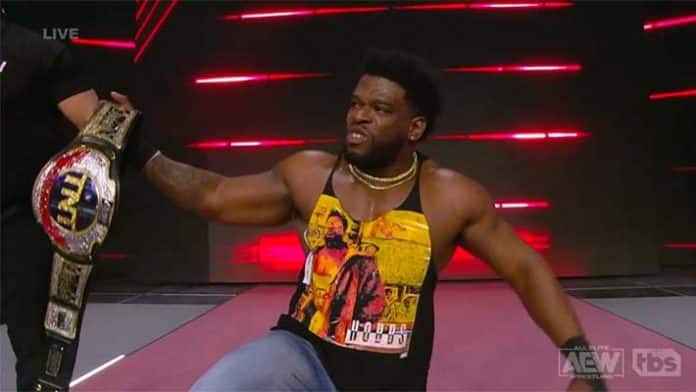 The fallout to Revolution and a solid show this week with a couple of new directions with also a couple of questionable decisions as well. The All Atlantic Championship gets a small rebrand and Ruby Soho explains her actions at Revolution joining "The Outsider" group.
Orange Cassidy vs Jay Lethal – AEW All Atlantic Championship
The way they sold this was that this match is the rubber match between the two. Where Jay Lethal was the last man to beat Cassidy before he won the title. This was a solid match, their other two matches were probably better but this one was still good. Still think it is worth having Jay Lethal go and get over on his own, because he can. But Cassidy retained the title unsurprisingly.
After the match is where Lethal was trying to distract the officials down to the stage. Jeff Jarrett appeared behind Cassidy in the ring and hit him with his guitar in the leg, which had been a focus during the match. This will now lead to a match next week for the title between Jarrett and Cassidy. Why Jarrett is still in a prominent role is anyone's guess, it really is not necessary.
The change to the title. It is now being branded as the AEW International Championship from now on. I could see this being better for the title as more focus may be put on it outside of the promotion, but just considering PAC was originally doing that and defending outside of AEW already tells me that I can't see the title being treated any differently. But that remains to be seen.
Ricky Starks has a new feud
So now Ricky Starks is done with Jericho and the JAS which is great. But he came out and addressed what may be next, he said he didn't know. This is where the Bullet Club music hits, and all of a sudden Starks is attacked by Juice Robinson. So in terms of a next feud, doesn't sound amazing, but it will be solid because Robinson is great in his own right. But this may end up leading to more members showing up in the coming weeks. I could see this becoming more of a faction based thing in the coming weeks and may even go up to Double or Nothing.
Ruby Soho explains her actions
We finally got something out of "The Outsiders". Ruby Soho came out for a promo and addressed why she sided with Saraya and Toni Storm. In essence it was how the fans have turned on her on multiple occasions for AEW originals. With similar instances for Saraya and Storm too. Now while it was a little bit of a "you people" promo, it was a solid promo and it is nice to finally have some reason as to why these women are doing what they are doing.
She then had a short match with Skye Blue which she won fairly easily, and they did the whole spray paint thing, which is still a bit ridiculous but it is what it is. The main thing is we got an explanation from this group and so now maybe this storyline can get off the ground.
FTR are back
After many weeks, we had the return to Dynamite of FTR, who have been off TV since January. But this was basically about FTR chasing down The Gunns for the AEW tag team titles. It is no surprise as The Gunns took them out per storyline and they will probably be the ones to take the titles, as I doubt The Acclaimed win them in the near future. Double or Nothing would be a good place to do it, have FTR get revenge on The Gunns while finally getting the titles on them after the incredible year they had.
Top Flight & AR Fox vs Chris Jericho, Daniel Garcia & Sammy Guevara
A trios match to build the division up a little which is alright. The match itself was pretty good and it got the JAS the win. The match wasn't really the most important part as compared to what happened after the match. The JAS basically call themselves the number one contenders for the trios titles, and this brings out The Elite. Having lost the titles they want a rematch, so they go back and forth until the House of Black shows up in between the groups and basically challenge both trios to come at them. They then disappeared and the segment ended.
It was announced later on that it will be the House of Black vs JAS vs The Elite in a 3 way trios match next week for the titles. I really don't see what the rush is, and with nine guys in the ring it's going to be too much chaos. There was a way to do this in a logical way. Set up a number one contenders match between JAS and The Elite, winner gets the House of Black. Or even get some fun singles matches out of it. Jericho vs Omega, Malakai vs Omega, Jericho vs Malakai, Matthews vs Sammy. I mean there are so many better ways to go about it but the match will probably be good, with a little too much chaos but we'll see where they go from here.
Jon Moxley & Claudio Castagnoli vs John Silver & Alex Reynolds
With Moxley having taken out Evil Uno the other week, Dark Order are targeting the BCC, which makes sense. The match was good in itself, Silver and Reynolds are a very good tag team so might be worth building them up as a credible team. But Mox and Claudio got the win and then proceeded to turn heel, so we now have a heel Blackpool Combat Club dynamic which should be very fun.
Post match while the BCC was attacking Dark Order, Hangman came out to even the odds a bit. Hopefully this is just setting a up a tag team match of some sort and not a continuation of the Hangman vs Moxley feud. Simply because we have seen what should have been the blowoff in a brutal Texas Death match only a few days ago. I have a feeling we may get some faction warfare fro a bit though. But the direction for Hangman that would make sense is going after MJF going into Double or Nothing, just because he's gone and beaten Moxley, it is a big deal, but again it is probably just something worth just waiting for over the next couple of weeks.
Wardlow vs Powerhouse Hobbs – TNT Championship – Falls Count Anywhere
Originally this match was supposed to be a regular one on one match for the title, however, due to some unforeseen circumstances regarding Wardlow and what happened to him and getting all of his stuff stolen within a couple of days of Dynamite this week. So they improvised and made the match a falls count anywhere match because Wardlow had no gear.
The match actually started out in the parking lot and spilled over into the crowd and eventually back into the ring. Hobbs set up a table only to go through it himself courtesy of a Wardlow senton off the top rope. The match was going quite well and honestly could have benefited from a few more minutes. But then the end of the match saw QT Marshall come out and help Hobbs win the match by sending Wardlow off the stage with a double powerbomb.
Hobbs is the new champion, which is great for him and I really hope the booking goes in his favour and the title is booked properly, but it's hard to have that faith based on how Wardlow has been booked. The finish was odd, with QT helping Hobbs, commentary were trying to sell it like this has been coming but we haven't seen any association between these two for months on Dynamite television, so what is the point?
The other thing, at this point, Wardlow needs to get a break off TV, and I hate saying that, but his credibility has just gone off a cliff with this, and its sad to see because how was he cooled off so much to the point where we are now looking at him and he's lost basically everything in terms of his presentation, so I think it may be best if he goes away for a bit and comes back and start a rebuild. Because how Wardlow has been underutilised since being at his hottest beating MJF last year is just a sad state of affairs.
What do you think? Share your thoughts, opinions, feedback, and anything else that was raised on Twitter @PWMania and Facebook.com/PWMania.