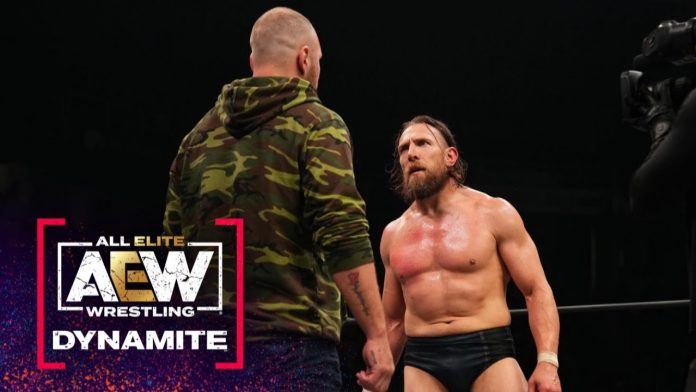 Once again another good show for AEW. In what is somewhat of a reset continuing on from last week. Great matches on the show this week as we head into Dynamite Grand Slam next week.
Jon Moxley vs Sammy Guevara
Solid match from these two to open the show. Sammy I feel is starting to really let the heel persona shine more. Moxley is just fantastic, and coming off the promo from last week he is once again red hot. As you would expect Moxley got the win here, not before Anna Jay and Tay Melo tried to run interference to help out fellow JAS member Guevara. But Mox advanced to the final of the AEW Championship tournament that will take place next week at Grand Slam. The winner of Jericho vs Danielson later in the night would advance as Moxley's opponent.
MJF & Stokely Hathaway
We have an explanation of why MJF and Stokely are working together. Stokely's new group is called "The Firm". But to start off, MJF cut a promo on Moxley and how he will end up being the one to win that AEW world title.
That's the thing though, once MJF wins the world title. He will hold it for a very long time. At least that's how I think it should go.
This kind of rolls into the next segment nicely with The Firm coming out and establishing their goals and individual members. Really good stuff here, that is what you want from a faction. Establish who they are and what they want.
So he went over each member. W. Morrisey I guess is there to be a muscle of some sort for now maybe. He wasn't given a clear direction. But Lee Moriarty was. Stokely said he will go after the ROH Pure Championship. The Gunns, Austin and Colten will be looking to end up with the tag team titles. Finally Ethan Page is going after PAC and the All-Atlantic Championship.
Really good double segment here. Establishing the group as a force and their goals.
Jungle Boy vs Jay Lethal
Jungle Boy basically issued an open challenge for a match on Dynamite. Jay Lethal accepted and they had a great match. Jungle Boy wins with the Snare Trap, submitting Lethal. There was no real heat with this match. Which isn't a surprise because it was an open challenge match.
But Christian's ill-timed injury has really put the storyline they were in on hold for quite some time. What they do here with Luchasaurus is tricky. Because neither of them should lose against each other right now. Unfortunately another storyline has been derailed by injury.
Powerhouse Hobbs squash & Ricky Starks
The match Hobbs had barely went a minute. But he hit a spine buster so hard it may have been the cause of his lip being busted open.
The real stuff was afterwards where Hobbs gets on the mic. Addresses Starks. Says he will now start a new chapter in the Book of Hobbs. That line was great and I could see that becoming a thing going forward.
But then, Ricky Starks came down to the ring. Through the crowd which was a nice touch. Uses the mic to hit Hobbs with and Starks gets the one-up this time around.
It was solid and I think we could be getting the match within the next few weeks. That would be where I think Starks would win, and where they get much more time to have a fleshed out match. As opposed to All Out.
Swerve in our Glory vs The Lucha Brothers – AEW Tag Team Championships
This match was very good. Even though they only had around 10 minutes. These guys delivered. The obvious high point of the match was where Rey Fenix hit a spanish fly on Swerve on the top. Then Penta jumps off the back of Fenix to deliver an incredible Canadian Destroyer to Keith Lee. In the end the champs retain. No surprise as next week they face The Acclaimed once again with the titles on the line. That is where The Acclaimed win the titles. Maybe a possible break-up between Swerve and Lee perhaps?
Outside of that fact that it was a great match there wasn't much to it. It was a way to get Swerve in our Glory a win before they drop the titles next week. However post match, The Acclaimed come out, no rap from Caster. They basically say they will take the titles next week. If the All Out match was any indication, the match next week is going to be amazing.
Orange Cassidy vying for PAC's title
Backstage and PAC is being interviewed when all of a sudden Orange Cassidy comes out of nowhere and hits and orange punch on PAC. He said that PAC will not be a double champion for long.
The match is now set up next week. The match is going to be phenomenal, no doubt about that. But it is possible that Cassidy wins the title and then entering into a feud with Ethan Page over it. Very interesting development.
Serena Deeb & Britt Baker vs Toni Storm & Athena
First off, the match was okay but was something fairly forgettable. The team of Baker and Deeb end up winning the match with Deeb pinning Toni Storm.
Why? Did Toni Storm really need to be pinned after winning the championship only a week and a half ago? She should be being pinned as champion. Storm being pinned was so ridiculous, especially because she just won the title. Jamie Hayter came out after the match and took Storm down with a steel chair. Not re-aligning with Baker but also helping her?
Why was it done like this? Now there has been a Women's title match set up for next week at Grand Slam. In another 4-way match, this time between the participants in this tag team match. If this is the result of Toni Storm winning the title, why even give her the title in the first place? All four women are very good in their own right, that is undisputed. But what is the point of having your champion go out and take the pin, in a tag team match that didn't mean all that much anyway. I just don't understand how the women's division continues to be booked to be what feels like an afterthought. There are so many fantastic talents in the division yet the booking is so lackluster. This has to change.
Toni Storm should 100% retain next week because realistically anything else would be the wrong choice at this current time.
Chris Jericho vs Bryan Danielson
This match that these two had, was better than their All Out match. The crowd energy was there on this occasion as well which helped. But Jericho and Danielson put on a fantastic match. A lot of striking exchanges where both guys ended up with red chests. Bryan's work is on another level in this match. He gets sent over the top rope at one point to the outside. He landed awkwardly on the floor to the point where he took the kickpad off his lower leg. The way he sold it during the rest of the match was incredible.
Bryan Danielson picked up the win here using the Lebell lock to tap out Jericho. He will now face Jon Moxley next week for the vacant AEW world title. Blackpool Combat Club member vs Blackpool Combat Club member, and what will also be a rematch from Revolution earlier this year.
The winner of Bryan and Moxley will end up dropping the world title to MJF. It is just a question of where and how. Personally I would go with Bryan winning this one. No shade against Moxley who is incredible. But having Mox win it again only to drop it to MJF a few weeks later or quite possibly the same night would be slightly disappointing. So I think Danielson is a good choice to win next week.
What do you think? Share your thoughts, opinions, feedback, and anything else that was raised on Twitter @PWMania and Facebook.com/PWMania.