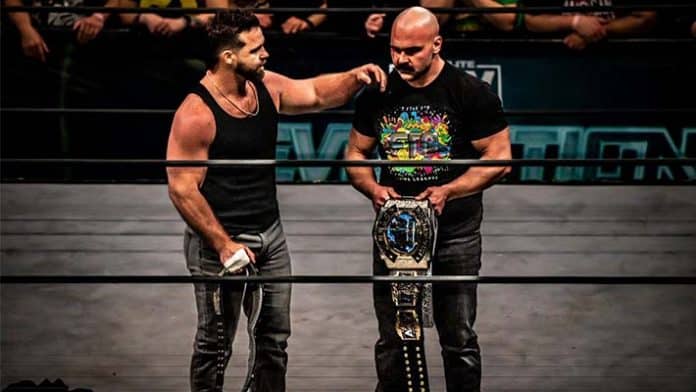 For a show that did not have the greatest of builds, Revolution 2023 was a fantastic show that had one of the greatest iron man matches we've ever seen. Now that some of these stories should be over, hopefully new stories can come up and be more developed and intriguing going into Double or Nothing.
Ricky Starks vs Chris Jericho
Going into this match, the build was somewhat lackluster. After their first match back in January, things were fine but since then the build dragged a bit. However there is no taking away from the match, which was very good and hopefully this spells the end of the feud between these two.
Now the JAS was banned from ringside for this one, which made it all the more weird when Sammy came down to ringside in full view of the referee. But he was stopped by Action Andretti and they brawled to the back which left Jericho and Starks in the ring. While the referee was distracted Jericho hit Starks with his baseball bat. Then loaded up a Judas effect which was blocked, this then leads to the win for Starks with the roshambo.
Hopefully this was the blowoff and we can move Starks on to something else. Could potentially get him involved with a title and if Hobbs wins the TNT title come Dynamite, maybe we can renew the feud between those two. Alternatively, something I think could be fun, is Christian being his next feud after what happened in the following match, even though to do that it would probably be a couple of weeks down the line.
"Jungle Boy" Jack Perry vs Christian Cage – The Final Burial

One of the matches on this show that I was looking forward to and it didn't disappoint. This match ended up being a casket match mainly with a hint of a buried alive match at the finish. So it was very good. There wasn't too much build going into this simply because of Christian's injury and everything had already been built in the months before Christian went away.
This was a brawl from the first minute, the way it needed to be. Christian ran up the stairs into the crowd with Jack in pursuit, this gave way to another brawl. Some of the things in this match were pretty brutal. There was one point where Jack tried to stomp Christian's hand on the steps, missed, the Christian swept his leg and landed hard on the steel steps. The match headed up towards the casket which was placed on the left side of the stage. Then once they got there Christian had thought this through, so he grabbed the two chairs he placed in the casket before this match. The chair usage from Christian failed here because Perry countered his chair shots by throwing him off the stage and then somersaulting onto him in a very cool spot.
Christian hit a low blow on Jack because of his hesitation in front of the casket, he then slams Perry's head into the casket itself which looked great. Perry is thrown in, but prevents the lid closure, then Christian hits a killswitch. Jack goes for the shovel placed near the casket and retaliates with that after Christian's failed conchairto. Then uses the shovel for a version of the snare trap. Jack then finally hits a long awaited conchairto to Christian before putting him in the casket and closing the lid to send it down into the grave. Which was a nice little detail. The casket falling.
The match was fantastic and this should signify story over for both of these men. They did a good job dragging it out because of Christian's injury and we got the match that maybe would have been the All Out match had no injuries occurred. But now we move on for Jack Perry and like Ricky Starks, it is somewhat tricky to think of a direction to take him. But in saying that, maybe we get a Jurassic Express reunion built up over weeks and months culminating in them rejoining. Then maybe sometime this year we get Jack in position to face MJF. But I think that might be a smart way to go, especially with the lack of legit tag teams.
The Elite vs House of Black – AEW Trios Championship
There really are two sides to this feud, the match they had on this show was incredible, as you would expect when you put two of the best trios in the ring with each other. The other side of it was the build, because unfortunately there was no build to this match outside of lights going out and House of Black making it known they want the titles. But outside of that fact the match delivered in all aspects.
To start off there were some great one on ones with The Bucks against Buddy Matthews and Brody King. Of course as well the one one one match that should be, Malakai Black against Kenny Omega. But this is what should've happened in some aspect during the build, have these guys face off, but that's neither here or there now. The match was an Elite match, fast, high tempo, work rate trios match. Some of the strikes these guys delivered looked and sounded incredible. I think Brody King offered a lot to this match as he is a bigger guy that doesn't do the flips and dives. In saying that, there was a moment of King launching himself via a crossbody onto Omega who was sat down on a chair that was along the barricade, so he just got squashed there.
But ultimately the right decision was made and the House of Black went over and won the trios titles. Now they need to be booked like a proper force on television to not only give them more credibility, but also to make them a big deal and the titles a big deal. So when they lose them it actually matters. As far as The Elite, it would be great to see The Bucks back in the tag division while Omega does his singles action. This doesn't mean they can't be a trio, but give them other options.
Jamie Hayter vs Saraya vs Ruby Soho
It was very clear coming into this match that the feud between the "Originals" and "Outsiders" had lost a lot of steam. A lot of it has to do with poor booking choices like the green spray paint for example. Why is it necessary to be a ripoff of the NWO with that, because that is all it feels like. We have had nothing about what happened to Shida on TV, who was a focal point of this storyline before. However, maybe with what happened on the show, things are going to start to get better.
The match was very solid with all the women going out and delivering a good performance. It did brawl to the outside a couple of times. At one point Saraya was in the middle of the other two telling them to stop, only for them to beat down on her some more. It was cool to see Soho in a highlighted match for the title. But it was Jamie Hayter for the win via a crucifix pin, which did feel slightly abrupt but it is what it is.
After the match Saraya and Toni Storm who was at ringside the entire time went to beat down on Hayter and Baker who was also at ringside. Then Ruby took down Saraya and Storm and threw them out of the ring. Seemingly siding with the "Originals". But after Hayter raised her hand, she blindsided her with a kick to the head and then took down Britt Baker. She then used the spray paint and sprayed an L onto both women.
This has got to be setting up a trios match between all of these women. My guess is Shida may come back and pick her side with Baker and Hayter and maybe this will be built up into Double or Nothing. There could be an added caveat though, Thunder Rosa was due back around now, so could we see the return of Rosa to maybe even side with the "Originals", even with the past between her and Baker. It might be something to look out for.
Jon Moxley vs "Hangman" Adam Page – Texas Death Match

This match delivered as advertised, there isn't too much else to say. These guys beat the hell out of each other and there was a load of blood as promised. It was bloody, brutal and violent. As it was expected to be but some of the stuff in this match, particularly from Moxley, was downright gruesome.
Similarly to Jungle Boy and Christian, this thing started in a brawl, and once again, it suits the feud. From here, it was just barbed wire, bricks, blood and even a chain come the end of the match. These guys beat layers of paint off each other. So the first sight of blood predictably was from Mox and we weren't even two minutes in. There was a chair wrapped in barbed wire which both guys used on each other. They sent each other through the barbed wire boards they had set up at ringside. Moxley taking the worst of it. Hangman hit a deadeye on the chair wrapped in wire, which actually busted open the top of Moxley's head. This was an absolute war. Moxley curb stomped Hangman into bricks that he brought in. Near the end of the match, Mox brought a chain in and wrapped it around his neck like a scarf. This then paved way to Hangman hitting a buckshot and sending Mox over the ropes to be hung be the chain he put around his own neck.
What might be even more mad is Moxley actually tapped out, which is something I don't think we have seen in AEW yet. So a monumental occasion for Page which I think might set him up as MJF's next challenger maybe come Double or Nothing. That would be absolutely  fantastic should it happen. Maybe after this loss for Mox, we see him transition into the trios division with the Blackpool Combat Club and eventually build them up enough to where they can challenge House of Black for the titles.
Wardlow vs Samoa Joe – TNT Championship
Oh how much hotter this feud could have been had they just told the story about Wardlow's father earlier. It wasn't only that which worked as a disadvantage. This match was placed right after Mox and Hangman was the death spot and the crowd really didn't care too much.
The match itself was not bad, in fact it was actually pretty solid, with Wardlow hitting his big moves that at his size is incredible that he can do. Joe mocking the powerbomb symphony prelude. Joe is just great. Even the ending where Wardlow got Joe's choke hold on him and Joe passed out making Wardlow the new TNT Champion.
Hobbs was looking on during the match and now it is set, Wardlow vs Hobbs for the TNT title on Dynamite this week. I couldn't help but notice on commentary they mentioned that Wardlow could be the shortest reigning TNT champion in history if he loses to Hobbs come Dynamite. The problem that's been created now is you have a new champion in Wardlow who has not been booked properly since beating MJF last year and lost so much steam taht he needs to be built up again. But on the other hand, Hobbs just won the opportunity to challenge for the title and if he loses then what? This really is a no win situation. Hobbs deserves to be on TV but why couldn't this match be built up for Double or Nothing instead of diving right in this week. I really hope there is a plan for this.
The Gunns vs The Acclaimed vs Jay Lethal & Jeff Jarrett vs Orange Cassidy & Danhausen – AEW Tag Team Championship
Coming into this a rematch between The Acclaimed and The Gunns would have been fine, but the other two teams were only really added so The Acclaimed didn't have to take the pin here. While this match had its moments of fun and was actually a solid match. The addition of the other two teams was not needed, and the only reason there were in there is so Danhausen could take the pin, which is exactly what happened.
The match was fun, you had Orange Cassidy doing his thing which is great, there were plenty of interferences as expected, as it was a 4 way match with no disqualifications. Which made it all the more weird when Max Caster went to use the guitar and hit Jarrett with it, the referee took it away and said you can't use it, even though only a few minutes earlier Satnam Singh and Sonjay Dutt got involved, as did Billy Gunn, so that made no sense. What did is The Gunns winning, which they did and retained their titles. They did deliver a double low blow to Billy Gunn during the match signifying maybe they won't get back together.
The post match angle which was easily seen once Renee Paquette entered the ring to give a interview with The Gunns. This made it clear that they would be interrupted and interrupted they were by a returning FTR who came down and beat up the Gunns and are eyeing the tag titles finally. I really liked this, because it is very clear with the direction they plan to go in which is FTR chasing the titles down. The Acclaimed may get involved as well considering they weren't pinned. So suddenly the tag team title race hots up, which is a huge plus.
MJF vs Bryan Danielson – 60min Iron Man match for the AEW World Championship
The main event of the show, a spot it so thoroughly deserved based on story and how incredible the build up has been, and it all culminated in the match here. Going into this we all knew Bryan would lose, it was just a question of how, and we got that answer in what was one of the best iron man matches ever.
I really liked the start of the match and how there was a bunch of chain wrestling involved, really showcasing that yes, MJF can hang with Bryan Danielson. This match was paced very well, with MJF being the heel that he is, takes his time on the outside and avoids Bryan. But this match never really felt like it dragged, which is a testament to both men. About 25 minutes in, Bryan hit his Busaiku Knee and pinned MJF for the first fall. What happened next was brilliant, MJF hit a low blow on Bryan who was standing over him. Causing a DQ, which meant Bryan was 2-0 up. MJF then pinned him quickly to gain two falls back making it even once again in the matter of a couple of minutes. Absolutely brilliantly done.
The next fall occurred when MJF hit a piledriver in the ring after hitting a tombstone through the timekeepers table, this gave MJF a lead going into the final phase of the match. Bryan did get one back via the Regal Stretch where MJF tapped out making the scores 3-3 as the match slowly draws to close. The final minute was brilliant with Bryan having applied a single leg boston crab, and MJF just holds on before the timer reaches zero.
They announce the match ending as a draw and the crowd really didn't like that, unsurprisingly. However, this gave way to sudden death overtime, the medical team left the ring, and MJF before this had an oxygen mask on. But the medical team would leave the tank at ringside. So Bryan had MJF in the same submission again, he got to the ropes this time but once he did, tapped out, leading to Bryan thinking he won. This led MJF to go to the outside and with tank in hand, hits Bryan over the head with it where the referee didn't see and applied the LeBell lock to Bryan. He originally got through passing out but like he fellow BCC member before him, taps out. Giving MJF the decisive fall and therefore retaining his AEW Championship.
This match was just incredible, great nearfalls, awesome action and it flowed brilliantly. Can't say I expected it to go into overtime, but it gave us a great spectacle for the world title. Following this, I could see Bryan going back to the BCC like was stated before, and MJF to go into a match with Hangman at Double or Nothing.
What do you think? Share your thoughts, opinions, feedback, and anything else that was raised on Twitter @PWMania and Facebook.com/PWMania.