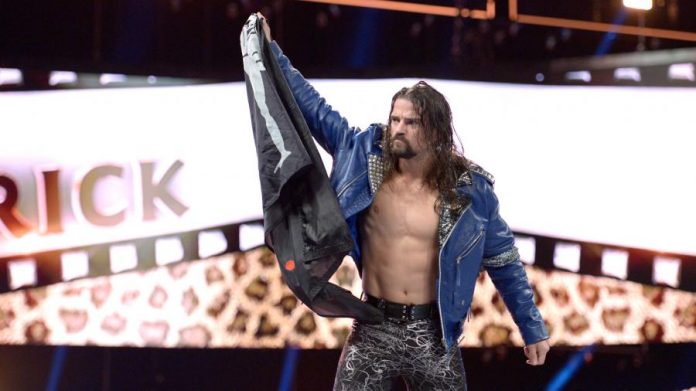 Brian Kendrick has been there and done it all. With top stints at companies such as WWE, ROH, IMPACT, and NJPW during peak periods highlight how good a wrestler he actually is. In recent times, Kendrick has worked as an agent in WWE whilst also looking to work with AEW, with an appearance called off at the final minute.
With so much to discuss, PWMania.com's Lee Tarrier (@leeseedub) sat with Kendrick to talk about his career, his thoughts on different companies, and who would be his dream opponent in 2023.
You can read PWMania.com's complete exclusive interview with Brian Kendrick below:
You've had a fantastic career and been involved with world-renowned companies at some of the biggest periods, what would you say are some of your best memories in the wrestling business?
Oh boy, I know many will say similar things, but the things I really enjoy are the car rides between towns, so riding in a car with Jimmy Yang, Ron Killings, Vladimir Kozlov, and Sho Funaki, guys like Scotty 2 Hotty, you know, when a lot of these house shows are 200 to 300 miles apart, you spend, four or five hours in a car together with guys and that's what I remember the most as it was always fun and happy times and moments when you bound together.
Well, talking of WWE, you've had a lot of different stints there. Starting with your first one in 2002, did you enjoy that run?
So yeah, my first short run on TV was in 2002, and I was so young, like 23, on television so I didn't realize what it was I was dealing with. Even at the beginning, one of my first little bits was as the singing telegram, and I go and get chokeslammed by The Undertaker. Like man, that's huge to be in the ring with such a legend, but I didn't realize how significant a moment that was. So I suppose I didn't fully appreciate my first run and some of the big moments I had.
How much interaction is there with people like The Undertaker in the run-up to a segment such as the one you mention? Do you spend a lot of time with them?
Well, things have changed a lot since then, but I would go to the locker room, shake Undertaker's hand, and pay respect as that is what you would do. But, you don't bother the guy much more out of discussing the creative because he doesn't want to hear it, he's got his own thing going on. So, I interacted as much as I needed to, took the creative given to me, and went out there and gave it my best. The difference now is there's a lot more writers, but it's the same thing. If you've proven that you can hold yourself and impress the office and the boys in the back, you start to be trusted to add more and bring more to the table.
With that said, were you overwhelmed by it all?
So I was always nervous around people. But I was very confident about my wrestling, I mean, I'm striving to be the best, and I'm going to be the best, and you can see I'm working hard at it. So, in the ring, I was hugely confident, but in that first run, outside of the ring, I was quite terrified by the locker room because these are all cartoon characters to me. Many I grew up watching, so being overwhelmed, yeah, you could say that.
I was fortunate in that I had guys that liked me such as William Regal, I knew him from Memphis so he took care of me and if he vouched for me, so long as I didn't screw up because he said I was alright, then I was alright. So, you know, thank God for that because, without somebody like that, you're screwed at that time.
Second time around, you team with Paul London had a fantastic long reign as Tag Champs in WWE, did you enjoy this stint?
Oh, yeah. At that point, there were a lot more people my age. I was a little bit older and wiser. I really enjoyed teaming with Paul and felt like the locker room was a great group to be around. We would work hard, go out after the show and enjoy a drink and all work together.
I really like the work Paul and I did as I think we we complemented each other well. The one match I always go back to is against KC James and Idol Stevens, the teacher's pets, as that had no expectations and I think it was just a very good display of tag team wrestling. Not much was expected of us, but we went out there and tore it up. You know, we showed how tag team wrestling can be done.
People talk about you not having as much of a push as your long reign deserved. Did you feel that your reign as champion was being valued by the company?
At the time, no. At the time, I thought well, 'God damn, I'm the best, you know, look at us. Nobody can compete with us' which in itself was misguided, I felt underappreciated, but that was just being young and stupid, as really, I was paid well, I got to travel the world with my friends and getting money for competing when not long before that, I was doing it for free in front of a lot less people. I was frustrated as I knew we were a great team, but at the same time, I don't think I truly appreciated the opportunities I was given.
When you returned to the Cruiserweight Classic and across 205 Live, did you see it differently, being slightly older and after more time wrestling out of the company?
It was a life preserver for me that, you know, I was floundering for years, and with Regal being a friend and a mentor of mine, he told me to keep my head up as they look to get the cruiserweight thing going. When that time came, I took the opportunity and gave it my all. Matches against people like Ibushi where I was eliminated were all about highlighting what I could do. And because of that, they asked me back to be a part of 205 Live and to have a contract. It gave me a whole new perspective on things, and I loved my time working on that show.
Was it tough to work on at all, as many times you would come on after SmackDown had aired?
You know, it's hard to go on after SmackDown at whatever o'clock at night. The only thing keeping these people there is the dark match that's going on after 205 which is going to be with wrestlers that have already wrestled for the whole week. They're tired, they're beat up, and now they have to go and perform after the cruiserweights just to keep people there for the 205 show. But what I loved is within 5 minutes of us getting in the ring, an audience that probably didn't care about us loved what we were doing. TJ Perkins, Noam Dar, Rich Swann, these guys put it out there every time, and all of a sudden, the crowd was invested. I loved that show. I really did.
We really bonded because we knew what we're up against. I was the only one who had done WWE at this point. So these guys, they're wrestling in front of 8000-10,000 people for the first time. That's huge for them. And even when it was tough, they never lost their motivation. They weren't disgruntled because the crowd wasn't always there to see them. They were fantastic!
And from there, you start to work as an agent on matches within rosters such as NXT UK, how did you feel about that?
It's fun, but very little of the job is helping them put together the match. I don't really step in the way. If they're doing what the office wants, great. These guys are special talent, so I'm just there to encourage them, help them hit their camera markers, and let them go.
I enjoyed the challenge of ensuring it looked great on TV, watching matches from the truck, and ensuring I've got the wrestlers in the best position to showcase their talents to a worldwide audience. There was always an exciting panic behind it all, but I enjoyed the thrill of that.
With a roster such as NXT UK, where you would work with them differently, who were some of the names that stood out?
I thought that roster was pretty much fantastic from top to bottom because they were all wrestlers very similar to the group I worked with in 205 Live. You know, I'm gonna say Saxon Huxley because I love the guy and I hope I hope he gets all the bookings possible. But I also thought Imperium was fantastic and I think Dragunov is on just a different level. I see so much of Mr. Perfect in him. I think he is awesome.
I was honored to be the agent on WALTER vs. Dragunov during NXT Takeover 36.
How far do you think Dragunov can go in the WWE system?
I think all they need to do is get behind and then I think he becomes champ. He can be as big as they want to push them. He may not be the guy that you may see on late-night TV or the Today Show promoting the company, like a John Cena, but in ring, man, I think he can be one of the best of all time.
Talking of how the company works, where do you think the company is at the moment? Who do you see in charge and do you think it will be sold?
It seems so up in the air. I don't know. I just hope it's healthy. I hope it survives. I hope it doesn't evolve into something that will make me miss what it is today too much. You know, if I had my say, I hope it stays in the family forever and ever. That's my hope.
You were also a big part of ROH's early days. Have you seen anything of the recent product?
I haven't seen it since since Tony purchased the company and made the product but I don't know how it can be the same thing as it was. I'm assuming it's gonna be like WWE buying ECW, like Jericho being champion, it's like Bobby Lashley or Ezekiel Jackson becoming champion of ECW. No disrespect, you know, but it sort of feels like oh, it's it's officially ours now, so it's no longer truly Ring Of Honour. That's just what it feels like without having watched the show.
If they want it to work in a way that was truly ROH, make the production gritty, in smaller venues, respecting where it was. You know, if you look at ECW when WWE bought it, it was being taped after Smackdown in front of 12,000 people who don't really care who these guys are. I'm not saying this is what ROH is, but I'd love it seen kept to its true essence.
In regards to Tony Khan and AEW, I know there was a point you were going to be involved with them. Is that still something you'd like to do in the future?
At this point. I don't foresee that happening. But who's to say you know, it's hard enough to tell you where I've been, you know, so how can I tell you where I'm going? But yeah, I don't I don't predict that happening.
So, if there's anyone out there that you would like to take on in 2023, who would it be?
Ilja. All day. If I could wrestle him and put him over, I would be able to retire a happy man. He has it all and I'd love to have that match. Will Ospreay is another one, he is fantastic and has it all. I would love to wrestle him.
However, my total dream, if I could wrestle and then say I'm done and retire. It would be Bryan Danielson. We both went to Shawn's (Michaels) school at the same time and I ultimately wound up moving in and crashing on his floor before we moved to Memphis together. And then when we got signed to developmental, we joined ROH together and so our paths kept crossing early on.
Make sure to check out Brian Kendrick's wrestling promotion, Wrestling Pro Wrestling at https://twitter.com/WrestlingPW for details on their upcoming events including this Thursday's Russell Crowe Wrestling: RussellMania III. Only a few tickets are still available for the event. More details are available below:
This Thursday it's Bigger! Better! Burbankier! when Wrestling Pro Wrestling Presents: Russell Crowe Wrestling: RussellMania III *Russell Crowe will not be wrestling!

Only a few tickets are lefthttps://t.co/07I34uXSlN#wrestlingprowrestling #comedywrestling #burbankevents 🦃 pic.twitter.com/6q9vQl7qD8

— WrestlingProWrestling (@WrestlingPW) March 27, 2023