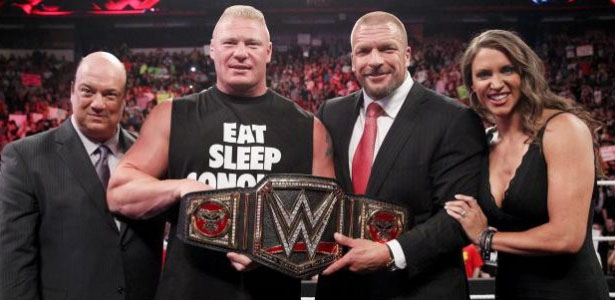 Love him or hate him, Brock Lesnar is our new WWE World Heavyweight Champion. It was a dominant performance at SummerSlam over John Cena that put the Conqueror at the top spot. What implications does this have going forward?

It was earlier this year, for another wrestling community, where I laid out a strategy WWE would take in which Brock Lesnar would go over, clean, to The Undertaker at WrestleMania XXX. For a month leading up to the match and during the match, I was met with over 100 different comments from people telling me I'm crazy and just trying to be the guy to go against what we all know was going to happen. I wasn't. I just happen to have a grasp on WWE, most of the time. Once Lesnar defeated the Streak, I was showered with praise. It was at that moment where I knew that WWE was going to make a change.
For years, the product of WWE has been predictable. It was even to the point where if there were two title matches on a PPV and the first one was defended successfully; the second one would be dropped. I even remember when if someone lost a match on Raw before a PPV, they'd win at the PPV. Thanks to the IWC (which I can't stand most of the time), WWE was forced to change. Fast-forward and we have a new champion in the 1 in the 21-1.
Ever since WWE brought back Lesnar a few years ago, the man has meant serious numbers. Utilizing his dates carefully, WWE was able to make the PPVs he was on sell more. It was clear after this year's SummerSlam, especially by crowd reaction, that everyone is finally out of denial for loving Lesnar. John Cena was the poster boy of all that was good in WWE and Lesnar shattered his world.
Where I see this moving forward is a torch passing. Brock Lesnar: NCAA Champion, youngest WWE champion, UFC Champion, Defeated Taker's Streak and once again, after long absence, WWE champ. While there are many wrestlers who have great accolades, like John Cena, Lesnar has a wider variety comprised of legitimate sports. This isn't to sound like a Lesnar love fest; I'm just painting a picture.
Men with accolades of greatness, like Cena or Orton, have nothing to gain by defeating Brock Lesnar. Just another notch on an already full bedpost. However, if we look at all the rising talents like Bray Wyatt, Roman Reigns, Seth Rollins, Dean Ambrose and a few others, they have EVERYTHING to gain from defeating a man with so many great things tied to his name. Aside from the rematch with John Cena at next month's PPV, I look forward to Lesnar's role in WWE beyond that. We all know he's part time and not in it for the long run, and that's okay. Utilizing the time he does have is going to be crucial. So many current stars are going to become megastars in the coming months thanks to programs with and around Lesnar.
It's also needing to be noted that having a part time champion is better than a full time champion. If any of you remember wrestling in the 80s and even before (which I don't REMEMBER, but know of thanks to video libraries) the champions sometimes went months without defending or even showing up. It made them a marquee attraction and something to crave. Keeping the top dog off TVs right now will give more on-air time to develop the younger stars and let them flourish. When the time comes, they will be ready for Lesnar at a PPV.
I, personally, couldn't be more excited to see where this new chapter in WWE history goes. We already saw one of the best SummerSlams in recent memory (which you can relive on the WWE Network for just $9.99) and with any luck, WWE will continue to walk on egg shells to deliver better stories with the people the crowds want to see. Of course, they could fail on this, put the belt back on Cena and bury Lesnar which would completely destroy everything that happened at this year's WrestleMania and SummerSlam to make it an historic year for WWE. Let's hope it's the former and not the latter.
What do you think? Comment below with your thoughts, opinions, feedback and anything else that was raised.