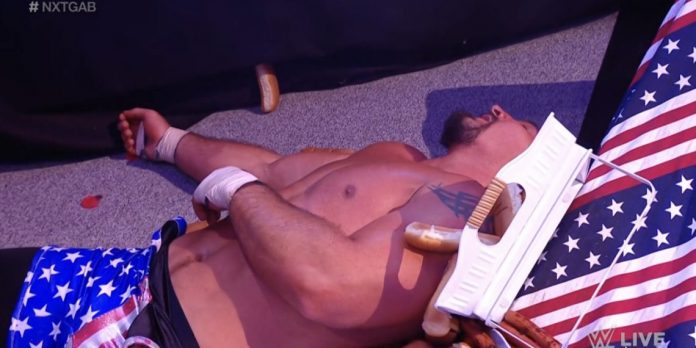 The WWE NXT 2.0 roster now officially includes JD McDonagh.
NXT Champion Bron Breakker successfully defended his championship against Cameron Grimes at Tuesday night's NXT Great American Bash. Following the match, Breakker proudly held the championship up at the entryway, but McDonagh surprised him and knocked him out.
The former Jordan Devlin then slammed Breakker into a red, white, and blue picnic table on the set. He warned Breakker that the necessary evil is present in NXT and declared that his prior remarks were intended for the champion while standing over him. JD stood over Breakker as the Great American Bash came to an end.
McDonagh first appeared in this new character's third vignette earlier in the Great American Bash. He described how his father had informed him that he could do anything he wanted as long as he was the best at it. Additionally, he claimed that anyone who enters the ring beside him will be dissected, and that the other members of the NXT 2.0 roster would be unable to see him even with binoculars. JD continued by saying that it is his responsibility to convert doubters into believers since the pain he inflicts changes minds quickly. JD concluded by telling everyone to enjoy Great American Bash because NXT 2.0 will change forever next week.
The show's end saw JD come a week early as he attacked Breakker.
Since losing to NXT UK Champion Ilja Dragunov in a "Loser Leaves NXT UK" match on May 12th, JD had been absent from WWE TV.
Devlin started working with WWE in December 2016 for the first-ever WWE UK Title Tournament after having a strong career in the UK. He ultimately worked for the NXT UK brand, but at Worlds Collide in January 2020, he captured the NXT Cruiserweight Title. When it was revealed in April that Devlin couldn't defend the title because of COVID-19 travel restrictions, a match to determine an interim cruiserweight champion was held, and Santos Escobar emerged victorious. Upon his return to NXT in the spring of 2021, Devlin was defeated by Escobar in a title unification match at Takeover: Stand & Deliver Night 2. After losing to Dragunov in the stipulation match on May 12, he subsequently went back to NXT UK.
It's interesting to note that WWE spelled "McDonough" in all posts and videos referring to the NXT show from June 21. They are once again utilizing "McDonagh," as they did when Devlin's new gimmick was initially made public with the first vignette a few weeks ago.
We will keep you informed if there are any updates about McDonagh vs. Breakker's scheduled date and the two Superstars' upcoming plans.
Stay tuned to PWMania.com.com for more. Here are some highlights from Tuesday night's main event, along with the McDonagh vignettes.
Who walks out of #NXTGAB with the #NXTTitle? @bronbreakkerwwe @CGrimesWWE pic.twitter.com/DrIvXp4kDZ

— WWE NXT (@WWENXT) July 6, 2022
🇺🇸🎆🎇🇺🇸#WWENXT #NXTGAB @bronbreakkerwwe pic.twitter.com/2647UvoWCC

— WWE NXT (@WWENXT) July 6, 2022
Can @bronbreakkerwwe battle back?!#WWENXT #NXTGAB #NXTChampionship pic.twitter.com/Pax39AzR2k

— WWE NXT (@WWENXT) July 6, 2022
What's it going to take?!#WWENXT #NXTGAB @CGrimesWWE pic.twitter.com/QzgNmeQ2rU

— WWE NXT (@WWENXT) July 6, 2022
JD McDonagh!? 😲

The "necessary evil" just sent @bronbreakkerwwe a message he won't soon forget. #NXTGAB #WWENXT pic.twitter.com/IVVkoOzivE

— WWE (@WWE) July 6, 2022
Next week! #WWENXT #NXTGAB pic.twitter.com/1G4eJrbfOy

— WWE NXT (@WWENXT) July 6, 2022
Next week! #WWENXT #NXTGAB pic.twitter.com/1G4eJrbfOy

— WWE NXT (@WWENXT) July 6, 2022