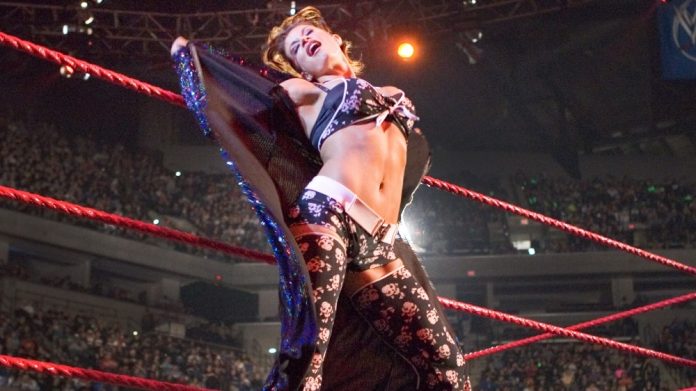 Former WWE Superstar Candice Michelle wrestled her final match last night and afterward gave a farewell speech to the crowd.
Her retirement match went down at House of Hardcore 36 in Waukesha, Wisconsin where she defeated Lisa Marie Varon (aka Victoria) with a Tornado DDT-esque move from the middle rope.
Following the match, Michelle talked about joining WWE through the Diva Search, how much winning the WWE Women's Championship meant to her and how she's happy to be a role model for her children.
You can see the match in its entirety (beginning at the 2:19:00 mark), as well as her post-match promo, here.
Watch House of Hardcore 36 from houseofhardcore on www.twitch.tv
Afterward, Michelle posted the following on Instagram.
Here are more photos and video from Michelle's final match.
Milwaukee's own @DIVACANDICEM wrestling her last match against @REALLiSAMARiE

LIVE on Twitchhttps://t.co/Vv5CkbipZw pic.twitter.com/VsLIAuCds4

— House of Hardcore (@HouseofHardcore) December 3, 2017
My childhood favs!!! @REALLiSAMARiE @DIVACANDICEM pic.twitter.com/6qJ79vse7T

— Johnny Cyrus (@ItsJohnnyCyrus) December 3, 2017
DDT!!!!!1 @DIVACANDICEM #HOH36

▶️https://t.co/fuc8ZjYJRY pic.twitter.com/97uwQ3SX1O

— Italo Santana (@BulletClubItal) December 3, 2017
#ThankYouCandice pic.twitter.com/Wrwk6J59de

— House of Hardcore (@HouseofHardcore) December 3, 2017
.@DIVACANDICEM defeats @REALLiSAMARiE and they share a moment.#ThankYouCandice #HOH36 pic.twitter.com/nZfRch2IwO

— House of Hardcore (@HouseofHardcore) December 3, 2017