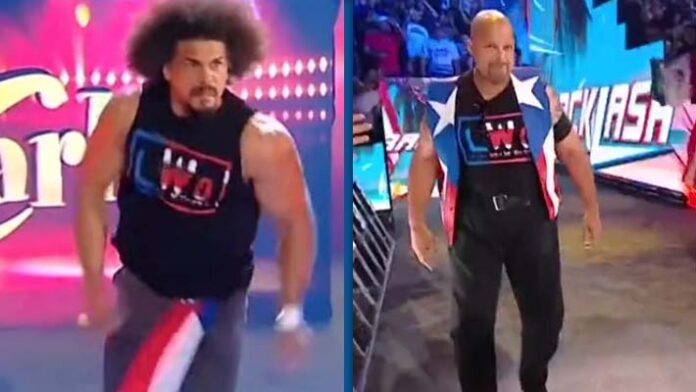 WWE Backlash 2023 was an intense show.
The show, which took place on Saturday night from San Juan, Puerto Rico, featured a lot of surprises for the local crowd, which was insanely loud from the very beginning of the show until the very end.
Former WWE Superstars Savio Vega and Carlito made surprise appearances from their native Puerto Rico at Saturday night's WWE Backlash Premium Live Event.
Vega had a backstage segment with Bad Bunny and 2023 WWE Hall of Famer Rey Mysterio earlier in the show. Vega gave Bunny a custom kendo stick wrapped in the Puerto Rican flag before hyping him up for his match with Priest. The arena erupted in a big pop when Vega made an unexpected appearance.
Bunny defeated Damian Priest in the San Juan Street Fight later in the show. Both competitors grew up in the same area of Puerto Rico, which was mentioned in the commentary. During the match, Finn Balor and Dominik Mysterio came out to assist Priest, but Rey saved him. Rey was then triple-teamed, bringing out Carlito, who then brought out The LWO and Savio.
Bunny would finish Priest off by pinning him with a Bunny Destroyer. The LWO, Savio, and Carlito returned to the ring to join the Grammy winner in raising the Puerto Rican flag. Our detailed results can be found at this link, and highlights from the Street Fight can be found below.
This is Vega's first WWE appearance since the 2020 Survivor Series, when he made a surprise appearance for WWE Hall of Famer The Undertaker's retirement ceremony. After joining the company in 1993, he was released by WWE in September 1999. Carlito made his first appearance since the February 1, 2021 RAW, when he teamed with Jeff Hardy to defeat Elias and Jaxson Ryker just days after his surprise Royal Rumble appearance. Carlito signed with WWE in early 2003 and was let go in May 2010.
Check out highlights below.