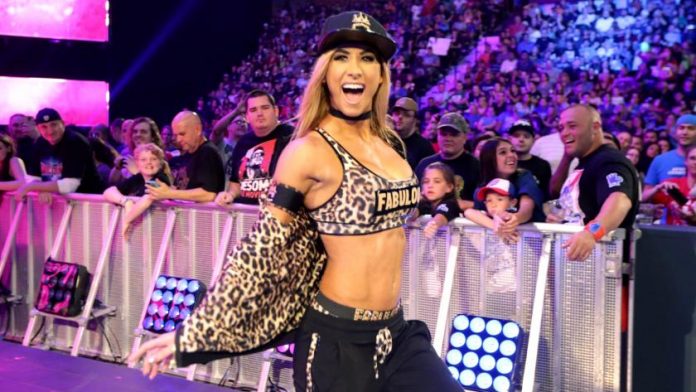 – Above is a new teaser for tonight's season 7 premiere of Total Divas on the E! Network. Below is a new clip looking at cast members Nia Jax and RAW Women's Champion Alexa Bliss, who are joining the show with Carmella this season. Bliss and Jax both commented on being fans of pro wrestling since they were kids:
Bliss: "My family loves WWE, it was the thing we did on Monday nights. We got together, ate pizza. Me and my cousins used to pretend to be the Hardys and Lita. And after college I got a call that I had made it to a try-out, was signed, contracted to NXT and started from there."
Jax: "Growing up I was a fan of wrestling. I never really thought that I could be a part of this business just because I am a plus-size woman. Thankfully they liked me so now I'm here at the WWE kicking some ass and taking some names."
– WWE stock was down 0.15% today, closing at $26.50 per share. Today's high was $26.87 and the low was $26.75.
– Ms. Money In the Bank Carmella took to Twitter today and called out a Hooters restaurant manager in Hampton, Virginia for refusing to sell her a pair of tights. WWE Superstars often take to Twitter to vent on airlines, rental car agencies and hotel chains but this is a first. She wrote:
Thanks so much to the rude manager at @Hooters in Hampton, VA who wouldn't sell me tights even though I called ahead and asked.. #haters ✌?

— MS Money in the BANK (@CarmellaWWE) November 1, 2017