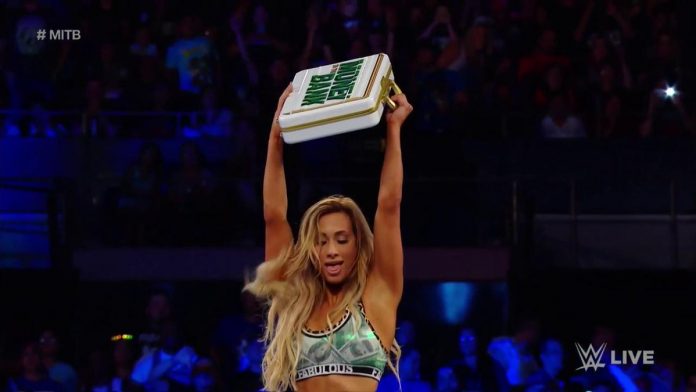 Ms. Money In the Bank Carmella recently spoke with Muscle & Fitness Hers. The full interview is at this link and below are highlights:
What made you decide to join Total Divas for Season 7? I know you've worked with a lot of these superstars in the past, particularly Nattie and Naomi, so did you enjoy the opportunity to spend more time with them?
Of course! I mean, we're actually always all together on the road, so you know it wouldn't hurt to just add a camera in front of us. I'm excited because I think this is such an amazing time for the women in the WWE and female wrestlers in general. There's so much going on in women's wrestling right now, and I was just excited to kind of show what we do and what we're all about and I know that Total Divas is about six seasons now and there's Total Bellas and everything. So I'm excited to kind of share, you know, my story and what I am all about here in the WWE.
Along those lines, past seasons of Total Divas have covered some really personal moments such as Lana's wedding and Brie's pregnancy, and when I talked to Nattie, she talked about how she had to put down her cat and how that was a very hard moment for her to film. Are you OK with having these personal events being broadcasted to the public, is that just something you're used to, being a WWE superstar?
It's definitely not something I'm used to. Being a WWE superstar, I mean…there's a difference between Carmella on Smackdown Live and Carmella in real life. But, I mean I guess that is what you sign up for when doing a reality show. So, you know, one of the struggles I'm facing this season is a real-life struggle, with my boyfriend Big Cass, who's on Raw, and I'm on Smackdown. So, you know, we see each other one day a week if we're lucky. Sometimes we have to go a few weeks without seeing each other, sometimes we're traveling on different, separate tours, to different countries. But, I mean, it is what it is, so there's nothing we can do about it, we make do and we make the most of our time together that we do get. So again that is something that we struggle with, and I'm excited because I think you can kind of get to know us because we've been very private with our relationship, a lot of people don't realize we've been together for almost four years. So, I'm excited for people to kind of get to know us and see, you know, what we're all about.
How do you feel you've grown as a superstar since your debut?
Well, I mean I can't even—during NXT I was just the manager. I managed [Enzo] Amore and Big Cass. And then when they got drafted I kind of had to start all over again and figure out what I'm going to do and how I'm going to be different. And, three months later I was drafted to Smackdown Live, very last draft pick, most irrelevant, if you will. And I think the last year has done nothing but light a flame under me, I just wanted to prove, you know—you can pick me last, that's fine, but I'm going to show you what a mistake that was because you should've been picking me first. Because, I have a lot to offer, so I just felt like I really had to prove myself, and here I am: two-time Ms. Money in the Bank, first contract-holder here in the ladder match. So, I think I'm doing pretty well for myself. [laughs]
I know the Mae Young Classic recently happened a couple weeks ago and will be airing on the WWE Network next month. What was your reaction to that?
Honestly, it's, I can't even explain how lucky I feel and happy I am to be in women's wrestling at this time. It's a revolution, again everyone keeps saying the women's revolution, and to actually have the opportunity to go to the Mae Young Classic and watch the matches, I was so inspired. A couple of the girls that I'd never even met before, I had to go up to them and give them a hug after their match. I was like, "Thank you so much you've inspired me to be in women's wrestling." I already am, but all I want to do is work that much harder, and these girls are just—you can just see the passion in their eyes and their faces, and how bad they want it; and I mean, it's such an exciting time, it just makes you, you can never get complacent. You always have to work hard, because you never know. Everyone's vying for a spot and a position just to get here, and I'm going to do whatever I can to stay here and, you know, continue to make history.