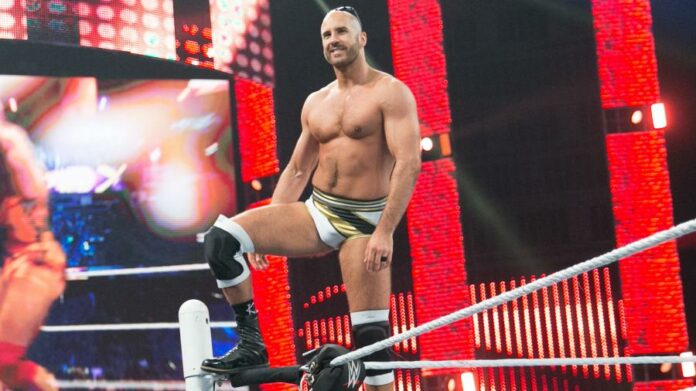 – Mojo Rawley's dad joined him on the recent WWE 2K18 promotional visit to Dubai. Above is video of the SmackDown Superstar with his pops at the Burj Khalifa, the world's tallest tower.
– As noted, Cesaro needed three stitches and emergency dental surgery after losing part of his front teeth during the loss to RAW Tag Team Champions Seth Rollins & Dean Ambrose at WWE No Mercy last night. WWE posted the following update on Cesaro today:
Medical update on Cesaro following injury at WWE No Mercy

WWE doctors tend to Cesaro after The Swiss Cyborg got his teeth kicked in during a vicious fight for the Raw Tag Team Titles at WWE No Mercy 2017.

Following an injury to his front teeth during a heated Raw Tag Team Title Match at WWE No Mercy, Cesaro will visit a maxillofacial surgeon to have the issue resolved and get himself back into action.

"Cesaro's teeth were pushed up into his upper jaw by about 3 to 4 mm," WWE medical personnel Dr. Daquino explained. "The next step is for him to see a maxillofacial surgeon today, most likely removing the teeth and then having some implants made. So hopeful we will have him up and running after Tuesday or so."

The Swiss Cyborg also received three stitches in the bottom lip, but that was overshadowed by what happened with his teeth.

Check back to WWE.com for more details as they become available.
– Nikki Bella continued the "#ThankYouCena" trend that started after John Cena's loss to Roman Reigns at WWE No Mercy last night with this letter on Instagram today:
Thank you SO much Love @johncena for everything you give to me, my family, my friends, your family, your friends, the WWE Universe, the Cenation and the Bella Army You give us so many laughs, smiles, tears, cheers, good times, strength, both mentally and physically, courage, bravery, fearlessness and love. I wouldn't be the woman I am today without you, your advice and your teachings. You've taught me more than I ever thought I could know. And I know I'm not the only that has learned from you. Your heart is bigger than anyone I have ever met. One of the main reasons why I love you SO incredibly much. As well as how much you give yourself to others, even strangers. There is no one else like you Mr. Cena, you truly are a one of a kind. So happy we have each others hearts. Love you so so much! #thankyou #loveyou #cenation #bellaarmy #WWEUniverse #nomercy #forevermychamp #nevergiveup #hustleloyaltyrespect