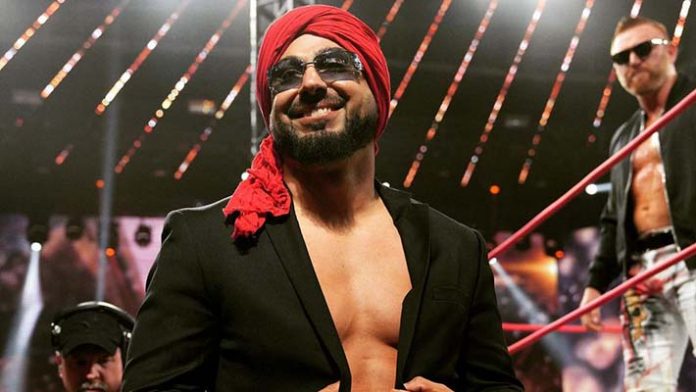 IMPACT Wrestling star Champagne Singh (Raj Singh) exclusively spoke with PWMania.com's Ari Barkan about a wide range of topics, including IMPACT's progression in 2023, IMPACT possibly doing more international tours including India, who he approaches for advice in IMPACT, his cousin; WWE's Jinder Mahal, what can we expect from him in the future and much more.
You can check out the complete interview below:
What are your thoughts on IMPACT's progression thus far in 2023? And what do you forecast for next year?
IMPACT's progression has been top quality. But, honestly I'm not surprised by it just because you know, being behind the scenes and seeing the trajectory and the storylines and the progression of not only the talent, but the the production team and everything like that. I'm not surprised because it's been great. Since I've been there. It's only getting better.
What do you forecast for next year? It's tough to say because there's so many storylines and so many moving parts. So many great talents with an influx are all times when you talent. So I mean, it will definitely get better. But the forecast for myself, I think that Champagne Singh is definitely going to be a household name. Whether people love me or hate me, that's for sure.
There are so many ways to watch IMPACT Wrestling in North America and internationally with IMPACT on DAZN, IMPACT Plus, and Ultimate Insiders, and with the recent announcement of IMPACT touring Australia, do you see IMPACT doing more international tours? Possibly returning to the UK and even touring India?
My thoughts on that initially are, I do feel that is going to happen. And I think it's more like that positive reinforcement, you know, thinking it into existence, manifesting this. But yeah, I do feel that IMPACT's gonna be making the move to do international stuff. Like in the UK, maybe other parts of Europe, I have my fingers crossed. I'm praying that we get to go to India. So we can take everybody to the motherland and just take some time to enjoy it over there. Because it's such a special place in the world that is foreign to the Americans. And I mean, it's definitely something that would be special to be able to represent in front of our people. And then they can see why the wrestling fans in India just love it so much. I'm just getting excited talking about it because the roof would be blown off with the excitement in there.
Who do you see right now at IMPACT as a locker room leader? Who is a veteran or someone that you go to for advice in the locker room at IMPACT?
Shera and I, we communicate quite a bit, and we feed off each other. Honestly, you can go to anybody in that locker room, whether it be somebody new and it's a cliche answer, and I don't want to make it sound like a cop-out. But there's not one person more than the other than to say, 'Hey, I want advice from him' or ' I want advice from that person.' And you know, I might be in a storyline with somebody, for example, Ryan or Heath. So why would I go for advice from them in a moment when I'm in a storyline with them? It makes no sense. We kind of want to have that element of realism while we're out there too. But I 100% go to people like Tommy Dreamer and Scott D'Amore. We have some people in the production team that we'll just keep silent for now because it's pro wrestling and magicians don't ever want to give away their tricks either. I have a lot of respect for everybody in the locker room. I go to Gail Kim a lot, actually. She is not actively in the ring, and she has so much upstairs that she can share. She's probably forgotten more than a lot of us in the locker room have even learned. So it's great, it's a great source to use. And definitely being on TV, she can give us those tips and tricks to even elevate our own status.
You come from wrestling royalty, your father is the legendary, the great Gama Singh, and Jinder Mahal is your cousin. These are just two of the men that helped wrestling's popularity in India grow over time and open doors for other Indian wrestlers. What are your thoughts on the increasing popularity wrestling has gained in India in the past few decades? Your father and cousin, among others like Great Khali, have laid quite a foundation.
I think it's more so it's just hitting the mainstream now over the last maybe let's say 10 years, where people are kinda like realizing India's such a big wrestling hub, but in the state of Punjab, where we're from an India, it's a wrestling breeding ground. My family and the people were all from Punjab. Kushti is the main thing, that's like wrestling, amateur wrestling style. And then from there, all that warrior mentality translates into us being athletes. Like a guy like Bhupinder, he's a kickboxer. I don't know if people knew that, you know, and then I was amateur wrestling, and I was boxing growing up as well. The glitz and glamour as well accompanied with the amateur wrestling or the fighting. That's what makes India such a place for the big fans, like the big amount of fans there. Of course, they just enjoy the product, whether it be our company, especially IMPACT, but they are supporting all types of wrestling, which is huge. It's going to be special down the road. As you said, like my family, and then myself, and now Bhupinder, Shera. We have some other guys out there in the world, and some women as well that are also wrestling with our heritage. With the population we have, I can just see more and more Punjabis, and Indians and Desis around the world wanting to join in the fun.
Do you keep in touch with Jinder [Mahal]? Do you talk to him regularly? Do you guys go to each other for advice? Anything like that?
Yeah, we talk every day. And like I've said before, a few times, he's calling me for advice (laughs), one of the one of the secrets to his success is calling me for advice. You know, [Jinder asks] 'Hey, what should I do to party? Where do I take the girls' and I give him that advice and say, 'Yo you're in this city, go over here bro.'
Your debut in IMPACT had a lot of sentimental value as you had your father/trainer, the legendary Gama Singh by your side. Can you talk a little bit about that moment and what it meant for you personally to have him there not only watching your debut but being a major part of it?
It was special on so many fronts, because, you know, I dedicated so much of my life to being a wrestler, and then like, had ups and downs behind the scenes on my road to getting here. And then being able to share that on-screen with my Dad, who kind of like, probably thought wrestling was done once. Once I started, he thought wrestling was done. And then it worked out to him being back on screen. And then for us to be able to share that moment together. I actually go back and watch that quite a bit. Because you know, not everybody gets to share time with their parents in general, but I got to do that on the road. I got to work with him. And we were in different cities. We were in New York at the time actually for that one. It's special, more so because we got to share those moments together and we got to travel together for the time that we were on the road together. So, it's definitely special, and it gave me a little bit more motivation to become Champagne.
What can we expect from you, from Champagne, in the next year?
Expect the unexpected. Expect to be entertained. Expect to live vicariously through me. I'll be eating good food hanging out with beautiful women and winning matches. I'm hoping to add some new jewelry (winks).
Is there anything you want to tell your fans?
Of course, everybody that's watching thank you so much all the new fans all the old fans, everybody rejoining the wrestling world. You want to support IMPACT Wrestling, you want to watch us on The Zone, you want to watch us on IMPACT Plus, Ultimate Insiders. You definitely want to follow on Instagram and Twitter. You can see me @TrueRajSingh anytime. I try to respond to anybody and everybody I can, I'm quite busy, but definitely support the product and I guarantee you tune into IMPACT you will not be disappointed.
What advice can you give to up-and-coming wrestlers who want to break into the seem like you have?
You need to work hard. You need to respect the business. Because if you don't respect the business, it won't respect you back. And remember to not take yourself too seriously either, right? It's professional wrestling, you need to have fun. If you just want to be a big tough guy or big tough girl. It ain't gonna work. And be kind to others behind the scenes because you never know who's going to help you and you never know who's going to need that help. So just be a good person. Always. I think that's the number one.