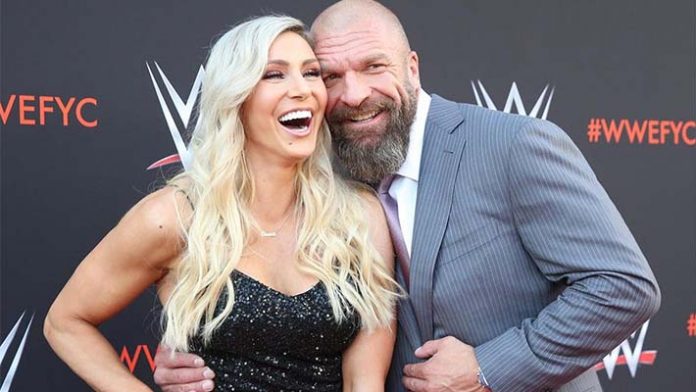 WWE SmackDown Women's Champion Charlotte Flair provided some interesting statements Sunday, during her visit to the Daytona 500 speedway. Flair spoke about a number of topics with Chris Boyle of The Daytona Beach News-Journal, including her thoughts on Triple H's role as head of creative and opinions on the prospect of unifying both Women's Championships.
.@MsCharlotteWWE was today's @NASCAR Honorary Race Official at the #Daytona500! pic.twitter.com/e7cPVyHnRT

— WWE (@WWE) February 19, 2023
Given her close relationship with Triple H in NXT, one may assume that Flair would display favoritism toward the former World Champion's creative style. However, Flair would make a surprising statement, saying that she sees no difference between Triple H and Vince McMahon's regimes. Instead, she notes that she simply focuses on making her boss "happy". Whoever they happen to be.
She told Boyle: "I haven't really noticed a difference because I feel, as a performer, that my job is just to make my boss happy. Whoever is in the seat is your boss. Maybe if I was new, I would feel a difference, but I'm on more of the seasoned vet side. I don't feel like there is as much maneuvering or trying to build a new character."
Charlotte Flair on not noticing a difference between Vince McMahon or Triple H being in charge – also not wanting to unify Women's Championships pic.twitter.com/f9ncyHlxm6

— Female Locker Room (@femalelroom) February 20, 2023
Flair would also have the opportunity to discuss the idea of WWE combining the RAW and SmackDown Women's Championships. Much like how the company combined the WWE and Universal Championships at WrestleMania 38.
The Queen of WWE was adamant that she did not feel that combining the two titles would make sense. As she felt one title may limit the opportunities for many of the female WWE Superstars.
She states: "I don't recommend a unification program because I feel that would mean less opportunities for the women. It was cool for one of the girls to have both titles at one time, but it takes a lot of spots away."
Flair is currently set to defend her SmackDowmn Women's Championship at WrestleMania 39 against Women's Royal Rumble Winner, Rhea Ripley. A rematch from their first encounter at WrestleMania 36.
H/T – All quotes provided by The Daytona Beach News-Journal's Chris Boyle
Stay tuned to PWMania.com for more WWE news!
Feel free to follow me on Twitter @NickLombardiSk