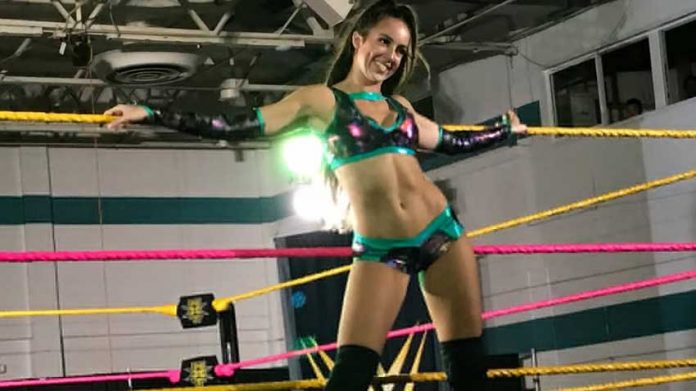 After wrestling for the first time at Full Sail Live, Chelsea Green announced that she broke her wrist last night and will undergo surgery this morning.
? @WWENXT pic.twitter.com/Zvb6sn43O4

— Chelsea Green (@ImChelseaGreen) March 14, 2019
Green broke her wrist during a dark match against Jessie (aka Jessie Elaban). Green scored the win after nailing Jessie with the UnPrettyHER (as Green calls it).
♥️ a dream come true https://t.co/7gFF7uMsbJ

— Chelsea Green (@ImChelseaGreen) March 14, 2019
Welcome to Full Sail @ImChelseaGreen! #NXTFSLive pic.twitter.com/IaidrwBSQ1

— Robby Deese (@RobbyDeese) March 14, 2019
.@ImChelseaGreen makes her #NXTFullSail debut against @Jess10YES_ pic.twitter.com/E1rFXN2uYs

— Jordan Alvarado (@nerdyjordy) March 13, 2019
Scoop #2: Jessie vs Chelsea Green pic.twitter.com/Q1B56EfkTM

— Jacob Cohen (@MrJacobCohen) March 13, 2019
.#NXTFSLive opener: @ImChelseaGreen takes out Jessie pic.twitter.com/4OsjXrFokI

— Jay Reddick (@runninjay) March 13, 2019
UnPrettyHer. @ImChelseaGreen victorious debut. ? #NXTFullSail @tomcastorWWE pic.twitter.com/a9cyT5AGk3

— Jordan Alvarado (@nerdyjordy) March 13, 2019
Pretty cool to finally see @ImChelseaGreen in an NXT ring at Full Sail tonight! #HotMess #NXTFSLive pic.twitter.com/L5LVmFv3p7

— Paul Moss (@PaulMoss70) March 14, 2019