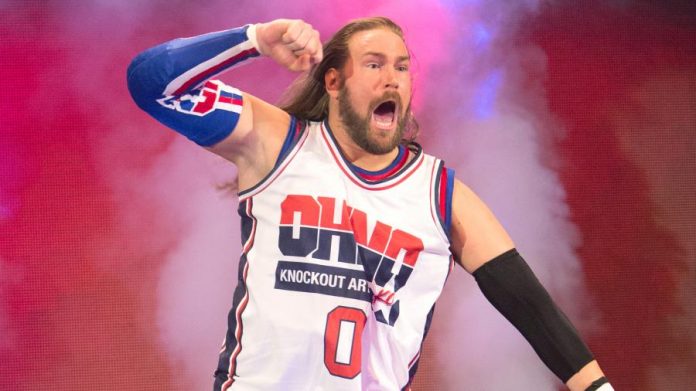 Chris Hero (fka Kassius Ohno) has returned to pro wrestling in a new role.
Hero made an appearance at the most recent West Coast Pro Wrestling event in San Francisco, CA, and announced that he is the new official matchmaker for WCPW.
As seen in the video below, Hero claims that no one knows more about pro wrestling than him. He went on to say that they would bring fans matches that they had never seen or thought about before. The crowd responded with a "thank you, Chris!" chant.
Hero will appear at WCPW's "Home of The Killers" event on Friday, April 7 at The State Room in San Francisco, where he has also assisted at The West Coast Pro Wrestling Training Academy. He's already scheduled Mike Bailey vs. Michael Oku, Jordan Oliver vs. Bryan Keith, and six-man action with WCPW Champion Titus Alexander, Kevin Blackwood, and Alan Angels vs. Jacob Fatu, Starboy Charlie, and Vinnie Massaro for that show.
West Coast Pro's events are broadcast live on IndependentWrestling.TV.
Hero, who claims to be "back" on social media, will be at WrestleCon from Thursday, March 31 to Sunday, April 2, at the Prestige Wrestling and WCPW booth.
On Saturday, March 11, Hero will also hold a pro wrestling seminar at the Worldwide Wrestling Dojo, located at 701 Canal Street in Bristol, PA. The details can be found in the tweet below. The wrestling seminar is $80 and runs from 12-3pm, while the film session is $40 and runs from 5-8pm. A $100 combo ticket is available.
Hero began wrestling in 1998 and has competed for PWG, CHIKARA, CZW, ROH, TNA, Pro Wrestling NOAH, wXw, EVOLVE, and WWE, as well as numerous other international and indie promotions. In February 2012, Hero signed to work for the WWE's FCW developmental territory, and he went on to work for WWE NXT until November 2013. In December 2016, he returned to WWE to work on NXT, and in February 2019, he was assigned to NXT UK. He worked for that company until his release from COVID-19 budget cuts in April 2020. Hero is a one-time EVOLVE Champion, a one-time CZW World Heavyweight Champion, a two-time CZW World Tag Team Champion, a one-time PWG World Champion, a two-time ROH World Tag Team Champion, and a one-time wXw World Heavyweight Champion, and he has held dozens of other titles over the years.
Hero appears to have not wrestled since working a Battle Royal won by Ilja Dragunov at the NXT UK TV tapings on March 7, 2020 in Coventry, England. He defeated Kenny Williams the night before, which aired on March 19, 2020.
Below are some related tweets:
Welcome to #TheCoast Chris Hero!

Chris Hero is the OFFICIAL match maker of West Coast Pro and will be at Home of The Killers!

🗓️ April 7th 2023
📍 The State Room
🎟️Tickets on sale now!https://t.co/NmeAy9BFcY pic.twitter.com/ArI6zJEtsA

— West Coast Pro (@WCProOfficial) March 6, 2023
The new official match maker of @WCProOfficial is @ChrisHero pic.twitter.com/gvOrm8I0KJ

— Righteous Reg (@RighteousReg) March 5, 2023
🚨 🚨 Philly area! 🚨 🚨

On Saturday, March 11th I'll be heading to the @WorldwideDojo for a seminar. You'll also have the option to participate in a film session later in the day- a first for my seminars!

Reserve your spot now by contacting [email protected] pic.twitter.com/2wXY9fQ77M

— Chris Hero (Is Back) (@ChrisHero) February 28, 2023
A great night of training at the @WCProAcademy! pic.twitter.com/xEvVGQM6QV

— West Coast Pro (@WCProOfficial) March 3, 2023