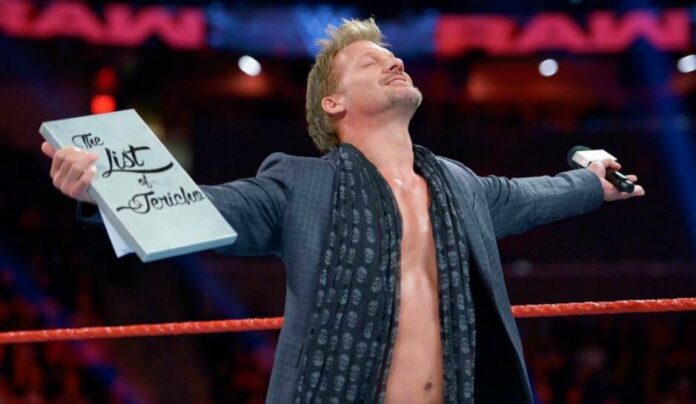 Alexander Metz for sending us the following:
Chris Jericho joined Dave Lagreca and Bully Ray on Busted Open yesterday, his first interview since his Alpha vs. Omega match with Kenny Omega at the Tokyo Dome for NJPW's Wrestle Kingdom 12.
The first clip is of Jericho talking about the success of Wrestle Kingdom 12 and why the Alpha Vs Omega is the biggest example in his career of him "being able to draw money." He mentions that the goals NJPW had for WK12 were blown out of that water when Alpha vs. Omega was announced, including attendance expectations and NJPWWorld.com subscriptions. He points to his "main event" draw and the fact that this was the Mayweather-McGregor for wrestling fans as the reason.
"There were certain goals that @njpwglobal had that were blown out of the water with the announcement of #AlphaVsOmega " @IAmJericho talks to @davidlagreca1 & @bullyray5150 about the success of #NJWK12 pic.twitter.com/75CvmzmF7b

— SiriusXM Busted Open (@BustedOpenRadio) January 9, 2018
The second clip is of Jericho talking about his future now that the match is over. He says that the two biggest matches you could have done in the wrestling world at the time were Braun Strowman vs. Brock Lesnar & John Cena vs. Roman Reigns  and when the WWE did those on "secondary PPVs" it left the door wide open for Alpha vs. Omega. He says this possible storyline with Naito is interesting to him and that he doesn't want to over saturate himself. He wants to play this like Brock Lesnar does in the WWE. He's not going to be a regular roster member who's going to be in this year's G1 Climax, but when he does show up he wants it to be exciting and mean something.
"I really want to do the 'Brock Lesnar' idea with @njpwglobal if it works out." @IAmJericho on the response to #AlphaVsOmega and what could be on the horizon with him and @s_d_naito @davidlagreca1 @bullyray5150 #NJWK12 pic.twitter.com/Fwl84xZ52N

— SiriusXM Busted Open (@BustedOpenRadio) January 9, 2018
Busted Open with Dave Lagreca & Bully Ray can be heard weekdays from 2p-4p Eastern Time only on SiriusXM Rush Channel 93 and is available any time on demand on the SiriusXM App.