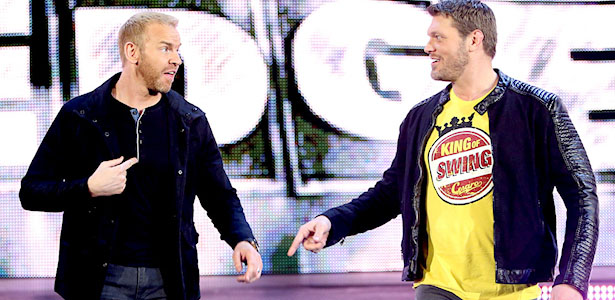 As seen at WrestleMania 34 at the Mercedes-Benz Superdome in New Orleans, Louisiana on the WWE Network, AJ Styles defeated Shinsuke Nakamura to successfully retain the WWE Title.
In the latest episode of E&C's Pod of Awesomeness (via Wrestling Inc), Christian spoke about why he thinks the fans were quiet during the match. Here is what he had to say:
"Sometimes the crowd can affect the perception of a match, [and] I think it happened during this one a little bit. I think that's where it started to happen when the crowd was getting fatigued. Especially, when it's two guys that are babyfaces. And, there's the title on the line, but emotionally, what else is going on? And I think what they did after the match meant more than anything that did in the match. I was thinking about the babyface match I had for the world title with Randy Orton when we wrestled at Over the Limit, and I was thinking, what's the difference between that and this other than one was at Over the Limit and one was at WrestleMania? So, what I was thinking about is the emotion was not good guy – bad guy, heel – babyface.
The emotion was, this guy who we've wanted to see at this level for like 17 years has been scratching and clawing and finally won it. And then, had it snatched from a guy who's been patented as 'the golden boy' for years and years, and has been molded to be a top superstar gets it back after a couple of days. People didn't want to see me lose it yet. That was the emotion. 'Can he get it back? Can he get back to that level already, so quickly after he worked so hard to get there?' People liked me, but they didn't like what happened. That was the emotion. On this one, they liked both guys, so [fans] are just kinda choosing a side. There's nothing else. So, to me, now I can really sink my teeth into this, because I think Nakamura now is gonna do better work. I think he's gonna work more with a chip on his shoulder, I think he's gonna work more aggressively. He works aggressive anyway, I think he's gonna have a mean streak that he hasn't had before, and I think it's gonna amp up, and I think he's done himself a huge favor by the aggression he had after the match, in my opinion."